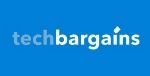 This story is sponsored by TechBargains.
Welcome to TechBargains' Weekly deals where they feature the best current deals on electronics, computers, TVs and more. This week we are seeing srtaggler deals that are still live from Labor Day and are great for Back to School so don't miss out.
Dell's XPS Tower is one of the most popular desktops, and at $600 it is the lowest price we've seen. Costco & Walmart will try to sell you a maxed out configuration for well over $1000, however, you can easily add some of those upgrades yourself for an extra $100 in components. This is an easy desktop to modify and expand on your own. The power supply swings out to give you easy access to easily plug in more RAM, another hard drive or even a full-size graphics card for gaming.
Ths Inspiron 14 7000 is a premium laptop. It weighs in at only 3.64lbs and has aluminum magnesium alloy frame. This laptop screams quality at a price of only $600. The i5 processor will serve as a great work horse, and it has a rare dual drive 128GB solid state drive combined with a 500gb hard drive. Lastly, it's full HD display will knock your socks off.
At $37 per light, this is a steal for a LED shop light. It's rated at 4800 Lumens which is bright enough to hang from a high ceiling and cast some good light. Each light is linkable so you can daisy chain a few of these for your garage workshop. We paid the same price for a shop light ballast that did not include any bulbs so this is a pretty great deal and includes an unusually long 5-year warranty.
If you are sick of a small dial on your tire pressure gauge, upgrade to this. We have a similar model and this has a built-in pressure release so that you can over fill your tires and release excess air without going back between adding air, releasing and measuring. For $7, it's a no brainer and a huge improvement over a pen tire gauge.
At $35, this is the best price we've seen on the Amazon Fire TV stick this year. Not only can you stream video to your TV, it also includes the Alexa remote to control any Alexa hub, search for shows to watch and more.
More Deals
Halter Height Adjustable Sit & Stand Desktop Elevating Desktop for $98.79 (use code: WIEVFKZG - list price $299.99).
Instant Pot Lux v3 6-Quart Electric Pressure Cooker w/ 2 Pressure Settings for $79.95. Larger 8-Quart Lux V3 for $109.99.
DBPower N6 4K WiFi Action Camera (Sony Image Sensor) for $68.39 (use code: 2X48ZEIQ - list price $119.99).
DBPOWER 1080P WIFI Waterproof Action Camera w/ 2 Batteries for $34.99 (use code: KX4RMRXK - list price $89.99).
Otium Wireless Bluetooth Headphones for $11.99 (use code: NKDNU3KI - list price $19.99).
Samsung UN65MU8000 65" 4K UltraHD 120Hz Native LED HDTV w/ HDR for $1597 (Extra 15% off with Prime Credit Card - list price $2199).
LG 65UJ6300 65" 4K UHD Smart LED HDTV + $250 Dell GC for $999 (list price $1397).
KSL and TechBargains may earn affiliate commissions from the links on this page.
0 Pending Comments
Sorry, we are not accepting new comments on this story, but if you have more to contribute please email
newstip@ksl.com
Showing of 0 comments