Editor's note: This is part of a series at KSL.com featuring some of Utah's coolest cars. If you own a customized vehicle — from sports cars to semitrucks — email ddewey@ksl.com with a photo of the vehicle and a brief description for consideration.
LOGAN — Professor Keith Mott loves to work on his cars and he can prove it: he has three British sports cars and keeps them running perfectly. That's no easy feat, especially when your day job is teaching Introductory Biology to 1,100 Utah State University students.
The Austin-Healey adventure started when Mott restored a 1965 Sprite (looks like an MG Midget) in 1982. He bought two Sprites—one with a smashed front, the other a smashed rear—and cobbled together a running car. He still has that one and plans on re-restoring it.
In 1988 he picked up a 1959 Bugeye (called a Frog-Eye in Britain) Sprite, followed by a more expensive 1962 model called a 3000. Look at the photos and you'll see how rough the 3000 was. A marriage, old-house fixing and raising kids took priority over the restorations, but Mott said his wife told him to keep them, assuring him the day would come when he'd be able to work on them.
Finally, when the kids were a bit older, Mott got to work; although to hear him describe it, it was a nice departure from life's work for him. He said he rebuilt everything that could be rebuilt on the 3000. He stripped everything from the body and sent it out for bodywork and paint. He tinkered, replaced, rebuilt, and sometimes just stared at every part of it. When it was completed — better than new, he claims — he repeated the process for the Bugeye, involving his son in the process.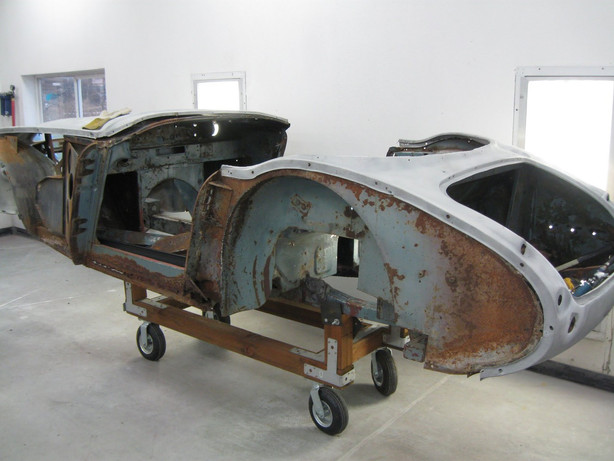 Nowadays, he takes the 3000 on drives up to 500 miles a day. His wife uses the Sprite for local trips. When asked what he does with the cars, he laughed and said "mostly repair them." But that's his fun. He said he enjoys the problem-solving and simple engineering lessons they provide, and yes, they drip oil. Biology research may or may not support his hypotheses at work, but when he gets everything lined up correctly on one of his Austin-Healeys, it purrs and he knows he got it right.
He knows his cars better than any mechanic could. When he drives down the road, he can feel if anything is wrong because he's the one who put it all together. When he works on it, he's in hobby mode: it might take hours to do what a mechanic could take care of in minutes; probably because a mechanic wouldn't take the time to sit back and just look at it.


---
Brian Champagne has reported on cars for more than nine years. He holds a master's degree in communications from the University of the Pacific and teaches at Utah State University. Contact him at iaabfl@yahoo.com
Photos
0 Pending Comments
Sorry, we are not accepting new comments on this story, but if you have more to contribute please email
newstip@ksl.com
Showing of 17 comments
Sorry, we are not accepting new comments on this story, but if you have more to contribute please email
newstip@ksl.com