SALT LAKE CITY — The University of Utah announced a new research and funding partner Friday in its efforts to study the connection between genetic variations and a person's risk for suicide.
Janssen Research & Development, a Belgium-based pharmaceutical company, is now onboard with the Utah Suicide Genetics Project, said U. science writer Stacy Kish.
"Janssen will collaborate with the U. to characterize DNA from people who died by suicide," Kish said in a statement. "The team will jointly mine the genetic and phenotypic data to pinpoint genetic markers for suicide, one aspect of risk in this complex problem."
Kish said Qingqin Li, scientific director and business technology leader at Janssen, will begin working as co-principal investigator along with U. psychiatry professor Hilary Coon, who has helped oversee the project.
"The researchers will search for genetic clues within very large extended families that have unusually high rates of suicide," Kish said.
Janssen will also provide "financial support" for the research, she said.
Coon said the funding agreement with Janssen is for $350,000 over two years and could potentially be renewed for longer after that point. The relationship officially began Sept. 1.
Coon said U. researchers on the project also receive funding from the National Institute of Mental Health, which is part of National Institutes of Health.
"We're hoping to continue that funding. It's very competitive," she said. "With National Institutes of Health money being so competitive, it's a good idea to push a project forward to diversify your funding sources."
Researchers will not only ultimately look for genetic risks, but also medical solutions as they pertain to factors that could be associated with suicide, Coon said.
The psychiatry professor said she's hopeful that with Janssen's help, those findings "may lead to some (new) therapeutics" designed to ultimately combat suicide.
Coon also added in a statement that "Janssen has the resources needed to build upon our scientific efforts with the potential of creating new therapies benefiting those suffering from mental illness."
All profits derived from the project will be rerouted into further research or suicide prevention awareness, Coon said.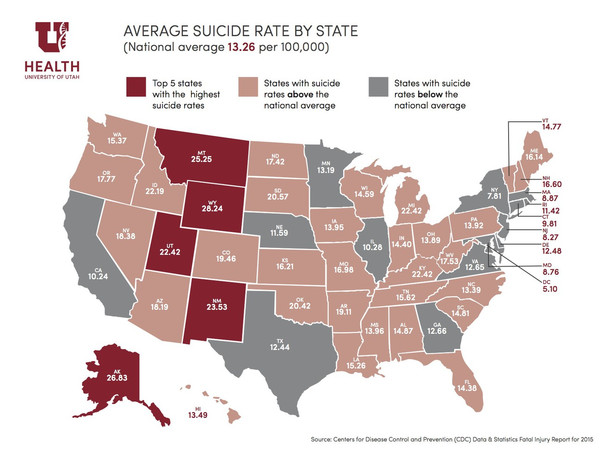 Researchers will draw on data from the Utah Population Database to identify genetic factors that persist in family clusters with abnormally high rates of suicide, she said.
"Instead of looking at thousands and thousands of people, all of whom are very different from one another, we're trying to look within (family groups)," Coon said.
The information was provided to the Utah Population Database by the Utah Office of the Medical Examiner, though it's stripped of any details that would identify a subject, such as a name, she said.
Birth dates also are excluded from researchers' view, Kish said.
Coon said that any major breakthroughs in connecting suicide risk to genetic factors are likely "a very long journey" away.
"There are probably hundreds of genetic factors that might contribute to risk," she said. "It's a definitely complicated scenario, but any progress we can make is (good)."
Genetics, Coon said, is just one of a host of factors that need to be investigated as it relates to suicide risk.
One Janssen leader said the interaction between genetics and suicide is wide open for new research.
"Suicidal behavior is thought to be a heritable trait and one that has not been sufficiently studied," Dr. Husseini Manji, head of neuroscience at Janssen, said in a statement. "We look forward to gaining new insights from this collaboration to better understand the intricate relationship between suicidal behavior and psychiatric conditions."
Centers for Disease Control and Prevention statistics show Utah's suicide rate was fifth-highest in the United States in 2015. Since 2013, it has been the leading cause of death for Utahns ages 10 to 17, according to the Utah Department of Health.
Suicide Prevention Resources
If you or someone you know is struggling with thoughts of suicide, call the suicide prevention hotline at 1-800-273-TALK.
Crisis Hotlines
Utah County Crisis Line: 801-691-5433
Salt Lake County/UNI Crisis Line: 801-587-3000
Wasatch Mental Health Crisis Line: 801-373-7393
National Suicide Prevention Lifeline: 1-800-273-TALK (8255)
Trevor Project Hotline for LGBTQ teens: 1-866-488-7386
Online resources
Photos

0 Pending Comments
Sorry, we are not accepting new comments on this story, but if you have more to contribute please email
newstip@ksl.com
Showing of 6 comments
Sorry, we are not accepting new comments on this story, but if you have more to contribute please email
newstip@ksl.com