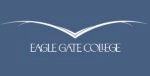 This story is sponsored by Eagle Gate College.
According to the 2016 Gallup Poll, the average American worker spends 47 hours per week at his or her job. With so much time spent at work, employees should feel motivated, engaged and generally like their jobs. However, the same study reports that 70 percent of American workers are unsatisfied and unhappy in their current positions.
With seven out of ten American workers dissatisfied at work, what can you do about a job you dislike? What can you do to make the work week more bearable? Here are three tips that can help increase your happiness at work. After all, life's too short to spend your workday in a job you hate.
1. Always be looking for new opportunities
It's important to know all of your job options, whether you love or hate your current situation. Growth is an important aspect of personal happiness, so it stands to reason career growth and upward movement can help improve your life and job satisfaction.
If you are in a job you hate, start looking for new positions or new companies to work for. You can interview for a new job or research colleges while still working at your current job. However, be savvy and discreet when interviewing. The Balance offers some great tips for interviewing while still currently employed.
Here are three to keep in mind:
Plan and organize your job search carefully. Use platforms like Indeed, Glassdoor or LinkedIn to streamline your search. This will help you see what's available and organize your research.
Don't put any work related contact information on your resume. When applying for a new job, the new employer will likely contact you via phone or email. Use a personal email address or cell number to avoid suspicion at work.
Keep your job search quiet. While it's exciting to look for and accept a new position, it's professional to keep it to yourself until you've actually accepted the new position and turned in your two-weeks' notice. You don't want your current employer to know you are looking in case the new offer falls through.
2. Consider going back to school
Some people love their industries, but want to move up the job ladder and need higher education to get there. If this is the case, consider going back to school to earn a degree in your field. Before you take on that endeavor, ask yourself a few questions:
Am I committed to working and going back to school? Most people will still need to work full- time while pursuing higher education. Eagle Gate College reports that roughly half of the students enrolled in the Bachelor of Science in Nursing program were already working in healthcare as certified nursing assistants or healthcare aids. Enrolling in a bachelor's degree program provides a path to greater satisfaction and income.
Will this investment pay off when I get a promotion? Some degrees automatically mean a pay raise, while others may not. Consider if your degree will benefit you financially in the long run by looking specifically at high-growth careers like information technology or nursing.
Should I enroll in an online school or a traditional brick-and-mortar school? Consider the best option for you and your family. Some online schools provide more flexibility with hours and class requirements so you can keep your job. Look into all your options before making a final decision.
3. Change careers entirely
If you're at the point where a new position within the company still won't increase your happiness, you may consider changing careers entirely. Gone are the days when people stay in one career their entire lives. In fact, the statistics about what constitutes a job change is up for discussion, but the data shows the average American will change careers 10-15 times during their working lives. No one would argue that if you're a medical doctor and you decide to become a comedian, that's a job change. But what if you're a nursing assistant and you become a registered nurse?
Changing careers may seem daunting, but there is a fairly simple place to start. The 2016 Gallup Poll reports that the employer attributes that jobseekers value most are salary and employee benefits, long-term job security, and a pleasant working atmosphere. Sound familiar? When we spoke to Eagle Gate College, they report focusing on nursing because the field offers terrific outcomes in salary, security and working conditions. The College said their students are seeking accelerated programs that offer coursework online and on campus. That way students can earn degrees in a new industry while staying employed.
When changing careers entirely, here are a few questions to ask yourself:
What do I hope to get out of my new career?
Why will this new career increase my happiness? What does it offer that my old job did not?
What did I hate about my old job?
Does this new career help me achieve my life goals?
Don't get stuck in a job you hate. You'll spend an average of 90,000 hours at work in your life, so make sure you are in a career where you find meaning, enjoyment and happiness.
0 Pending Comments
Sorry, we are not accepting new comments on this story, but if you have more to contribute please email
newstip@ksl.com
Showing of 18 comments
Sorry, we are not accepting new comments on this story, but if you have more to contribute please email
newstip@ksl.com