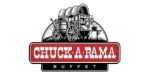 This story is sponsored by Chuck-A-Rama.
Have you ever wondered where the name Chuck-A-Rama came from? Or a handful of other restaurants you eat at regularly? Here, the mysteries are unveiled about how these strange-named Utah restaurants were born.
1. Pig & A Jelly Jar
While it may sound odd, the name comes from the two food items they specialize in — pig products and jam. "I'm from the south originally, and I thought it had a nice Southern ring to it," said Amy Britt, founder and owner of Pig & A Jelly Jar. Its menu is full of famous custom jams made in-house like blueberry lavender and strawberry coconut. Originally, it made its sausage too, but it has grown so much around Utah that now it get it from local company Salt and Smoke. Pigs find their way into nearly every menu item, be it ham, pork belly or bacon onion jam.
2. Chuck-A-Rama
Take a tradition from the Old West and combine it with a Boy Scout event and you get Chuck-A-Rama. Founders Don Moss, Alva Greene and Wayne Chamberlain are big scouters who love to eat. They were fascinated by the convertible kitchen that Texas rancher Charles Goodnight used to feed his company as he pushed Longhorns to Denver. The chuck wagon, as it was called, was a covered wagon that doubled as a kitchen on the road. The founders wanted that style of cooking and somehow combine it with their enthusiasm for scouting. So, Moss took a scouting event called Scout-O-Rama, a public event that showcased everything the Scouts do, and tacked on -A-Rama to Chuck. The homestyle menu has a classic buffet with items such as buttermilk biscuits, chicken fried steak, funeral potatoes, and apple crisp for dessert. This chain is all over Utah and Idaho.
3. MayMoes
Some names accidentally stick. That's what happened in Jason Davis' family when his oldest daughter starting pronouncing tomatoes as "maymoes" as a child. Fourteen years later, they still call them that in their Logan store. Davis serves gumbo, shrimp pasta, jambalaya and New Orleans Poboy's with the most authentic Cajun ingredients he can get, including Poboy buns from a famous bread company in New Orleans and shrimp from the Louisiana Gulf.
4. Moochie's Meatballs
Like most odd names, Moochie was a nickname, and it was given to Joanna Rendi by her father. The funny part is, though, that the name comes from an Italian word she can't figure out how to spell. Rendi opened Moochie's Meatballs in 2002 out of her husband's pottery shop. She wanted to bring the best Philly cheesesteak to Salt Lake City, and today, her sandwiches are known for being top-notch.
5. Laid Back Poke Shack
From the looks of it, you might not know what to expect, but poke is actually pronounced "poh-keh" and is the Hawaiian word for "to slice." Now it's starting to make sense, because this Hawaiian restaurant in Holladay cuts a lot of meat during the day to serve fresh to guests. Most of the menu items are seafood, but kalua pig is almost always on the menu, which changes daily.
0 Pending Comments
Sorry, we are not accepting new comments on this story, but if you have more to contribute please email
newstip@ksl.com
Showing of 11 comments
Sorry, we are not accepting new comments on this story, but if you have more to contribute please email
newstip@ksl.com