SALT LAKE CITY — Thanks to a professional contract with the NBA New Orleans Pelicans, Utah native Frank Jackson is free to pursue a lifelong passion for cars.
The former Duke star began searching for the perfect one during a trip to Salt Lake City's Specialized Sales and Leasing a few months ago where a lot full of dream cars lay before him.
Specialized founder Abdul Kisana saw a confidence in Jackson that reminded the dealer of himself. Kisana is a Pakistani immigrant who has lived the American dream and, for nine years now, has catered to a high-end clientele of car buyers in Utah and throughout the country.
"You have to have confidence in yourself — more than anyone else has it — that you can achieve anything, and Frank has that confidence and I know he'll succeed. So I was willing to talk about an interesting and new arrangement that will fit Frank's life both in Louisiana and here in Utah," Kisana said.
Under that agreement, Jackson will have access to Specialized cars and can change them out every three months or so in exchange for promoting Specialized within NBA circles and online via social media.
I accompanied Jackson, a self-avowed "car guy," to the lot for a test drive and we gazed out over a sea of luxury vehicles spread before us in downtown Salt Lake City. The test drive would determine with which car Frank Jackson would begin his NBA journey.
Forty percent of the cars were brand new, and it may as well have been heaven. Kisana handed us the keys and we began.
The first was a 2016 Land Rover Range Rover Autobiography valued at nearly $83,000. Jackson was unsure about the size of the SUV initially, particularly the width. The supercharged V8 and plush interior, however, had him thinking twice.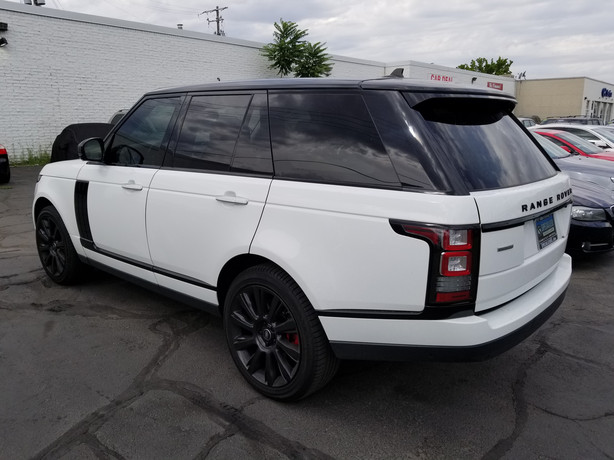 "I consider myself a social guy, and I love to spend time with family and friends. I think I could get good use out of something this big," Jackson said as he looked around the spacious interior.
As the V8 pulled onto I-15, the exhaust note brought a smile to Jackson's face, which confirmed the car wasn't out of the running just yet.
After we turned in the Range Rover keys, Kisana handed us the keys to a 2014 Maserati Quattroporte S Q4 sedan valued at nearly $66,000. Jackson and I were immediately impressed by the luxurious interior. The Range Rover was nice, but the Quattroporte took things to another level altogether.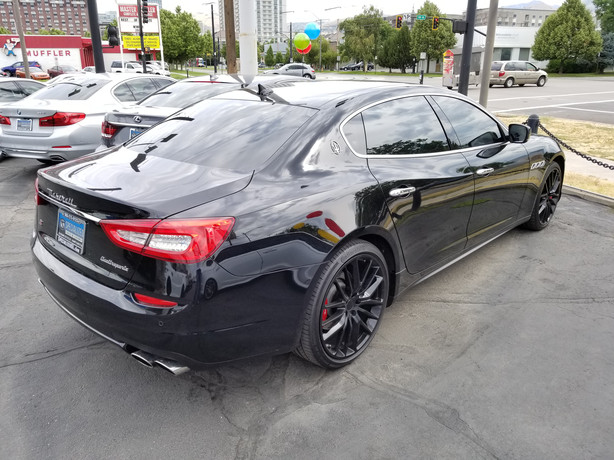 With fewer than 13,000 miles, the car felt brand new, the 3.0-liter turbocharged V6 sounded amazing and the exhaust note was throaty and distinctly Italian. Jackson smiled widely at the exhaust note but was soon put off by the grabby brakes.
"I couldn't decide at first if this is a luxury car or a sports car, but it's definitely both," Jackson proclaimed part way through our drive.
The Maserati was as quick as it was luxurious, and the four doors kept it in the running.
Our third test drive was a 2012 Audi R8 Quattro Spyder. The R8 is a true supercar, and I wondered immediately if a two-seater would satisfy Jackson's desire for a family-friendly car. I reminded Jackson that he can afford a second, larger car. This particular R8 had fewer than 9,700 miles, and Kisana hadn't listed the price publicly.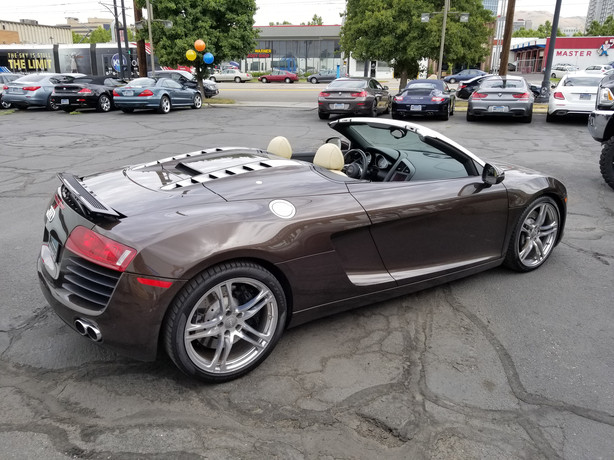 The car had been on my personal bucket list to drive for years, and Jackson and I were immediately taken by how much smaller the car seemed in person. As the 4.2-liter V8 fired up, Jackson's smile seemed to say he'd already forgotten about his desire for four doors.
We took off with the top down, and the R8 differed from the first two cars in every way. It was small, harsh and loud — everything a sports car should be. The sporty seats held us tight, and the mid-engine R8 pushed us quickly onto the freeway.
While the Maserati could throw us back into our seats, it was nothing like the R8. The R8 stops just as abruptly as it takes off.
During our drive, it was the handling that caught Jackson's attention.
"You feel every little bump in the road but in a good way, and it corners like it's literally on rails. It sounds amazing," gushed Jackson.
We returned the keys, better for the experience, and prepared for our final car, the one Jackson had been looking forward to most.
We took the keys to the 2016 Mercedes-Benz AMG G63 SUV, valued at over $125,000, and I could tell immediately that this car had a pull on Jackson that none of the previous cars did.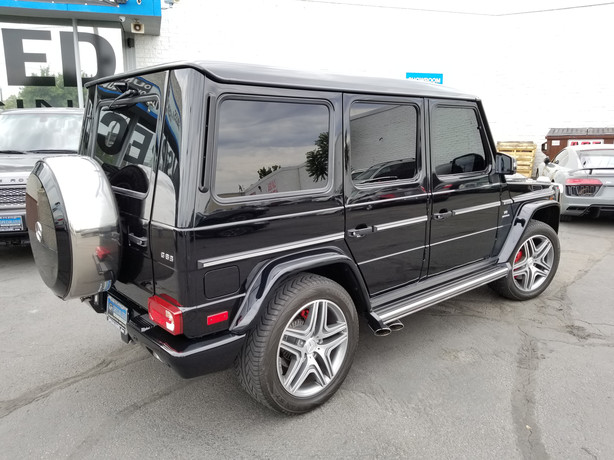 "My dad was a Mercedes guy and I remember going to dealerships with him when I was a kid and sitting in the cars. I remember an auto show where I first sat in a G-Wagon and I knew then that it was what I would drive at some point," Jackson recalled.
The G63 was parked in the underground garage where some of Specialized's gems are stored indoors. As we got in, no words were necessary, and Jackson beamed while taking in the interior and then taking the wheel.
The 5.5-liter twin turbo V8 had fewer than 14,000 miles and was no slouch, but it felt sluggish after the ride in the R8. As far as Jackson was concerned, though, we were riding on air. He could barely contain himself as we pulled away.
"This is my car! I love this car, this is my favorite car I've ever driven. It's so smooth and it has some get up and go. I'm the biggest kid in the world right now," he said.
Unlike the other three cars, Jackson spent time with the G63 when we returned. He explored every inch of the car and took in every stitch and every detail.
Needless to say, we handed in the keys for the last time that day.


---
Photos
Related Stories
0 Pending Comments
Sorry, we are not accepting new comments on this story, but if you have more to contribute please email
newstip@ksl.com
Showing of 26 comments
Sorry, we are not accepting new comments on this story, but if you have more to contribute please email
newstip@ksl.com