SALT LAKE CITY — Welcome to downtown Salt Lake City, where you can catch a concert, dine on a patio, hit the stores, rent a bike, drop into a bar and more. Just be careful not to step on a used heroin needle while you're here.
Police officers are concerned about an increasing number of dirty drug needles left where anyone can accidentally poke themselves. Those needles can spread diseases like HIV and hepatitis C.
The KSL Investigators recently went to the Rio Grande neighborhood where intravenous drug use has been rampant. We spotted dozens of used syringes, some with needles still attached and in plain sight.
"We have seen 50 needles today in about one hour's time," Salt Lake police detective Greg Wilking said.
Officers are concerned the discarded needles are a hazardous byproduct of a new law that makes it legal for organizations to hand out clean needles to users. Nonprofit groups have set up booths around the downtown area.
"There can be knee-jerk reactions. If somebody sees a needle on the street, they may say we need to change the program," said Rep. Steve Eliason, R-Salt Lake City, who sponsored the bill that legalized needle exchanges in Utah.
Here's how the program works: Bring in one dirty needle, get up to 10 clean ones in return.
In the first eight months of the program, 187,000 needles were given out. But less than 79,000 have been recovered, which leaves tens of thousands of needles unaccounted for. And there's really no way to track how many needles have been properly disposed of somewhere else, or how many just wind up on the ground.
That's what has police concerned.
"I know it's a hard concept to wrap your head around," said the Utah Department of Health's Heather Bush of efforts to provide needles to heroin or meth addicts.
But Bush, the department's education and training coordinator, said the concept has taken hold all over the country. The idea is by putting enough clean needles into the hands of addicts, health advocates can help reduce needle sharing and control the spread of HIV and the rampant rise of hepatitis C.
In the last three years, Utah taxpayers have spent $25 million to treat people with hepatitis C, "who almost all contracted it through the use of a dirty needle," Eliason said.
"I don't think people understand people can inject 10, 15, sometimes 20 times a day," said Bush, who oversees three nonprofit organizations authorized to run needle exchanges in Utah.
She said there are situations where a one-for-one needle exchange is not realistic. For example, booths aren't set up around the clock for users to get clean needles when they need them. And if users are homeless, they may not come back for days.
Data from the Utah Department of Health show that for every dirty needle brought back, close to three needles have been distributed.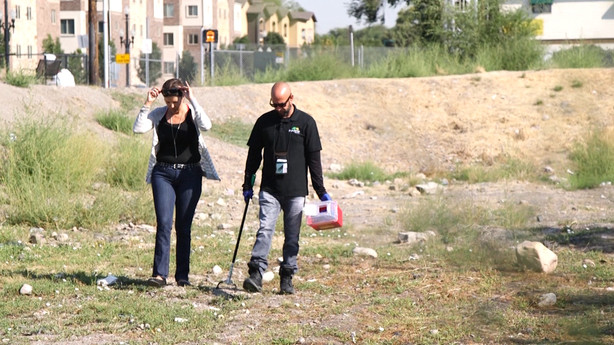 In the wake of the recent sweeping crime crackdown around homeless shelters in the Rio Grande neighborhood, users tend to head to outlying neighborhoods once they get their free needles so they can avoid police.
"None of us are giving out a hundred syringes for one syringe," said Patrick Rezac, executive director of One Voice Recovery, an organization that runs a needle exchange. "That's just not the case."
Three times a week, he walks neighborhoods to pick up dirty needles that get tossed onto the ground — and he's found them as far south as Draper. When the KSL Investigators spoke to him, he was picking up needles along 600 West.
"The first time I cleaned this area, in March, I found 300 needles," Rezac said. On this day, he found six.
One Voice Recovery's needle exchange also educates addicts about disease prevention and proper disposal. Rezac said his group is on track to a one-to-one ratio: for every one dirty needle returned, users get one clean needle.
In the meantime, he said he'll keep collecting discarded needles to keep Utahns safe. He believes the program is saving lives.
"Absolutely," said Rezac. "Without a doubt."
If you find a needle, Bush said "it's best if you don't (pick it up) because the chance that you can poke yourself is really high."
Instead, you can contact any of the following organizations, which are authorized to handle and dispose of discarded needles: One Voice Recovery via Facebook Salt Lake County Health Department, 385-468-4100, or your own county health department Utah Department of Health, 801-538-6003
Photos
0 Pending Comments
Sorry, we are not accepting new comments on this story, but if you have more to contribute please email
newstip@ksl.com
Showing of 125 comments
Sorry, we are not accepting new comments on this story, but if you have more to contribute please email
newstip@ksl.com