PROVO — On any given day around the southern portion of BYU campus, women's soccer assistant coach Brent Anderson can be found doing something more.
Clean up cones, strewn pennies or water bottles after a day's practice? Been there, done that. Water the field? Check. Clean the equipment? Yep.
It's not that Anderson has to do it, as an assistant coach working his way up in the profession. BYU has a fully funded maintenance crew and equipment managers on hand, 24 hours a day.
Still, the former Utah State goalkeeper does his business — in addition to coaching, the reason the Cougars brought him into the program after 11 seasons as the head coach at nearby Utah Valley.
"I loved my experience at Utah Valley University. Moving here has been a great move, though," Anderson told KSL Sports before the team departed for Penn State, a season-opening road trip that ended in a 3-1 loss. "The support for the women's soccer program has been amazing."
There's plenty of change around the BYU women's soccer program this year. Star goal-scorer Ashley Hatch has moved on, now playing professionally with the North Carolina Courage. So, too, has reigning West Coast Conference player of the year Michele Vasconcelos, standout midfielder Elena Medeiros and starting goalkeeper Rachel Boaz.
But the biggest change may be on the Cougars' bench.
Anderson replaced former associate head coach Chris Watkins, who left to take the head coaching job at WCC rival Gonzaga in December.
Though the former UVU head coach moved just a few miles up University Parkway, the experience has been foreign to him from a Wolverines program he took to a 110-100-14 overall record and the first NCAA Tournament berth in school history in 2015.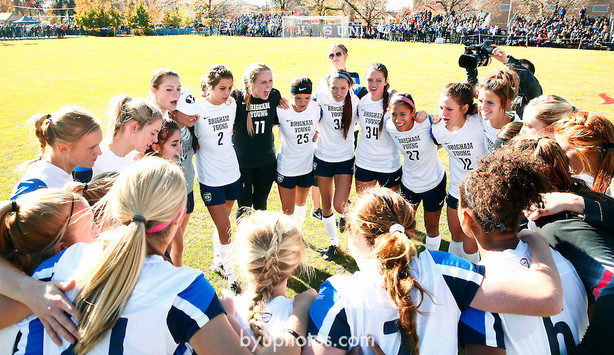 "I hope that those 11 years weren't wasted," Anderson said in describing his relationship with head coach Jennifer Rockwood. "(BYU assistant Aleisha Rose) and I have input on everything, and it's a great chemistry as a coaching staff. I'm glad that we're included in coaching and can make changes if we need to."
Indeed, the coaching staff works like teammates on a soccer field, midfielder Bizzy Bowen said. On a given day, Anderson will work extensively with the goalkeepers, Rockwood will focus on the defense and Rose will run drills with the attacking players.
Then the three will come together, blending practice like a perfectly synced counterattack that ends in a 90th-minute game winner.
"They're on the same page, and they look to each other for advice," Bowen said. "They're also willing to be corrected by the other.
"(Anderson) took our team to a whole new level. The attitude shifted, and the coaches were so unified."
It wasn't always easy to embrace the change of a new member of the coaching staff. Watkins had been with the program since 1996, even stepping down as head coach of the men's club team to focus on his role as associate head coach with the women.
His departure for Spokane, Washington, left a gaping hole — and Anderson's advances were initially met with some hesitation, according to defender Taylor Isom, a MAC Hermann Trophy candidate who prepped at nearby Alta High School.
"You grow up and are not supposed to like those other in-state teams," Isom joked. "But he made a great impression on all of us in the spring. He felt us out, we felt out his coaching style and now we are all going forward.
Related:
"The coaching staff is on the same page, and it brings a different perspective than what coach Chris Watkins did. It's a new style, and we really like it."
The Cougars and Wolverines have faced each other twice in program history, with the most recent being a BYU win in the first round of the 2015 NCAA Tournament. Their next scheduled appearance? Sept. 22 at South Field.
But Anderson is barely thinking about that emotional reunion. He's too busy setting plans for the Cougars' home opener Monday at 5:30 p.m. MDT against Ohio State.
"I love the challenge of this schedule," he said. "I love the teams we are playing and really preparing for each match.
"That's exciting for me."
Related Stories
0 Pending Comments
Sorry, we are not accepting new comments on this story, but if you have more to contribute please email
newstip@ksl.com
Showing of 0 comments