SALT LAKE CITY — Before state dignitaries sank gold-painted shovels into the dirt on Salt Lake City's remote west side, Gov. Gary Herbert joked about how plans for the area once called for a gated community.
"I guess this will be one of the gated communities," Herbert said to laughter.
Wednesday's groundbreaking for the new Utah State Prison followed yearslong discussions that eventually led to outrage from Salt Lake City leaders and residents when state officials selected the site about 6 miles west of Salt Lake City International Airport to relocate the prison from Draper.
Since then, with no real means to fight the move, city leaders have decided to make the best of the future prison and the infrastructure it will bring to land that has long sat undeveloped.
Preceded by years of planning and public controversy, Herbert called the groundbreaking "a very significant and important occasion" for the state's corrections system and reducing recidivism rates.
The new prison is expected to be finished in winter 2020, with inmates moving from Draper in spring 2021.
"This is more than building a new building. This is about rebuilding people's lives, restoring dignity and opportunity to people, and restoring and providing hope for their future," the governor said.
But even as Herbert, other state leaders and corrections officials celebrated by throwing the first shovelfuls of dirt into the air, details of the multimillion dollar prison's cost and its design were clouded with uncertainty.
Earlier this year, corrections officials warned that designers might not be able to fit all planned 4,000 beds into the new prison and keep within the $650 million budget.
Plus, the newly launched Operation Rio Grande — the multijurisdictional effort to eradicate crime in Salt Lake's volatile Rio Grande neighborhood — may have some impact on the prison and its design, but it's not clear what those impacts may be, according to Marilee Richins, spokeswoman for the Utah Department of Administrative Services.
Related:
"As part of Operation Rio Grande, they're really going hard after the criminal element, and that has an impact," Richins said. "I'm not at all suggesting we know what that impact will be. I'm simply saying we understand it could (affect prison plans) so we are staying flexible."
The governor and Utah Legislature are "very determined" to keep the prison within budget, Richins said, so there are "conversations happening right now" to determine how the Operation Rio Grande model will impact the state's corrections system.
"We have a design that's flexible that we can add beds, or if we don't need to build as many beds, we can do that," she said. "That's a decision that doesn't need to be made right at this moment, so we are moving ahead with our original plan, which is a prison for $650 million."
To laughs, Jim Russell, director of the state Division of Facilities Construction and Management, promised the new prison would be built on time and "close to budget."
When asked about the budget, Rollin Cook, executive director of the state Department of Corrections, said: "This is a huge project, and it's constantly under scrutiny, and we're trying to make sure we meet everyone's needs.
---
I can't overemphasize that 95 percent of the people we incarcerate today will eventually be released and returned to our neighborhoods. The fundamental question is: How can we ensure they're better when they return?
–Rollin Cook
---
"It's very difficult," Cook continued. "That's a challenge we're going to have all the way through to the end. But … I'm very confident that we can meet all of those challenges and make sure we get this facility open at the right time."
Cost and bed count challenges aside, he said, "it's a great feeling" that groundbreaking day had finally arrived, "and now it's time for us to get busy."
Cook said the new prison will have a greater focus on rehabilitation with therapists, counselors, job training and other new programs aiming to reduce recidivism rates.
"I can't overemphasize that 95 percent of the people we incarcerate today will eventually be released and returned to our neighborhoods," he said. "The fundamental question is: How can we ensure they're better when they return?"
The site, about 2 miles north of westbound I-80's 7200 West exit, is surrounded by sprawling wetlands. Dragonflies and other insects buzzed in the air during the ceremony, and many attendees swatted away flies as dignitaries spoke. A small herd of antelope grazed in the distance.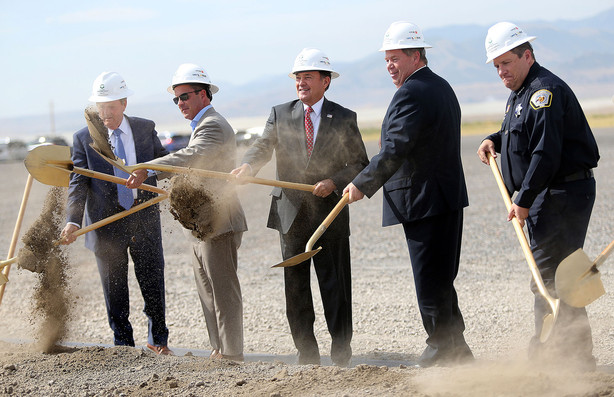 Environmental issues of the site continue to concern Shauna Denos, president of the Utah Prisoner Advocate Network.
"You have to have faith in the engineers and the geologists and hope that it works out," she said at the groundbreaking ceremony.
Denos said her son is an inmate at the Utah State Prison and could potentially be moved to the new prison if he does not get an early release.
Initially, Denos said her group didn't support moving the Draper prison but eventually came to the realization that "moving it was the only way we were going to get a facility that is not only safe for the inmates, but safe for the staff."
"We're just really hoping for the best," she said. "We have to."
Photos
Related Stories
0 Pending Comments
Sorry, we are not accepting new comments on this story, but if you have more to contribute please email
newstip@ksl.com
Showing of 34 comments
Sorry, we are not accepting new comments on this story, but if you have more to contribute please email
newstip@ksl.com