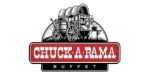 This story is sponsored by Chuck-A-Rama.
As a parent, you're likely not only busy figuring out logistics for the start of the school year but managing your kids' emotions about going back to school, which can be mixed and often dreary. Here are some ideas to get your kids pumped to go back to school.
Throw a back-to-school family party
Gather extended friends and family and throw a get-together to catch up on all the exciting things that happened over the last week and find out what everyone is most excited about for the upcoming one.
Make it a themed party
Throw a theme party based on the year's required reading. For example, "The Great Gatsby" is a popular theme with lots of DIY ideas floating around on Pinterest that will give you a bang for your buck.
Take the family out to eat
Try something fun, like a buffet at Chuck-a-Rama, where kids not only eat inexpensively, but they can choose which day they want to go based off the different daily themes. In the mood for Chinese? Head over on a Tuesday. Prefer Italian? Saturday it is.
Let them have their way with the Bedazzler
It's always fun to start school with cool new gear. Plan a craft day, so kids can bling out their binders, notebooks, a shirt or an old pair of shoes.
Make school memorable
Make your kids' favorite breakfast, pack their favorite lunch with a surprise treat or note inside or host their friends with an ice cream party after the day is over. Ask what would make the day most memorable for them, as the answers might surprise you.
Focus on extracurricular activities
Get your kids revved up by focusing on what they'll be doing outside of the classroom. Will they join or go back to a team sport? Would they like to get involved in a club or be a part of a scout group? This will get them thinking about all the fun they'll be having once school is in session.
Plan fun activities for the weekends
Get your kids excited to finish their first week by having fun weekend plans. This can include play dates with new and old friends or a favorite summer adventure. Knowing there are still weekends to look forward to will shift their focus and make the first week go faster.
0 Pending Comments
Sorry, we are not accepting new comments on this story, but if you have more to contribute please email
newstip@ksl.com
Showing of 13 comments
Sorry, we are not accepting new comments on this story, but if you have more to contribute please email
newstip@ksl.com