TOOELE — Sometimes in life, we're accused of doing things we didn't do. And usually, it's meaningless. But what if you were accused of a serious crime you did not commit?
KSL Investigators found a man who started out as the "witness" and ended up "wanted."
We're often encouraged to call police if we see something suspicious. But what if it backfires on you? Back in March, David, a Tooele County man, took on the role of "good Samaritan" after seeing a woman apparently in distress outside a Maverik convenience store. David said she was being taken away by a man in a pickup truck and was pleading for help. KSL has not released David's full name for privacy concerns.
Without hesitation, David dialed 911 and described the situation.
Tooele police responded and spotted the suspect vehicle, and when the officer turned on his lights, the truck took off. A chase ensued and the driver of the truck escaped police.
Three days later, that driver was spotted in the truck again, this time on I-80 in Tooele. Utah Highway Patrol troopers said they tried pulling the driver over. Again, the suspect fled, reaching speeds of more than 100 mph while racing into Salt Lake County.
However, within moments, the suspect pulled over and 43-year-old Dustin Roy Vincent was taken into custody in connection with kidnapping, theft and a list of other charges.
So, why was the good Samaritan, David, charged with the exact same thing? And how long could it stay on his permanent record?
"My first thought was, 'OK, they got the wrong guy,' " David said.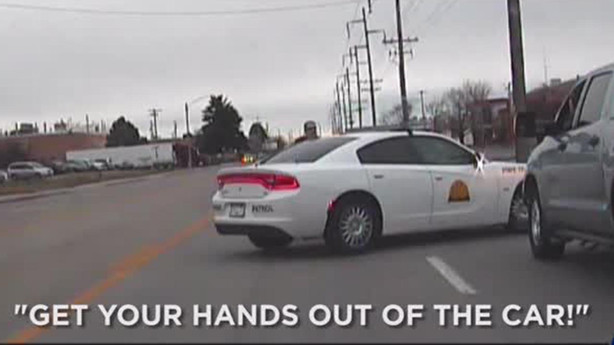 The case number was 171300242: The state of Utah vs. David, the witness. Not only was he wrongly accused, but the wrong guy was now charged with felony kidnapping, auto theft, fleeing police, reckless endangerment and reckless driving.
The documents were official. Defense attorneys were lining up to represent him. And a court date was set.
"And that's when I kind of thought, 'OK, this is getting serious,' " David said.
David and Dustin Vincent, the actual suspect, look nothing alike. David is 13 years older. Vincent has scars. David has glasses. And their hair styles are very different.
Their criminal history is also very different. David has just one traffic ticket on record, while Vincent has multiple felonies and convictions for things like burglary, theft, assault and battery.
So how did the two get confused?
"I called the Tooele County Attorney's Office and talked to Wayne Freestone," David said.
Court records show Freestone as the county attorney who filed the charges.
"And he assured me that I was not the one that was being charged, that I was only going to be a witness," David said, "and so I thought everything was just fine."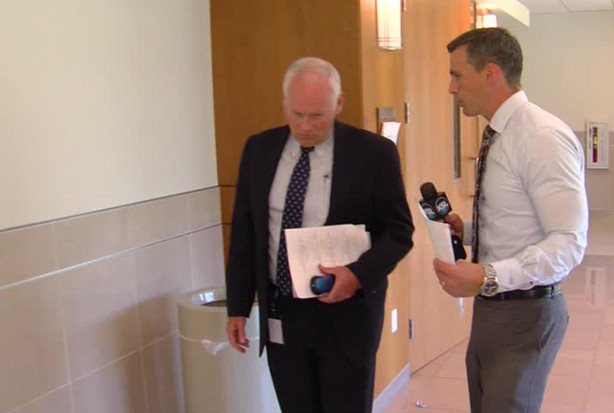 Four days after the wrongful charges, Freestone realized his mistake and filed a motion to have those charges dismissed. The next day, they were dismissed without prejudice.
But David made a valid observation saying, "Even though it says dismissed, it doesn't give a reason why. So, anybody reading this, their first assumption is he got off on a technicality or they've made a deal."
And he's right.
If you go online to the Utah courts, you can see thousands of people charged with a crime and charges dismissed. There is no conviction, but the record doesn't completely go away.
The Tooele County Attorney's Office said they can't remember ever charging the wrong guy in a case, let alone charging the wrong guy with such a serious list of crimes.
So, the KSL Investigators caught up with Freestone outside of court, hoping to better understand what exactly went wrong.
He had no comment.
The one comment we did get was a quote from his boss, Gary Searle, the Tooele County Chief Deputy Attorney, saying, "He (Wayne Freestone) is not going to get beat up over a simple clerical error."
Utah State Courts official Geoffrey Fattah said charging someone by mistake is a serious issue.
"We're surprised, and we're a little bit concerned," Fattah said.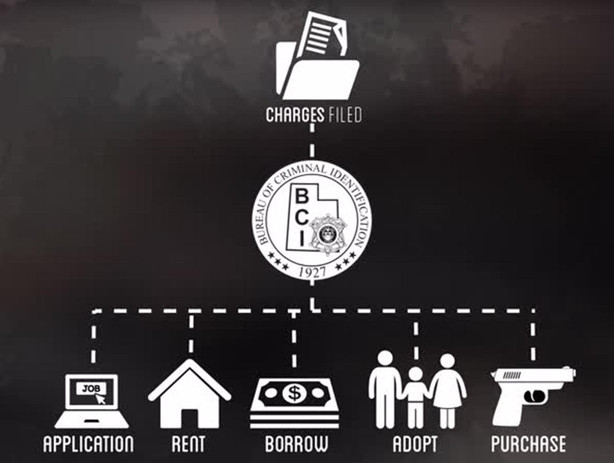 Here's the cause for concern: Once charges are filed, that information is shared with the state Bureau of Criminal Identification. That means if you're applying for a job, looking to rent a home, borrow money, foster or adopt a child or buy a gun, those organizations often go through BCI to get a better sense of who you are.
Even if you're not convicted, the initial charges remain on record.
"There are real consequences to somebody being charged, so to have this information filed against a wrong individual is a serious thing," Fattah said. "We do take it seriously."
So here's the good news. Two weeks after the so-called "clerical error," the only mark on David's record now is a $107 speeding ticket from 11 years ago.
Case 171300242 does not exist. He is no longer charged with stealing a truck. He is no longer charged with running from police, and he is no longer charged with kidnapping a woman.
But here's something you should know about legal documents — even after the charges were erased, it appears the Tooele County Sheriff's Office didn't get the memo. Two months after the incident, a deputy showed up at David's front door with a mandatory invitation to face those charges in court.
"They haven't got it cleared up," David said. "It's obviously still in the system because here's a sheriff's deputy at my door with a summons."
Obviously, everybody makes mistakes. For Vincent, it was caught on video. For Freestone, it was writing up the charging documents. And in the mind of David, there's a tiny part of him that wonders if it was maybe a mistake even getting involved in the first place.
"This is how you treat people trying who do the right thing?" he said.
KSL checked with the courts, and on average they have 40,000 criminal filings every year. However, they can't remember anyone being charged by mistake in the last 20 plus years.
We also checked with BCI, and they said David's record is now clean.
But he keeps an email from the Tooele County Attorneys Office saying the charges are cleared, just in case.
Photos
0 Pending Comments
Sorry, we are not accepting new comments on this story, but if you have more to contribute please email
newstip@ksl.com
Showing of 91 comments
Sorry, we are not accepting new comments on this story, but if you have more to contribute please email
newstip@ksl.com