SANDY — It all started with a card game.
The smartest player for Real Monarchs — Daniel Haber, a Cornell grad, according to team captain Sebastian Velasquez — brought a game from Ithaca, New York, to the Wasatch Front, and the second-division team has been playing it nonstop since he arrived.
On the plane. In the stadium. Laying seats down in the back of the team van just to get a few hands in.
"My per diem is gone because I always lose 20 bucks," Velasquez joked, while declining to deliver too many specifics of the Monarchs' secret weapon.
Whatever it is, it worked.
The Monarchs (12-1-0) finished off Reno 1868 FC at Rio Tinto Stadium on Monday night, winning their ninth-straight match to climb up to the top of the Western Conference table.
Two assists by Velasquez, as well as quality finishes by Andrew Brody and Salt Lake City native Taylor Peay, helped Real Salt Lake's second-division side set a record for the most consecutive wins in United Soccer League history, relegating former USL team Orlando City SC's run of eight-straight in 2014 to second place.
The game had a little bit of everything: goals, possession, offside flags, goalkeeper shots off the crossbar and RSL owner Dell Loy Hansen banging drums with the club's supporters (more on that in a moment).
But it all started with a card game — or at least, the principles learned from it.
"Even if it's just a game, it brings us together," said Velasquez, who leads USL with six assists to go along with six goals in his career renaissance. "It's the craziest thing that also shows on the field — it's incredible what we'd do to get the ball in the back of the net."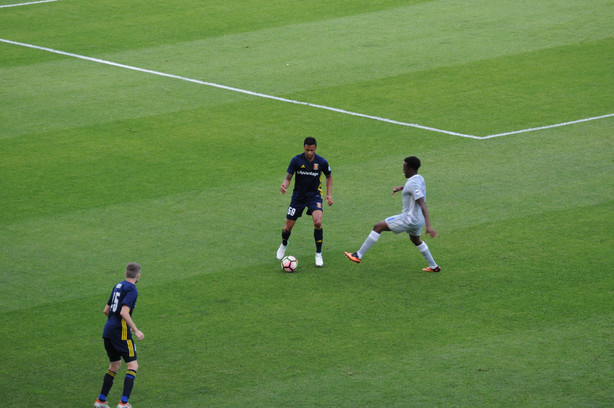 Real Monarchs were once a laughing-stock in USL. The B-team (or worse, perhaps) of RSL, the Monarchs have never made the playoffs. It took them until the fall to reach the 10-win plateau in 2015, and a coaching change just one game into the season could've led to a similar outcome.
But that wasn't going to be the case in what has already become a historic season of the league's longest winning streak.
"It's a fantastic achievement for the players in that locker room," said head coach Mark Briggs, who took over for Mike Petke when the former New York boss was promoted to lead Real Salt Lake. "They deserve to enjoy the result and enjoy taking what they actually achieved.
"They've just put their names in history, so well done."
Of course, any coach will tell you that it takes talent to win. And Briggs' side has plenty of that.
Velasquez was an RSL first-team regular before moving to New York City FC alongside former boss Jason Kreis. He arrived at RSL via the 2012 MLS SuperDraft and nearly delivered a title before falling to Sporting Kansas City on penalty kicks to end the 2013 season.
Leading scorer Chandler Hoffman was drafted by the Philadelphia Union in 2012 and went on to play with Los Angeles and Houston before landing in USL. Similarly, Peay went from Brighton High to the University of Washington before earning an MLS Cup ring with the Portland Timbers in 2015.
But winning with the RSL organization means a little more to the Bengal alum.
"I grew up watching RSL through high school, and to be able to score and push this team to get a historical win is huge," said Peay, whose first-half stoppage-time goal proved to be the game-winner Monday against Reno. "It's huge for everyone, and I'm very, very happy about it. It's something to build on; we've still got a lot of the season left, and we'll go from there."
Peay isn't the only player with the Monarchs who has a local tie: Former Utah Valley forward Skyler Milne is also on roster, and Monday night's match featured RSL stand-ins David Horst, Omar Holness, Ricardo Velazco and Lalo Fernandez, who made five saves to preserve the win.
The RSL crest means more when players from the first and second divisions are constantly featured on the same pitch at Rio Tinto Stadium, Peay said.
"I think one of the biggest things is that it's a sense of pride," he added. "You see all the homegrown players, through the Monarchs and up in the first team. Everyone is playing for the badge."
While RSL's first team struggles in Major League Soccer, sitting ninth in the Western Conference with a 5-10-2 record, the second-tier club is thriving. Sure, the Monarchs are thriving in USL, where reserve teams and smaller markets are the norm, unlike in MLS.
But don't call any of these players second-rate, Velasquez said.
"I have an unbelievable team. We have to realize that we have a young MLS team; this is not a USL team," he said. "We train at an MLS level, against the first team sometimes, and we've shown that we can compete at that level. Our season is showing it."
And with all the excitement surrounding the club (remember Hansen, who joined names at Monday night's coronation like RSL icon Brian Dunseth and first-team defender Chris Wingert), Briggs is quick to point out that the Monarchs have higher aspirations.
"We're doing well at the moment, and we broke this record — but I still don't think we are anywhere near the potential that group has," said Briggs, who previously coached in USL at Wilmington. "That's exciting, and that's why they have to be kept on their toes and work every day. They have to understand that they haven't achieved anything yet.
"They broke history, and that's great. But it's not a medal or a trophy, and in this game, trophies are what matters."
The load doesn't get any easier, either; next week's match is at Phoenix Rising FC, the current club of former Chelsea striker and Ivory Coast international superstar Didier Drogba.
But the Monarchs want to be the best — and they are out to prove it, even against the best competition.
Thanks, of course, to a card game.
"We want people to talk about the Monarchs," Velasquez said. "It's showing right now, but it won't be all worth it until we're holding the trophy in November."
Photos
Related Stories
0 Pending Comments
Sorry, we are not accepting new comments on this story, but if you have more to contribute please email
newstip@ksl.com
Showing of 0 comments