BRIAN HEAD, Iron County — Winds that swept a wildfire up a canyon and into a resort town over the weekend have died down, allowing firefighters to hold the blaze to roughly 1,000 acres.
"Weather is on our side today," Erin Darboven, spokeswoman for the Bureau of Land Management's West Desert District, said Monday.
The milder gusts allowed helicopters to more easily spray orange clouds of fire retardant over burning pines near Brian Head, Darboven said. Crews also were on foot with chainsaws and hoses, and had 4 percent of the fire contained late Monday.
Despite the improved outlook, evacuations remained in place for roughly 750 visitors and residents.
The emergency evacuations on Saturday supplied more adrenaline than some vacationers had bargained for.
Jennifer Violand, who was visiting from South Jordan on a weekend mountain biking trip with her family, heard a knock and opened her cabin door to find a fire marshal telling her group to hurry down the canyon road.
"It was kind of a weird, panicky feeling," Violand said. On Monday, she returned temporarily for their bikes and belongings.
The 15-mile stretch of state Route 143 from Parowan to Cedar Breaks National Monument remained closed, but the Utah Highway Patrol permitted some people like Violand to enter with an officer and retrieve medications or other essentials.
The evacuations were more than just a precaution.
One home was destroyed and three cabins were damaged in the village that is a five-minute drive from Cedar Breaks National Monument's sweeping vistas and sandstone cliffs.
The U.S. Forest Service reported that someone started the blaze about 12:15 p.m. Saturday. No other details about what sparked the fire were available Monday.
The flames spread quickly, racing up the canyon and consuming 500 acres within hours. Plumes of smoke were seen above the ski village of 86 full-time residents as helicopters sprayed orange chemicals to douse the flames.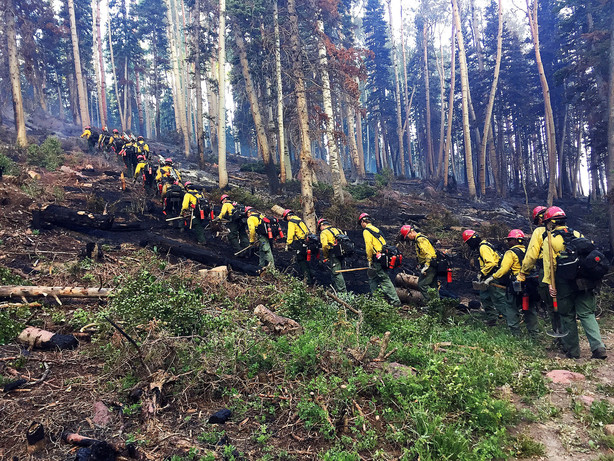 The fire, which reached 976 acres Monday, was "still very active." Some 420 firefighters were working on the ground or by air, and none sustained any injuries, Darboven said.
Federal disaster relief managers pledged to help pay for recovery costs on public property over the weekend, but business owners and homeowners aren't eligible for the help.
The fire torched land belonging to the town and threatened to move into the Dixie National Forest as the mercury was expected to rise to 98 degrees Monday.
And the potential for more fires will grow as the temperatures climb this summer, fire officials warn.
Darboven cautions Utah campers over the Fourth of July weekend to be careful with fireworks and check local fire restrictions.
Gov. Gary Herbert is set to touch down in Brian Head on Tuesday to get a firsthand look at the damage, speak with local and state officials there, and urge wildfire-prevention measures.
Snowfield fire
A new fire started burning Monday morning on the west side of I-15 just north of Pintura, which is about 25 miles north of St. George.
Fire managers said the blaze was 100 percent contained Monday night, having burned 140 acres.
The frontage road near the fire remained closed as crews mop up the fire. It is believed to be human-caused.
Choke Cherry fire
The Choke Cherry fire burning 5 to 6 miles southwest of Circleville in Piute County was 50 percent contained Monday, according to a news release from the Central Utah Fire Agency.
It has burned about 157 acres and the cause is under investigation.
Forest Road 121 at Birch Creek remained closed as crews worked on the fire Monday.
Bonanza fire
In Uintah County, a fire near the town of Bonanza was 25 percent contained Monday morning. It has burned 2,453 acres. State Route 45 near that fire reopened Sunday.
Contributing: Sean Moody, Nicole Vowell, Linda Williams
Photos
Related Stories
0 Pending Comments
Sorry, we are not accepting new comments on this story, but if you have more to contribute please email
newstip@ksl.com
Showing of 6 comments
Sorry, we are not accepting new comments on this story, but if you have more to contribute please email
newstip@ksl.com