AMERICAN FORK CANYON — Levi Dean and his family love to get away from it all from time to time. To do so, they hit the dirt roads in American Fork Canyon as often as possible.
The only problem is, it seems like everybody else has discovered their family's favorite spot too. Over the years, American Fork Canyon has become increasingly popular and experienced a fair amount of growth in visitors.
"Over the last, I'd say 10 years, (the number of visitors has) exploded," Dean said.
In the past, many people would visit the canyon to ride ATVs. But Dean said that's not really the case anymore.
"I got rid of my four-wheeler because two of us were riding at a time and the rest were sitting at camp and I'm like, 'this is no fun anymore,' " Dean said.
Dean's not the only one who has upgraded from an ATV. Side-by-sides and other UTVs can be seen in every direction on the dirt roads in American Fork. The bigger off-road vehicles allow the whole family to go out together.
"I've got it set up so my wife and three kids can go," Dean said.
Dean has car seats in the back row of his UTV and even baby toys hanging from the ceiling.
"You have to keep the little guy entertained somehow," Dean said with a laugh.
Ever since side-by-sides in American Fork Canyon became popular, visitation numbers have almost doubled — from about one million visitors a year to roughly two million a year. And managing all that growth can be a little tough.
Russ Hanson, the district ranger for the Uinta-Wasatch-Cache National Forest, said officials are trying to get ahead of the rapid growth of visitors to the canyon. Hanson said it's been amazing to see all the UTVs in the past few years, but he's also not surprised.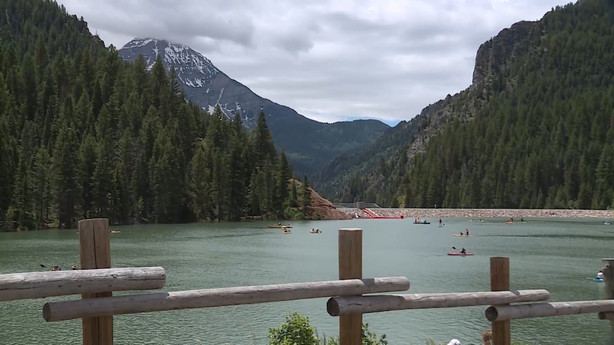 "The side-by-sides are car-like, so people get in them and they drive them like their car," he said.
Hanson believes that UTVs make exploring the outdoors more family friendly, which works in Utah. It's common to see a line of side-by-sides heading up the dirt roads near Tibble Fork Reservoir.
Hanson said he's not seeing much additional damage to the land because of them, but he does think their popularity has made it so families can go farther into the mountains than they could before.
With the increasing number of visitors at American Fork Canyon, Hanson has some advice for those planning to go:
"Have a plan B if you get here and it's just packed full of people," he said. "Maybe be ready to go to Strawberry and somewhere else if it's just too busy."
Photos
0 Pending Comments
Sorry, we are not accepting new comments on this story, but if you have more to contribute please email
newstip@ksl.com
Showing of 118 comments
Sorry, we are not accepting new comments on this story, but if you have more to contribute please email
newstip@ksl.com