SALT LAKE CITY — Between 400 and 500 people each day eat lunch or dinner at St. Vincent de Paul Dining Hall, or "Vinny's," as the locals call it.
It's a service provided through Catholic Community Services of Utah.
Many of the people who eat there are homeless, though some are low-income Utahns needing a little extra help. In the summertime, the dining hall usually serves more than 1,000 meals a day.
"In this town, they won't let you starve to death," said one volunteer who asked to be identified only as Cowboy. "Without volunteers, this place would not be open at all."
Meals at St. Vincent de Paul generally are pretty balanced with fresh fruit, vegetables, protein and grains. But Tuesday night, there was a special menu: black beans, Spanish rice, green salad, fresh fruit and punch. The specialty: venison tacos, prepared by Outdoor Sportsman Group chef Scott Leysath.
"This is the most rewarding thing I do all year," he said.
Leysath and the national Hunt.Fish.Feed. campaign fed more than 500 homeless Utahns Tuesday night.
"This is the 10th anniversary of the Hunt.Fish.Feed. program with Sportsman Channel," said Leysath, who hosts an Outdoor Sportsman Group cooking show that features preparing game and fish dishes. "Our goal is to bring attention to what's going on with the homeless and hungry population."
Volunteers from Comcast and Camp Chef helped serve and prepare the food, including 175 pounds of venison from the Mule Deer Foundation in Salt Lake City.
"All the meat was harvested locally," said Rob Weeks, chief of marketing and development with the foundation. "People feel better about it, knowing it's locally harvested, no steroids, no hormones, no antibiotics. It's just God's good, natural protein."
The Mule Deer Foundation collected the venison from local hunters who donated the meat over the past year.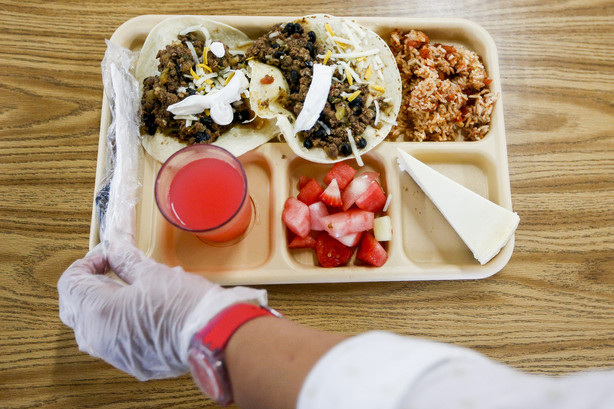 "We serve our deer community and habitat quite well, but we also are all members of the same human community," Weeks said. "Where we can leverage our resources and our connections to help feed people, we feel like that's a worthy cause."
The Hunt.Fish.Feed organization launches annual tours across the nation, serving cities with homeless populations. Christy Benson, director of community outreach for the Outdoor Sportsman Group, said the program is traveling to 15 cities this year to host dinners at homeless shelters.
"It's very humbling. It makes you feel a lot more grateful for what you have," Benson said.
In each city, the organization asks for local hunters and fishers to donate their meat or fish to the shelters.
"We've provided more than 16,000 meals and more than 12,000 pounds of meat," said Tom Caraccioli, vice president of the Outdoor Sportsman Group. "We feel that this is a way to call attention to the problem, and not only call attention to the problem, but help try to be a part of the solution."
Matthew Melville, homeless services director with Catholic Community Services, said he's grateful local hunters donated the venison to help with the dinner, even if it was just for one meal.
Every mealtime Melville greets each of the diners with a smile. He remembers the names of frequent visitors and asks how they're doing.
"We've been dedicated to making sure nobody in our community goes hungry," Melville said. "It shows that a lot of the hunters out there are dedicated to solving some of our nation's food insecurity issues by helping out those most in need in our community here in Salt Lake."
Photos
0 Pending Comments
Sorry, we are not accepting new comments on this story, but if you have more to contribute please email
newstip@ksl.com
Showing of 24 comments
Sorry, we are not accepting new comments on this story, but if you have more to contribute please email
newstip@ksl.com