BOUNTIFUL — Rachel Perry and her husband thought they had found the perfect apartment for themselves and their newborn daughter, Cora. It was affordable, newly renovated and, best of all: smoke-free.
Perry is very sensitive to secondhand smoke, which has caused her a lot of health problems.
"I get pretty sick," Perry said. "It hurts so bad to swallow or even to breathe."
So, a place that didn't allow smoking — like The Park Apartments at 453 W. 1500 South in Bountiful — was exactly what she was looking for. But just to make sure, Perry asked the management.
"We clarified with them, 'Well, what happens when people smoke? Because we really want to make sure we're safe,'" Perry said. "And they said, 'Oh, we give them a couple warnings and then they get evicted.'"
The Perrys signed a lease and a no-smoking agreement and all was well — but only for a few months.
"We got new neighbors," Perry said. "We started to smell some funny smells. I asked some of my family that was visiting, like, 'Come smell this. Does this smell weird to you?' And they said, 'Oh yeah, that definitely smells like drugs.'"
The Perrys took it up with the complex's management and the police. Their suspicions were confirmed and officers arrested the upstairs neighbor. He pleaded guilty to possession of drug paraphernalia and marijuana use.
The Perrys were told by management that he'd be evicted, but then nothing happened.
"He said there shouldn't be any problems getting rid of them, and that was weeks ago," Perry said.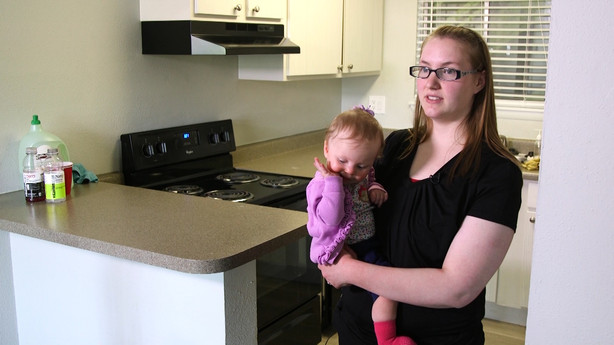 In the meantime, she said the neighbors kept smoking and Cora started getting sick.
"The smell is typically strongest in her room," Perry said. "She started waking up four to five times a night. We were noticing crusty spit up, smelling like vomit, and she had never spit up even as a newborn."
The Perrys waited and waited. The family would leave their apartment every time they smelled smoke, driving to Provo to stay with relatives. But when it happened in the middle of the night, all they could do was sit in their car for hours.
They were hoping an eviction would come, but a month later, still nothing.
"I emailed the manager a lot," Perry said. "I told him I was concerned and asked when they were going to go."
But Perry said the manager wouldn't give her any information and started ignoring her complaints. Meanwhile, Cora's doctor told them it wasn't safe to keep living in that apartment, so the Perrys got out of there.
"I was angry. I felt hopeless," Perry said.
Jacob Kent, an attorney with Utah Legal Services, told the KSL Investigators the Perrys may have a case.
"I think any tenant who is subject to some illegal things going on — illegal drugs, things like that — I would think they might have some rights under the law," Kent said.
However, he thinks their big hurdle will be the no-smoking contract they signed. The document says residents can't smoke, but even if they do the signers of the document can't sue the landlord.
"Something you have to remember is these tenants are never drafting these contracts, so they're coming in and signing a contract drafted by the landlord," Kent said. "So that's going to be there to protect the landlord."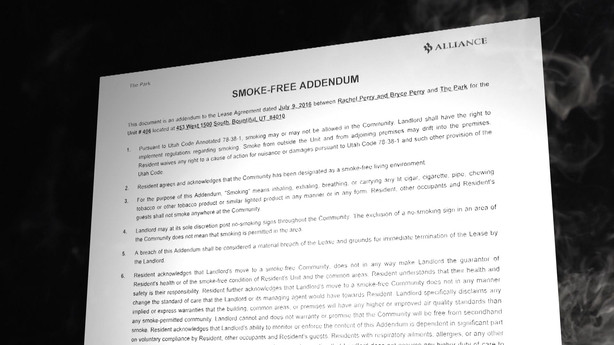 The apartment complex's management agreed to let the Perrys out of their lease but kept their $500 deposit. They also charged the Perrys all of April's rent, even though the family moved out mid-month.
When the management charged the Perrys rent for the month of May as well, despite the agreement, the KSL Investigators got involved.
We called The Park Apartments and no matter how many times we asked what was going on, the manager would only say he couldn't give out any information about residents.
However, Perry said minutes after that phone call she got an email from the management apologizing for sending them a bill for May's rent, saying it was just a mistake. A follow-up email said the Perrys would also be getting their deposit back.
Since they moved out, the Perrys said Cora has been healthy. Even though they gave up their apartment, they said it was worth it.
"As soon as we got out, she was sleeping better," Perry said. "Normally, she's such an easy-going baby."
Attorneys say always read the entire lease agreement before you sign so you know what your rights are. But be aware, those agreements are written by the apartment complex, usually to protect themselves against any liability.
Photos
Related Links
0 Pending Comments
Sorry, we are not accepting new comments on this story, but if you have more to contribute please email
newstip@ksl.com
Showing of 122 comments
Sorry, we are not accepting new comments on this story, but if you have more to contribute please email
newstip@ksl.com