OGDEN — Temporary. That's all a simple marker for Miloh Hughes' grave was meant to be. Three years ago, five-month-old Miloh died of sudden infant death syndrome.
"It's a daily struggle every day. It's something that you just never really get over," said Miloh's mom, Ashley Hughes. "You just learn how to live life without him. If that makes sense."
The wait for Miloh's headstone didn't make that struggle any easier for Ashley and his father, Thomas. They said the owner of Etched in Stone Design in Ogden promised they'd have it by that first winter. It was the first of missed deadlines stretching three years.
"I was asking for updates, pictures, just something and he would send me nothing," Thomas Hughes said.
Jenafer Meeks turned to Etched in Stone Design when her mother, Lillian, died of a sudden illness.
"He was so kind and caring," Meeks said about Etched in Stone Design's owner. "That, you just had a really good feeling about the purchase you're just about to make."
She said nearly a year came and went with no headstone.
"You're stuck in that grieving process," Meeks said. "None-the-less, you feel like you have failed that loved one that you so much wanted to honor."
KSL Investigators obtained 33 customer complaints about Etched in Stone Design from the Better Business Bureau and found two main issues. The complaints claim the company delivered headstones months, sometimes years past the original promise date. Then, there are complaints of misspelled names, wrong dates of birth and wrong dates of death.
"Not having something here, just made it sting more," said Ashley. "Just made it worse. Just one more thing we have to deal with that still isn't done but should have been done years ago."
Little Miloh's headstone finally arrived last month, days after Ashley vented her frustration on Facebook. We counted replies to her post from 30 people saying Etched in Stone Design kept them waiting or had wrong info chiseled into the stones.
Wallis Burnside is the owner and main artist at Etched in Stone Design.
"I wouldn't have been around for 30 years in this business if I was some kind of scammer, or some kind of a hurtful person," Burnside said. "I have no intention of harming anyone or letting someone down. I do this work because I love this work and I love people."
Burnside said one reason for delays is bad weather, it can push jobs into the next year.
"This business is very seasonal. It's affected when it rains just as contracting is and other businesses. Cemeteries often don't allow us on the grass until April or May, so we have a very narrow window in which we can deliver," Burnside elaborated. "On the bottom of the contract, every one of them, it says stones can only be delivered during dry weather or if they haven't paid the balance it remains my property until the balance is paid."
He gave other reasons for getting behind.
"Losing a couple of people, there's a lot of people who're not that dependable in the workforce."
The Hughes said they heard other reasons.
"Every excuse in the book you could imagine," Thomas Hughes said. "He probably told me had allergies 16 times. He told me he almost died. And then, he was demanding I pay him more money."
Meeks had a similar experience.
"At that time, it was I had been sick for a month. One of my coworkers had a terminal illness," Meeks said Burnside had told her.
But, Burnside has managed to keep his business alive through two bankruptcy filings.
"It's been extremely difficult since 2007, 2008. I have been able to pull through," explained Burnside. "I'm confident now that we have finally found some better workers. I think we have a better production team that will continue to improve."
Etched in Stone Design has an 'F' rating with the Better Business Bureau. And, as of June 1st, it is on the "Buyer Beware List" issued by the Utah Division of Consumer Protection.
Both the Hughes and Meeks cannot believe Etched in Stone Design is in business.
"I just can't, I cannot believe that this man is still in business," Meeks said.
To find out what could be done, the KSL Investigators hand delivered the BBB complaints and others we found to the man in charge of Ogden City's business licenses. He promised to see if the company should lose its license.
KSL Investigator Debbie Dujanovic took the same stack of complaints to the state investigators at the Division of Consumer Protection.
"Anytime that we have received complaints and taken action, and continue to receive complaints about the same conduct, that's concerning to us," the division's director Daniel O'Bannon told Dujanovic.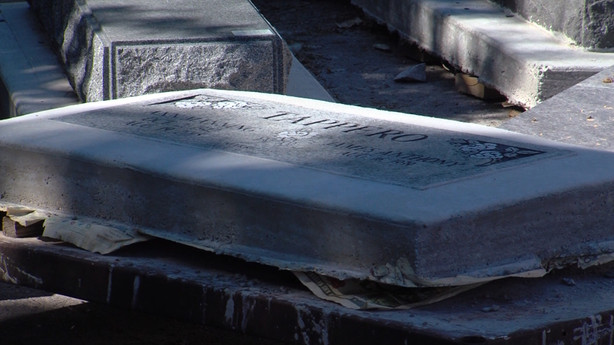 His agency has investigated Etched in Stone Design before and fined the business twice in the past. Those fines include a $2,500 fine in 2006 for not fixing spelling and grammar errors on a stone. The company got slapped with a $5,000 fine in 2013 for not delivering a stone on time, and then not giving a refund in a timely manner.
"There's also an order to stop engaging in the wrong conduct," O'Bannon said.
The state has been trying to collect both fines for years. Burnside said he had no idea.
"There are telephones these days where they could call if they wanted to," Burnside said. "I'm not aware if I owe a fine or not."
Dujanovic approached Burnside with some of these questions.
Dujanovic: "Oh, speaking of calling and texting, people say – the customers – they call and text you a lot and you don't call back."
Burnside: "I don't know who you're referring to. Everything takes time."
The KSL Investigators went over complaints with Burnside.
Burnside: "Which ones stand out in your mind?"
Dujanovic: "All of them. Every customer is important."
Dujanovic asked Burnside about the confusion over dates of birth and dates of death.
Burnside: "I think that sounds pretty harsh."
Dujanovic: "So, what's taking so long to get the headstone in? And you've explained that it sometimes can take years."
Burnside: "Yeah, seldom it can take years. I mean, occasionally it will take years."
The KSL Investigators also asked to see the contracts that are used to document, designs, dates, and deadlines. Turns out, they are hand written.
Dujanovic: "I don't understand how you can read that."
Burnside: "Well, when we have it on the stone I can read it. They can read it."
Burnside went on to say customers approve the completed headstone before it's installed.
But the Hughes and Meeks families don't approve of how a headstone caused them even more heartache.
"This is someone's life we're talking about," Meeks told KSL. "You lost a loved one. There is no harsher thing to go through and then to have someone do what he's done. That is just so sad."
Here's what consumers can do to help avoid a similar experience. Make sure you're dealing with a company that has a good track record. The Better Business Bureau posts reviews on its website. The Utah Division of Consumer Protection posts a Buyer Beware list. Lastly, a simple internet search may help you spot red flags.
If you've had issues with Etched in Stone Design, you can contact state investigators at the Division of Consumer Protection and the Ogden City Business Licensing office. Both said they're taking a very serious look at Etched in Stone Design.
Photos
0 Pending Comments
Sorry, we are not accepting new comments on this story, but if you have more to contribute please email
newstip@ksl.com
Showing of 37 comments
Sorry, we are not accepting new comments on this story, but if you have more to contribute please email
newstip@ksl.com