SALT LAKE CITY — Met by bells clanging overhead and songs from joyful parishioners, a flame ignited in Jerusalem was brought to light Saints Peter and Paul Orthodox Church on Saturday.
Lighting the first of the church's candles, Father John Mahfouz turned to the crowd outside the church and cried "Christ is risen!"
"Truly he is risen!" parishioners answered in chorus.
Church members came with candles, thin tapers and carefully prepared lanterns to receive their own portion of the fire, taking it back to their homes to remember the event.
But even as they celebrated the fire they call holy and miraculous, Rev. Mahfouz urged members of the church to also let a light for Jesus Christ burn in their hearts to give the flame meaning.
"The reality is, this holy fire means nothing if a fire doesn't kindle within your hearts," he said. "May we have the light, the holy light, burning within us. May we have the light of Christ within us and repent."
Members of the Greek Orthodox Church say the flame lights miraculously each year when the church's patriarch of Jerusalem carries an unlit candle into the sepulchre where Christians believe Christ was entombed after his death.
The patriarch then exits to share the flame with those waiting outside, according to the faith, and from there it is carried to Orthodox congregations throughout the world. This is the first time it has been brought to the members at Saints Peter and Paul Church.
After being flown to John F. Kennedy International Airport in New York City, the flame made its way across the country. A young family that recently joined Salt Lake's Antiochian Orthodox congregation volunteered to drive to a church in Rock Springs, Wyoming, to receive the flame and carry it back to the church.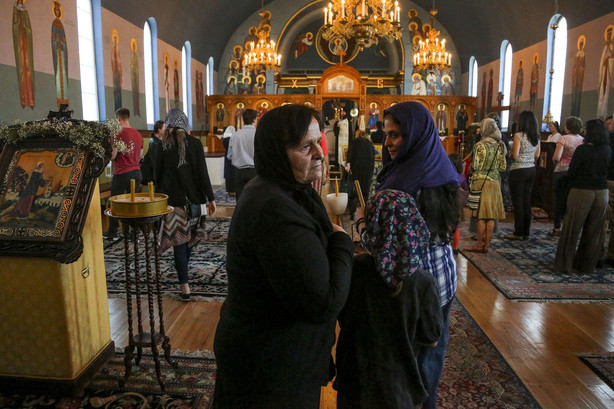 Damen and Nikki Spillman, of Pleasant Grove, said they will never forget the sight of their joyful congregation waiting outside the church to greet them and their three children when they returned to Salt Lake on Saturday.
"The whole parish was outside. Having Father John light his candles and start singing ... that's something that will stick forever with us," Damen Spillman said.
"It was overwhelming," Nikki Spillman echoed, smiling wide.
Having just joined the church three weeks ago, the Spillmans said making the long drive to retrieve the fire for their newfound congregation was a way to show their gratitude.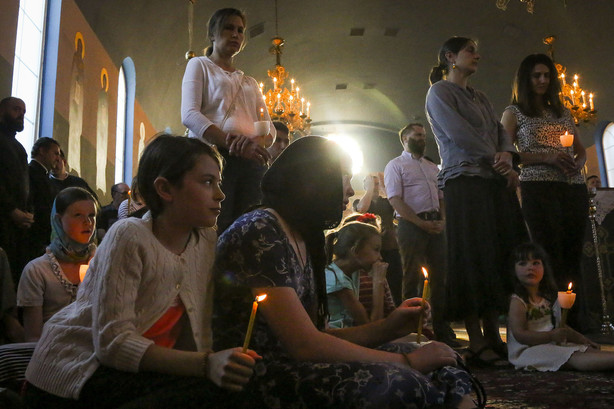 "We're new to the church here, we're new to Orthodox Christianity in general, and this place has been such a blessing for us that I just felt kind of compelled to do something in return for everything they've done for us in the past several weeks," Damen Spillman said. "This has been like a family we never knew we had."
As he left the church following an evening of singing and prayer, Patrick Vosse, of Salt Lake, carefully carried a candle in glass case to take home.
"A miracle happened at Jesus' tomb, I'm taking that home with me," he said.
Describing his feelings, Vosse said, "I don't think you can put it into logical words. It is something that brings joy, and peace and can bring tears to my eyes."
Photos
0 Pending Comments
Sorry, we are not accepting new comments on this story, but if you have more to contribute please email
newstip@ksl.com
Showing of 7 comments
Sorry, we are not accepting new comments on this story, but if you have more to contribute please email
newstip@ksl.com