PROVO — For 21 years since the group's inception, only one of around 110 teams in the Men's Collegiate Lacrosse Association has advanced to the national tournament every year.
It's not a power-conference school like Oregon, Michigan State, Missouri or Oklahoma. It's not even Colorado State, which owns the all-time record for most MCLA national titles with six.
It's Brigham Young University, advancing to every Division I tournament since 1997 — a remarkable feat for the four-time national champs.
"There's no question that there is an absolute expectation," said BYU lacrosse coach Matt Schneck, who played on the Cougars' first title-winning squad in 1997. "Sometimes people don't want to use that word too often. But we expect to go to the national tournament every year, and we work, schedule, practice and plan everything we do to that end.
"That is the ultimate goal, and it's why these kids come here to play."
BYU (12-4) will open the 2017 MCLA Division I national championships Monday, when the Cougars will face Michigan State at 4:30 p.m. at UC Irvine. The Spartans (11-4) are a new opponent after BYU's original opponent, Miami (Ohio), withdrew from its inaugural tournament for announced "administrative decisions" by the Great Rivers Lacrosse Conference that reportedly involved the use of an ineligible player.
New addition Florida State took the Redhawks' place, but was slotted in as the No. 14 seed. That bumped Northeastern to the 15-seed line and moved Michigan State into a first-round matchup with BYU.
Not that Schenk is necessarily complaining about the 11-win Spartans, who won the Central Collegiate Lacrosse Association with a 6-0 division record.
"Michigan State, unlike who we were expecting to play, is a regular at the tournament," Schneck said. "They were conference champions this year, they got an automatic bid, and they are a good team. We've seen Michigan State in the past, and I think we have a much better idea of what to expect now than with Miami (Ohio)."
For the first time since 2005, both BYU and Utah (10-6) advanced to the MCLA national tournament. The Utes, who are in the beginning of a resurgence under new coach Brian Holman, will play defending national champion Chapman (10-6) in the first round in a rematch of the opening game of the 2017 season — which Utah won, 10-7.
For BYU, a run as the tournament's top seed comes as the Cougars are rounding into form after narrowly qualifying for the Rocky Mountain Lacrosse Conference tournament as the No. 4 team in the league.
The Cougars lost back-to-back RMLC contests April 6 and April 8, an 11-10 home defeat to Colorado State and a 9-7 loss to regional rival Colorado.
"We had a fast start to the season, but we hit a hiccup in the middle with a couple of big losses to the schools in Colorado," senior defender Harrison Wardle said.
"That was definitely a downturn. But I think it's key to take those losses and really learn something from them. The team that wins the championship is the team that is peaking in May, not necessarily the team that was the best the whole time. I think we're really starting to hit our stride now."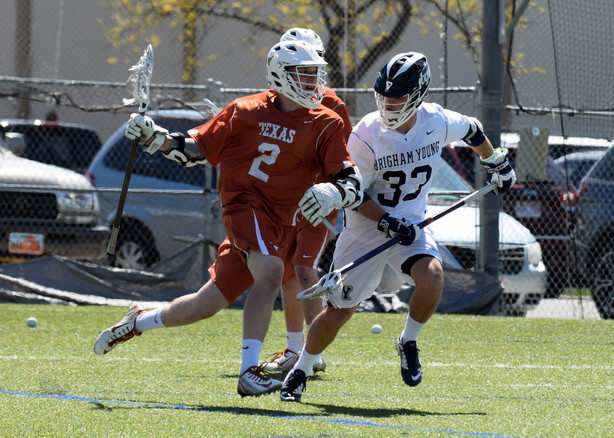 The squad rebounded with a 10-9 non-conference win over Texas, and ended the regular season with three wins, including a 14-8 victory over Utah.
The Cougars added a 10-4 win over the Utes in the semifinals of the Rocky Mountain conference tournament, then erased an early deficit in the conference championship to knock off host Colorado 13-11 last Saturday to take the league's automatic bid to the tournament.
"Last year, I don't know if we believed fully that we could win the national championship. This year, it felt like a platform to boost us to our ultimate goal," Wardle said. "We had some great individual efforts and team play over the weekend in Colorado, going down 4-0 to CU and then being able to come back was awesome."
The Buffs jumped out to a 4-0 lead, and took a 5-2 advantage after the first period. But BYU rallied with four of the next five goals to reset the game at 6-6 at halftime, and held on for a 13-11 victory.
"Last week was a big stepping point for us," said sophomore attack Harry Waddoups, a Corner Canyon product. "We're really coming into our own. On offense specifically, we're jelling and we're starting to realize what we need to do.
"We're becoming more focused as a team and really starting to hit our stride."
Waddoups added the team was motivated by a recent lack of success against the Buffs, including a 9-7 loss April 8 in Provo.
"The rivalry with Colorado is so bitter and intense," said Waddoups, who has a team-high 49 points with 28 goals and 21 assists. "We had a chip on our shoulder from the past couple of games."
The setback that dropped BYU to 7-4 on the season and just 1-2 in RMLC play served as a "gut-check" for BYU, Wardle added.
"After one of our losses, our coaches questioned what we always preach: family and unity," the senior defender said. "It really hit home to a lot of the guys, and it was a gut-check to see if we would stick together, and if we are really family.
"It was a time that could've gone two directions: we could've taken those losses, and gotten upset with each other. Or it was a chance to build from them."
BYU's coaching staff made a few key changes in the offense, and it was off to the races.
"We're playing smarter, honestly," said Chris Severson, a Bingham High product who has 19 goals and 15 assists. "We're really starting to click now.
"That's great this time of season. But it really comes down to making changes, getting used to those changes, and now we're starting to play smarter."
Related Story
The Cougars now hope to build on what they hope is a strong run for their fifth national title and first since 2011. A schedule that featured some of the best team's in the MCLA certainly helps confidence, too; among the 16 teams in tournament, BYU has played seven of them, with a 5-3 record in those games.
"When we go play CU or CSU or other teams like that, and we drop those games, we immediately learn from those experiences," Schneck said. "We know we will face those guys again; it's inevitable, and sometimes we will face them three (more) times — that could happen his year.
"You hope to learn from it, and you start to understand tendencies and things you can do to capitalize on those opportunities."
But with the No. 1 seed also comes a larger target on BYU's back, Severson added. Like Duke basketball or Alabama football, the Cougars have been marked by the tournament selection committee.
"I feel like we end up getting everybody's best game," Severson said. "Every team we played against, we saw everybody's best game. If we can beat them, it plays to our advantage in the season.
"Everybody wants to be the team that knocks that team out."
As cliches go, the next one is the most important on the Cougars' schedule, Schenk said. But it seems especially true with the MCLA tournament, where one bad game could mean the end of the season — even for the top-rated club lacrosse team in the country.
"You have to treat every game like it's your last, like it's the championship game," Schneck added. "You have to win this one to go on to the next.
"We recognized when we were awarded the No. 1 seed that the target on BYU became a little larger than normal."
Photos
0 Pending Comments
Sorry, we are not accepting new comments on this story, but if you have more to contribute please email
newstip@ksl.com
Showing of 6 comments
Sorry, we are not accepting new comments on this story, but if you have more to contribute please email
newstip@ksl.com