SALT LAKE CITY — In the wake of Rep. Jason Chaffetz's announcement that he will not seek re-election and may step down early, a new poll of Republican voters in Utah's 3rd Congressional District released Friday shows surprising support for Utah Valley University President Matthew Holland to fill the post.
"It's actually pretty remarkable that somebody who's never held public office has such high favorability," said Quin Monson, a founding partner of Y2 Analytics, which conducted the poll.
Holland, who has not publicly expressed any interest in running for Congress, received the highest average favorability score of 77 out of 100 among Republican voters, according to the poll.
"There's a variety of reason's why he'd be a good candidate and why he's attractive to a wide swath of Republican voters," Monson said, noting that Holland's "charmed" namesake and his association with success as president of a rapidly growing university.
Monson cautioned against reading too much into Holland's favorability, noting that the university president has not expressed any interest in Congress.
"We put him on for fun because he looked interesting," Monson said.
John Curtis
Among other potential candidates, Provo Mayor John Curtis — who has expressed some interest in running for the office — is showing a competitive edge, ranking among those positively viewed with a 62 average favorability, according to the poll.
Should Curtis choose to throw his hat in the ring, Monson said his approval ratings would bode well for him.
"He's very popular in Provo," he said. "His record puts him in a very good position should he choose to run."
Curtis said he's "flattered and humbled" to see the "vote of confidence from so many people," though he stopped short of saying his competitive edge is enough to cause him to run.
"It would be an 180-degree turn from where I saw myself going, back into the private sector," he said. "But I will tell you, (the poll) has given me pause."
Related
Curtis said he's in the midst of talking to friends and family to see if running for Congress would be the right thing "for my family and for the district."
"I owe a decision like this the time and attention it deserves," he said. "Right now I need to continue a meaningful dialogue with our community and my family. I'm looking for the feeling in my heart that tells me to move forward, much like when I ran for mayor eight years ago."
Gov. Gary Herbert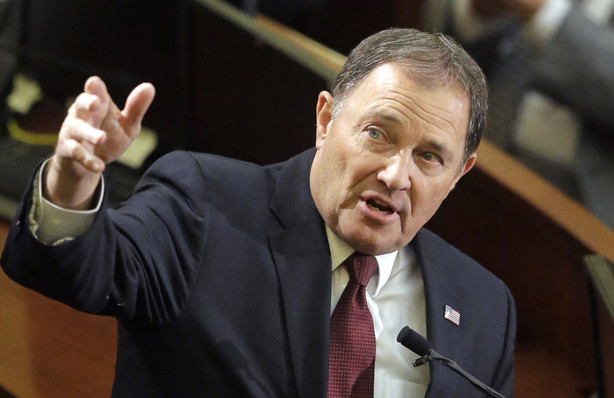 Behind Holland, voters also approve of Gov. Gary Herbert with a 72 score, though he has been vague about whether he'd have any desire to run for Congress or seek re-election as governor.
At a news conference earlier this month, Herbert said it was too early to say whether he'd run for re-election in 2020, then joked about whether he should consult with Sen. Orrin Hatch — who has also been unclear on running for another term — about whether he should run for Chaffetz's seat.
Evan McMullin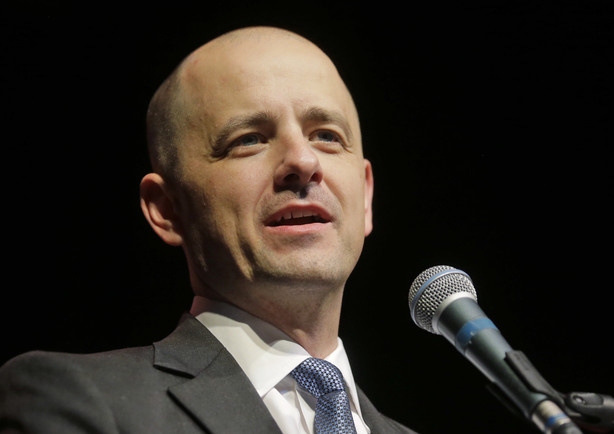 As for former presidential candidate Evan McMullin, the poll tells a different story.
McMullin, a former CIA operative who ran as an independent against President Donald Trump last year, is a more "polarizing" candidate among Republicans, Monson said, with an average favorability score of 49.
"Running as an independent really alienated him from a set of Republican voters who were angry that he took away votes from (Trump)," Monson said, adding that McMullin's success would hinge on whether a Republican with a higher favorability score ran against him.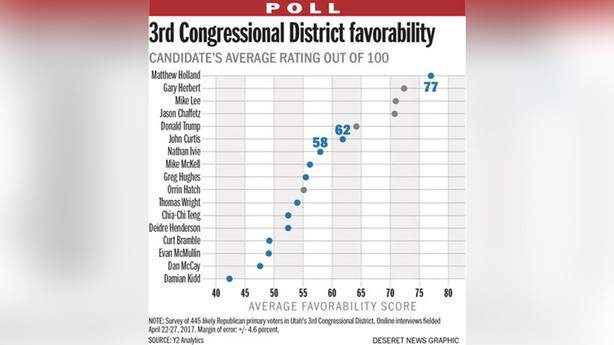 "There's a group of Republican voters who really don't like him," he said.
Monson said he could only see McMullin running if he has a "clear path to victory," and that would likely mean no Republican opposition.
Hughes, Bramble, Henderson
Though McMullin has the highest name recognition among potential candidates, others have higher favorability — including House Speaker Greg Hughes, R-Draper; Sen. Curt Bramble, R-Provo; and Sen. Deidre Henderson, R-Spanish Fork.
Hughes, however, faces some unique challenges, Monson said. Though he has higher name recognition than Bramble and Henderson, he's been associated with more controversy that likely detract his favorability with voters, including his association with the scandal-tainted Utah Transit Authority.
"Having a visible position in the Legislature doesn't always endear you to voters," Monson said, noting that House speakers fail in their bids for Congress more than they succeed.
Still 'very early'
While Friday's poll results are noteworthy, Monson cautioned that it's still "very early" to make any predictions, "particularly because we don't even know the process yet."
Herbert has expressed concern about calling for a special election for Chaffetz's seat if he leaves before his current term ends at the beginning of 2019. A special election, the governor has said, might give some legislators who have an interest in the seat an opportunity to increase their chances of winning.
"The rules matter; the nomination system matters," Monson said.
Whoever ends up being the Republican candidates, he said, they're going to represent nearly identical conservative values.
"There's a lot of room for these numbers to change," Monson said, depending on who actually decides to run.
The poll of 445 likely Republican primary voters was conducted April 22-27 and has a 4.6 percent margin of error. Interviews were collected online among voters registered in the 3rd District.
Holland and McMullin didn't respond to requests for comment Friday.


Photos

Related Stories
0 Pending Comments
Sorry, we are not accepting new comments on this story, but if you have more to contribute please email
newstip@ksl.com
Showing of 62 comments
Sorry, we are not accepting new comments on this story, but if you have more to contribute please email
newstip@ksl.com