SALT LAKE CITY — It's been 10 years since Bob Welker got the life-changing diagnosis of multiple sclerosis.
A lot has changed in that time, but the unpredictable and debilitating disease has not taken down his spirit.
And while the Kearns man has been in a wheelchair for the past three years, he and his "army" of a couple dozen supporters and friends will walk across the finish line Saturday to show that multiple sclerosis will not beat him down.
"I'm a believer that you can do whatever you put your mind to," he said.
Welker, 34, doesn't believe MS has ruined his life, though it has caused him to endure many rather serious inconveniences throughout the past decade.
"Because of MS, I've been able to accomplish stuff that I never would have even thought of before," he said. "And then, there is stuff that because of MS, I just can't do anymore. There's a lot of give and take with it."
Welker said he's hoping to use his experience to inspire others.
That's not uncommon among MS survivors, according to Amber Mitchell, a local National Multiple Sclerosis Society chapter specialist who is helping to organize the annual fundraising Walk MS on Saturday.
Mitchell said more than 3,000 people will gather to show support for the nearly 49,000 Utahns living with the disease.
"There's no cure for it or reasons for why it happens," she said, adding that more research might help pinpoint factors that play into a diagnosis of multiple sclerosis.
Research has led to the development of at least 15 approved therapies or drugs that can help people with at least one type of the disease and diagnosis, Mitchell said.
But people still live with the uncertainty of MS, the symptoms of which can come and go in frequency and severity.
"It's so different for everybody who experiences it," Mitchell said.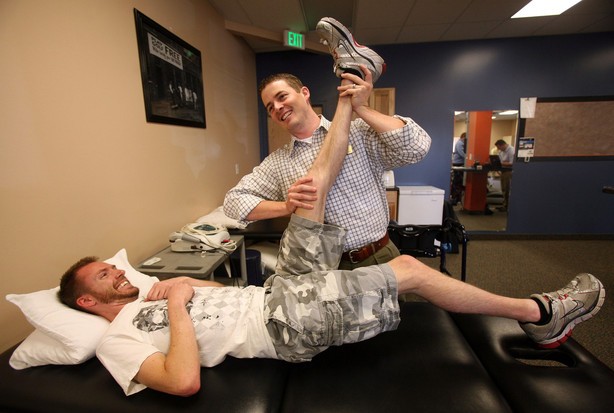 Some people experience vision problems and numbness of the extremities, instability, fatigue, enhanced sensations and basically lose their quality of life over the years.
The National Multiple Sclerosis Society and its local chapters provide access to available resources, as well as some financial assistance, to help people living with multiple sclerosis have a better quality of life.
"We're giving people resources and tools to help them cope as they live with the disease," Mitchell said. "Everyone's challenges are different, and progression of the disease is different."
Welker has a rarer form of the disease, called primary progressive multiple sclerosis. He doesn't meet many others who battle this form, which can be isolating at times. He's fought his way through various types of treatment, but nothing except continuous chemotherapy for two years several years back ever had any effect.
Welker has turned to better nutrition and learning about his body to combat the symptoms he feels every day. And because of the changes he's made, including eliminating processed foods and most breads and flour, "overall," he says, "I feel fantastic."
"My body feels like it is working like it is supposed to," Welker said.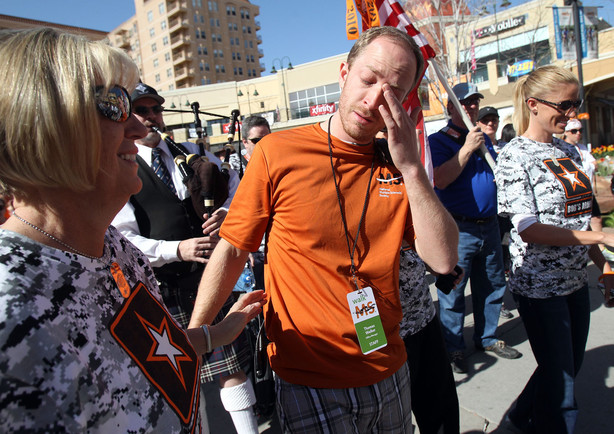 For the first time in about three years, he feels stronger and more capable than ever.
Welker's understanding of the disease has also come a long way since he was diagnosed in January 2007.
He has watched the disease become more commonly talked about in the public over the years. And while having MS "does kind of suck," Welker said, he's made the most of it, facing it and succeeding every day.
It doesn't hurt that Welker has numerous friends and family rallying around him, buoying him up. He said the support is "invaluable."
To commemorate 10 years of living with the disease, Welker got a rather complex chest tattoo showing the progression he has dealt with, from using a cane to being bound to a wheelchair. It also includes replicas of the medals he earned crossing the finish line at his first Walk MS event and MS150 bike race a decade ago.
Related
"I know I'm not the only person who deals with hard stuff," Welker said. "If someone else can see how I'm dealing with it, maybe it will help them, too. I'm not one to just sit back and do nothing. It's not really my style."
Registration for the Utah Walk MS 2017 is free, but participants are encouraged to donate or fundraise to help further the cause of research. This year, the walk begins at 10 a.m. at Veterans Memorial Park, 1985 W. 7800 South.
Mitchell said the event, celebrating its 28th year in Utah, will continue after the walk with live music and food trucks at the park. Everyone is welcome.


Photos
Related Stories
0 Pending Comments
Sorry, we are not accepting new comments on this story, but if you have more to contribute please email
newstip@ksl.com
Showing of 13 comments
Sorry, we are not accepting new comments on this story, but if you have more to contribute please email
newstip@ksl.com