MURRAY — On average, 81 transplants take place across the United States every day. On Tuesday, 44-year-old Michael Densley was one of those patients as he received a new kidney at Intermountain Medical Center.
Densley has polycystic kidney disease or PKD. Doctor's diagnosed him at the age of 18 after he experienced bad back pain.
"They ran some deeper tests, ultrasounds and things. They found that I had cysts in my kidneys," Densley said. "From that, they figured that one of the cysts had probably ruptured."
PKD is a genetic disease that causes cysts to grow and make the kidneys larger, sometimes much larger.
He was having a lot of symptoms that we call mass effect," said Dr. Ivan R. Zendejas of Intermountain Medical Center. "The kidneys were pushing on all the structures that were giving him swollen legs and ability to eat and other things."
Seven weeks ago, the kidneys had to come out — both of them. Together, the kidney's weighed 15 pounds.
"When they showed me the pictures of the kidneys in the pan that actually filled up the pan, and that was just one of the kidneys. I was like, 'Those are huge!' I can't believe I delivered that and then another one. I jokingly refer to as I delivered twins."
Densley knew this time would come eventually. For the last seven years, he had cut out caffeine and taken as good care of his kidneys as possible.
His wife put out a request for a kidney on Facebook, and her oldest sister stepped forward.
"She's amazing with everything," Densley said. "She will be happy to help out, give you the shirt off her back, but in this time and case, she's giving me the kidney from inside."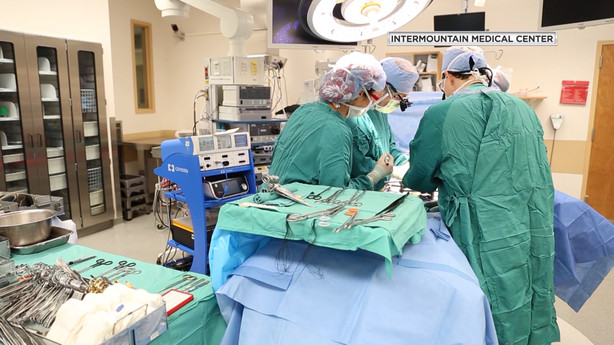 After seven weeks of dialysis and living without kidneys, Densley has definitely prolonged his life. "In the case of Michael having a kidney transplant by the fact that he will be taken off dialysis he will live very close to his life expectancy," Zendejas said.
Zendejas also encouraged others to consider organ donation. "It's important to talk about it," he said. "Talk about it over the dinner table and say, 'Hey what would you like to do if a tragedy happens?', because tragedies happen."
"I think it gives you a chance to not only have an improved chance at life but an improved quality of life," Densley said.
So, what is Densley most looking forward to?
"I would like a big thing of fries and orange juice cause I haven't had that for several years now," he said.
Densley and his sister-in-law are still recovering in the hospital, but doctor's report the transplant went well.
If you would like to become an organ donor you can sign up at the Department of Motor Vehicles or just visit https://www.yesutah.org/.
Photos
0 Pending Comments
Sorry, we are not accepting new comments on this story, but if you have more to contribute please email
newstip@ksl.com
Showing of 7 comments
Sorry, we are not accepting new comments on this story, but if you have more to contribute please email
newstip@ksl.com