SALT LAKE CITY — Former Utah offensive lineman Garett Bolles was selected No. 20 overall Thursday in the first round of the NFL Draft.
Bolles, who played one season at the University of Utah, was drafted by the Denver Broncos. He's the first player from the Beehive State and the University of Utah to be drafted in 2017 and the eighth player in the school's history to be drafted in the first round. The last player drafted from the U. in the first round was Star Lotulelei, who was selected No. 14 overall in 2013 to the Carolina Panthers.
"Congratulations to him and his accomplishments this year," Utah coach Kyle Whittingham said of Bolles at Utah's red-white game. "To think where he was a year ago — he didn't join us until mid-summer last year and to go to where he is right now is incredible."
The former Ute was the first offensive tackle taken in the draft, making it the first time since 1967 that an offensive tackle was taken that late in the draft. Bolles fills an immediate need at left tackle for the Broncos' offensive line.
"He's a kid that loves to play the game," Broncos General Manager John Elway said. "You can tell how he plays. He plays with passion and he's very athletic. He's going to come in here and compete for that left tackle job, but we think he's a guy that can solve that problem for us for a long, long time with that type of ability."
Bolles told media that the Broncos hosted him a week before the draft and that Elway told him "we'll see you next week." Bolles said Elway was a "man of his word" and that he is "beyond blessed" for the opportunity to play for the Broncos.
"I'm just excited to get out there and put guys in the dirt," Bolles said. "My running back, Devontae Booker or whoever it is, can score touchdowns. If you touch my receiver, you touch my quarterback, you touch anyone on my team or my organization, it's like touching my wife; you're going to get in trouble by me."
He added that his opportunity to play for the Broncos is more a testament to his family and the support they've given him over the years.
"It's not about me, it's about my family and all the hard work they put into my journey to get to this point," he said.
Bolles was in attendance in Philadelphia Thursday to participate in the first round of the draft. He's the first U. player since Alex Smith was drafted No. 1 overall to San Francisco in 2005 to be in attendance for the first round of the draft.
"I'm just really looking forward to representing my university and my family at the next level," Bolles said at Utah's Pro Day earlier this month.
Bolles played two years at Snow College before transferring to the U. prior to the 2016 season as one of its top recruits. He joined the team mid-summer and quickly became one of the standout players on the team, particularly the offensive line. Bolles' size and strength made him a valuable asset on the offensive line and a disruptor to opposing defenses.
Following his junior year at Utah, Bolles decided to skip his senior season to pursue an NFL career. Bolles tweeted at the time that his time at Utah "has been an incredible experience" and that he was "extremely grateful for Coach Whittingham, the entire coaching staff, and the support staff of the football program for molding me as a person, player and student-athlete."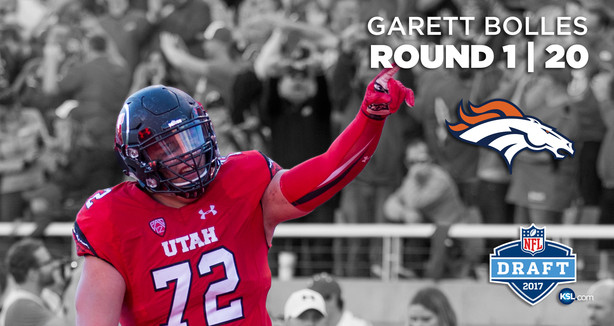 After declaring for the draft, Bolles quickly moved up the various draft board predictions and was talked about as a potential first-round pick. Several draft analysts rated him as a top 5 offensive lineman in the 2017 class.
Bolles served a full-time mission for The Church of Jesus Christ of Latter-day Saints in Colorado and will have the opportunity to return to the state after being drafted by the Broncos. He will be joining another former Ute, running back Devontae Booker.
Bolles was one of four offensive linemen from the U. invited to the NFL Combine. He was evaluated in five different drills and was a top performer in four of them for his position, including 40-yard dash (4.95 seconds), broad jump (115 inches), three cone drill (7.29 seconds) and 20-yard shuttle (4.55 seconds).
Photos
0 Pending Comments
Sorry, we are not accepting new comments on this story, but if you have more to contribute please email
newstip@ksl.com
Showing of 15 comments
Sorry, we are not accepting new comments on this story, but if you have more to contribute please email
newstip@ksl.com