SALT LAKE CITY — Police are warning of a parking ticket scam so good that many people may have fallen for it without even realizing it.
Anthony Hilder and a friend were searching for a parking spot in downtown Salt Lake City on Saturday night. Parking lots they checked were full, so they took a parking spot on the street.
When they returned from their shopping trip, Hilder found what looked like a ticket on the car.
"You look at it and it's a pretty official looking envelope," he said.
It appeared to be a $35 ticket from Diamond Parking Services, a real company with parking lots around the city. However, Keith Horrocks with the Salt Lake City Police Department said the only ticket drivers would receive for parking on a public street should be from a Salt Lake City entity.
Hilder was parked along a public street, so the ticket he received likely was fraudulent, Horrocks said. They called it an evolving trend, and warned people to be aware, and not take things at face value.
Hilder's ticket also included a lot number — lot U-106 — another red flag since he was parked on the street.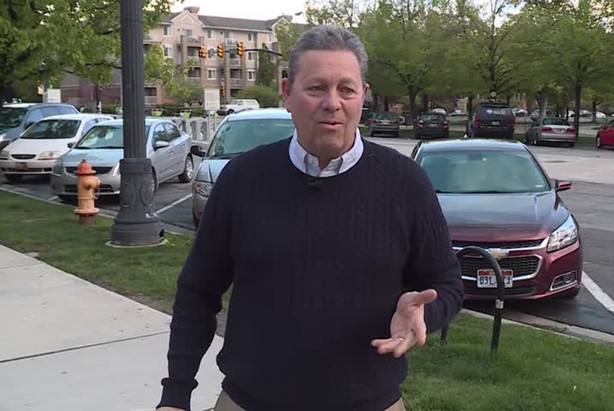 Hilder called the company listed on the ticket to fight it.
"They immediately reduced it from $35 to $5, and I'm like, 'Something's not right here,'" he said. In a later email they agreed to drop all the charges, without explanation, Hilder said.
Police said his hunch was correct, and Hilder is glad he took action.
"If you're not liable for it, stand up for your rights," he advised.
KSL tried to contact Diamond Parking Services but has not heard back yet. It is a legitimate company with parking lots that require payment.


Tips to Avoid Fraud
The Federal Trade Commission website offers 10 tips for avoiding fraud in general. Here's an abbreviated list:
Spot imposters. Scammers often pretend to be someone you trust.
Do online searches. Type a company or product name into your favorite search engine with words like "review," "complaint" or "scam."
Don't believe your caller ID. Technology makes it easy for scammers to fake caller ID information.
Don't pay upfront for a promise.
Consider how you pay. Credit cards have significant fraud protection built in, but some payment methods, like wiring money, don't.
Talk to someone. Before you give up your money or personal information, talk to someone you trust.
Hang up on robocalls. If you answer the phone and hear a recorded sales pitch, hang up and report it to the FTC.
Be skeptical about free trial offers. Some companies use free trials to sign you up for products and bill you every month until you cancel.
Don't deposit a check and wire money back. Uncovering a fake check can take weeks.
Sign up for free scam alerts from the FTC at ftc.gov/scams.
For more detailed information, go to
www.consumer.ftc.gov
.
Editor's note: UPDATE: Diamond Parking Services responded and disputed the claims in this article.
When KSL reached out to Diamond for proof of Hilder's car parked in their lot, the company provided a picture of Hilder's car with latitude and longitude coordinates stamped in the corner. The coordinates show a general 2-mile radius near Diamond's lot located at 261 East and 300 South in Salt Lake City.
Diamond's City Manager John Cole said in a statement: "We don't take a bunch of pictures from all sorts of angles. We don't need to take anything other than the license plate."
Lorna Vogt, operations director for Salt Lake City Public Services said, "Parking services need more proof of where the ticket has been issued and maybe more clear signage. To avoid this issue the city will be increasing its signage for street parking within the next year."
Photos
0 Pending Comments
Sorry, we are not accepting new comments on this story, but if you have more to contribute please email
newstip@ksl.com
Showing of 38 comments
Sorry, we are not accepting new comments on this story, but if you have more to contribute please email
newstip@ksl.com