PROVO — Few in college volleyball would deny that the No. 3 BYU men's volleyball team has made a fortress of its home court, the old-school Smith Fieldhouse, against opposing teams.
But as good as the Cougars have been at home, this season has proven special for what they have done on the road.
BYU is 10-1 in road matches in 2017, with its only loss coming at Loyola Chicago in the second match of the regular season. Since Jan. 7, the Cougars have gone 23-2 — both losses were at home, to then-No. 7 UC Irvine and then-No. 1 Long Beach State.
Road support will be pivotal to BYU for the remainder of the postseason, as the Cougars likely played their final home match of the season in the Mountain Pacific Sports Federation quarterfinals. It all begins Thursday at 6 p.m. MDT against Hawaii (25-4) at Long Beach State.
"There's no chance we are coming back to the Smith Fieldhouse for a match," BYU coach Shawn Olmstead said. "We've got to go on the road and win a championship. Ideally, we can go win two championships. To do that, we know we've got to go on the road."
Of course, "road" is figurative for BYU (24-3), which counts just two players from the state of Utah. Of the Cougars' road successes, nine have come in the state of California — where eight players' families call home.
Add to that the large contingent of BYU alumni and members of The Church of Jesus Christ of Latter-day Saints, and California can feel like a second home for the Cougars.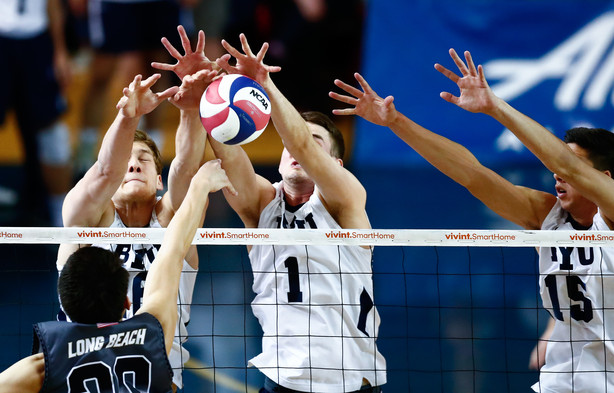 That includes Long Beach, where the Cougars won one national title and played for another.
"It's a really fun venue," said Brenden Sander, who grew up in nearby Huntington Beach. "It's big, a lot of people are in there, and I think we'll have a lot of fans for us in Long Beach.
"It's close to my hometown, so I like it there."
Sander expects plenty of BYU fans at Thursday's match, and also if they advance to face the host 49ers (25-3), who will play UC Irvine (20-6) in the other Mountain Pacific Sports Federation semifinal.
The Walter Pyramid, which will host the NCAA Championships in 2019, has proven a good home for the Cougars, who won a national title there in 2001 and played for another in 2003.
"It's a good venue, a really nice, open space with a big arena that isn't too big," said Olmstead, who won two national titles at BYU in 2001 and 2004. "The ceiling's pretty high, too. The rest of it feels good, and it feels like a good volleyball venue.
"The crowd isn't too sparse, and it fills up when we've been there. I like it; it's a nice place, a nice setting, and hopefully we can continue with that."
MPSF semifinal results
No. 4 Hawaii 3, No. 3 BYU 0
BYU entered its Mountain Pacific Sports Federation semifinal Thursday against Hawaii with the No. 3 ranking in the latest AVCA coaches' poll and the No. 1 spot in the RPI.
Good thing.
Kupono Fey had 16 kills and two aces to give the third-seeded Rainbow Warriors a 25-22, 25-23, 25-22 sweep of second-seeded BYU in the semifinals of the MPSF tournament Thursday evening in Long Beach, California.
Jake Langlois led three BYU players with double-digit kills. Langlois had 15 kills, Ben Patch added 14 kills, and Brenden Sander finished with 11 kills for the Cougars (24-4). Leo Durkin dished out 40 assists for BYU and Erik Sikes had seven digs.
Hawaii (26-4) advanced to the MPSF finals for the first time since 2002.
Playing well on the road doesn't always translate to playoff success, but it's a pretty good indicator. And while the Cougars would prefer to win the MPSF Tournament and gain an automatic entry into next week's six-team NCAA Tournament at Ohio State, the No. 1 team in this week's RPI rankings is all but guaranteed a spot when the postseason continues — win or lose.
It doesn't help BYU as much, as the players say they want to win two titles in March. But Sander said playing loose is key to the Cougars' game in late April, and the pressure can subside under such circumstances.
"There's more pressure to win, because if we don't, we go home (in April)," Sander said. "But we can't view it like that or we'll get tight. We have to play like every other game, play loose and be ready to play."
Whether packed with church members, BYU fans or both, the Cougars expect a full Pyramid this weekend.
And that's just how Olmstead wants it.
"First and foremost, it's a shout-out to Cougar fans all over the country," he said. "We know that, and players and coaches from other sports will talk about it.
"We can't thank those guys enough; we definitely know they are there."
0 Pending Comments
Sorry, we are not accepting new comments on this story, but if you have more to contribute please email
newstip@ksl.com
Showing of 4 comments
Sorry, we are not accepting new comments on this story, but if you have more to contribute please email
newstip@ksl.com