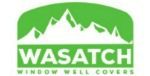 This story is sponsored by Wasatch Window Well Covers.
1. Arm Your Home with an Alarm System
If you're thinking about getting a burglar alarm, join the ranks! About 1.8 million electronic security systems are installed in homes across the United States each year. And it's no wonder -- a house without a security system is three times more likely to be broken into than a residence with one, according to Simon Hakim, a professor of economics at Temple University in Philadelphia.
On average, you'll pay between $100 and $1,200 for a burglar alarm, plus a monthly monitoring fee of about $35. There are many good options. Look for a system with a separate control panel and key pad. Those that have both of these in the same unit can be easier for an intruder to defeat before the alarm notifies a monitoring center.
2. Install Smart Lighting, Indoors and Out.
Make it harder for robbers to break into your home at night undetected with strategic lighting. Outdoor motion detectors, flood lights and security lighting near possible points of entry, like windows and doors, can be a practical deterrent for unwanted visitors.
For an additional layer of protection, consider installing a security camera. Put up signs that indicate your home is armed with a security camera to keep potential prowlers at bay. Because your home is likelier to be broken into when you're away, set indoor lights on a timer to make it look like you're home.
3. Safeguard Hazardous Areas
Sure, there are things you can do to keep out prowlers, but it's also important to safeguard your home from accident-prone family, friends, pets, and uninvited critters.
One of the most hazardous spots on a property can be window wells that surround basement windows. Open window wells are often overlooked, but can be a truly dangerous thing to have in your yards. Just last month, a moose fell through a family's window well and into their basement just up the road in Hailey, Idaho. And smaller children and pets are even more at risk.
But window well covers from Wasatch Covers provide a safe and functional solution to an otherwise hazardous situation. High quality, custom fit well covers can also be outfitted with foolproof, simple to use locking mechanisms to keep your home safe from predators and your yard safe for children, pets and loved ones. They can also protect your home from water damage and keep debris and unwanted rodents out.
4. Protect Your Home Against Fires
If you've ever severely burnt something you've cooked, then you probably know the piercing sound of a smoke alarm. And if you're like me, you deactivated the device and forgot to turn it back on.
Don't make that mistake again! Approximately 3,000 people die in residential fires every year, but there are easy things you can do to protect your home and family from runaway fires. Keep all of your smoke detectors in good working order. Test them once a month, and replace batteries annually. There should be at least one smoke detector on every level of your home. Keep a fire extinguisher handy in high-risk areas, like the kitchen and the garage. And above all, practice a fire escape plan as a family so everyone knows what to do in an emergency.
5. Don't Advertise What's Inside Your Home
You wouldn't put candy in front of a child and say "Don't eat this!" So, don't keep your blinds open and lights on at night and tempt burglars who might be scouting out your neighborhood.
Window coverings should block onlookers from seeing inside your home. If you have sheer or transparent curtains, just make sure they're paired with another kind of window treatment that protects your privacy.
Remember, you're concealing the things in your house as well as the people. This way, it's harder for potential intruders to learn your routine and to know exactly when your family is at home. Of course, keep high-target items like flat screen TVs and jewelry out of sight. Simple solutions like tall fencing or bushes surrounding your property can help block views of your home's interior.
Of course, one of the very best–and least expensive–things you can to help keep your home secure is know your neighbors. Well acquainted neighbors are more likely to call you or the police when they see something fishy.
0 Pending Comments
Sorry, we are not accepting new comments on this story, but if you have more to contribute please email
newstip@ksl.com
Showing of 12 comments
Sorry, we are not accepting new comments on this story, but if you have more to contribute please email
newstip@ksl.com