HOLLADAY — Tech companies across the nation have emulated a strategy at Google intended to boost productivity and creativity, and now one Utah teacher is bringing it to the classroom.
Years ago, Google engineers were given the opportunity to devote 20 percent of their time on the job to work on whatever interested them. This policy, now known in the world of education as "Genius Hour," worked so well that about 50 percent of Google's projects, including Gmail and Google News, stemmed from the independent projects created during this time.
Joanne Brown, a science teacher at Olympus Junior High School in Holladay, hoped to inspire that same creativity and independence in her students, so "Genius Hour" at Olympus was born.
"I loved the idea of challenging students to come up with their own things and giving them the freedom to choose their own projects" Brown said. "All of a sudden, I found that my students had a lot more interest in what they were doing."
Brown has implemented "Genius Hour" in her seventh- and ninth-grade gifted classes and the students have about 70 minutes each week to work in groups on independent projects that correspond with the curriculum.
"I kind of give them the go ahead, and they take what they're interested in and they engineer things and design things," Brown said.
One of Brown's groups partnered with the Red Cross and created a water filter made out of recycled water bottles to aid in earthquake relief, while another group won "Best in State" for the Verizon App Challenge, which allows contestants to enter a design for an app.
Brown's daughter and student, Delaney Brown, was part of a ninth-grade group that entered the Lexus Eco Challenge, a national STEM competition that tackles environmental issues.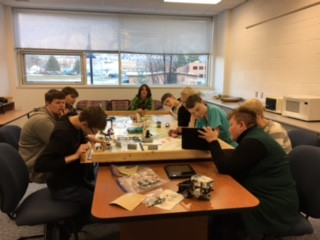 "We made biofuel out of algae, so we grew our own algae and we were able to extract the algae and burn it and use it as biofuel with a small steam engine that lit up a small light," Delaney Brown said. "Algae is kind of a nuisance so we wanted to use that to help clean the air and not have it be a nuisance anymore. … We wanted to show that it was easy for ordinary people to make biofuel without too much effort."
The group won the first round of the eco challenge, scoring $10,000 ($1,400 for each group member and the rest for the school). The group will find out Monday if they have won the final round of the challenge.
Though it's been gratifying to watch her students win these competitions, Brown says one of the most rewarding parts is seeing her students actually get excited and develop a real connection to what they're learning.
The reward isn't without it's challenges, however, and Brown says implementing this idea has required her to take a lot of extra time outside the classroom to aid students. Many times, the difficulty lies simply in starting, Brown said.
"They're so used to being told, 'This is what you need to do and how you need to do it,'" Brown said. "All of a sudden, they have to figure it out on their own. … That's more what the real world is like."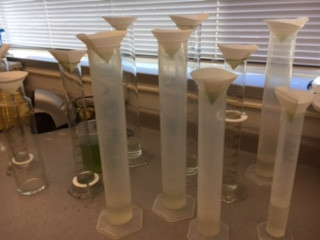 According to Brown, many of the kids in the gifted classes tested into the program, but aren't always genuinely interested in the curriculum.
"Most of those kids tend to just coast, they just do the minimum," Brown said. "But I saw quite a few of those kids all of a sudden find that spark inside that was like 'Oh, this is why science is cool!' It really makes such a difference to reach their own interests."
Trent Hansen, one of Brown's ninth-grade students, discovered a love for video editing after creating a video explaining the app design his group created for the Verizon App Challenge.
"It was a lot different from the other classes that I have cause most of them you get an assignment and you know exactly what to do to get it done, and it's kind of mindless work," Hansen said. "For this one you really had to problem solve because you didn't know exactly what your end result was supposed to be since you make it yourself."
Brown hopes to be able to continue "Genius Hour" in her classroom and would love to see it implemented in other subjects, as well. She also believes the independence is something that aids kids at any level, not just gifted students.
According to Brown, less-motivated students aren't less intelligent, many times they're simply bored. Giving them the independence to choose can help motivate those students to find what does interest them and allow them to pursue it.
"I think by the end of the project, they really feel a sense of ownership for what we have learned this year ... I think it has been really successful," Brown said.
0 Pending Comments
Sorry, we are not accepting new comments on this story, but if you have more to contribute please email
newstip@ksl.com
Showing of 11 comments
Sorry, we are not accepting new comments on this story, but if you have more to contribute please email
newstip@ksl.com