SALT LAKE CITY — With a growing list of eateries popping up around Utah's major populated areas, it may come to a surprise that a restaurant in rural southeastern Utah would be named the top restaurant in Utah.
However, that's exactly what happened with Salt Lake magazine's 2017 Best Dining reader's choice awards announced Tuesday night.
Hell's Backbone Grill, located at 20 UT-12 in Boulder, won best restaurant in Utah. It also claimed best restaurant in the Moab and southeastern Utah region.
"It's very rewarding — we're heading into our 18th season so our restaurant ... and people are still appreciating what we're offering," said Blake Spalding, co-chef and co-owner of the restaurant along with Jen Castle.
The restaurant has been in business since 2000 and has been critically acclaimed since.
"They're actually nationally regarded," said Mary Malouf, Salt Lake magazine's dining editor, noting several national publications that have featured the restaurant. "They've been featured in a ton of national magazines because of the uniqueness of what they're doing."
In addition to the Salt Lake magazine award, both Spalding and Castle were named best chef semifinalists among chefs in the southwest U.S. for the 2017 James Beard Chef and Restaurants Awards last week. It was the only Utah restaurant to have a nomination for the awards.
Malouf noted the award is close to the top award in food that there is.
"It's very gratifying. We've been hard at work at this for many years, so it's wonderful to feel like people are really enjoying what we have to offer," Spalding said.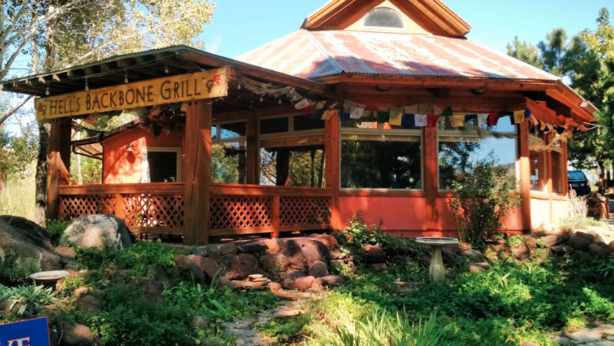 The restaurant is currently closed for the winter, but reopens on March 17. The restaurant is unique in that it's on a six-acre farm and is the only farm-to-table restaurant in Utah, Malouf said. In 2016 alone, about 23,000 pounds of food was grown there, Spalding said.
"It's maybe more like what they're doing at Blue Hill in New York than anyplace else in Utah," Malouf said. "That obviously sets them apart in terms of passion for ingredients and then the food on the table is great, the ambiance is terrific (and) the service is great. … The preparations aren't as inventive as they are well-done."
Also unique is its location, which is playing a factor right now. Most of Hell's Backbone Grill's customers are tourists visiting the many national parks and monuments in southern Utah.
"While we are in a very remote part of Utah, we're actually in one of the most beautiful places in the world, so it's not a stretch to say our restaurant is better known outside of Utah than it is inside because Utahns are like, 'Wow, Boulder is so tiny and small.' But for people coming in from out of state who really want to avail themselves of the incredible public lands and parks, national monuments — they really enjoy coming and having a good meal," Spalding said.
What makes it such a popular tourist restaurant is why both Spalding and Castle are invested so much in recent debates over the national monuments.
With the possibility that Grand Staircase-Escalante National Monument's size being cut, Spalding worries that it would have significant impact for the restaurant and farm, which is located on the same highway to the national monument.
"That will be a disaster for us really and for about our 50 employees," she said.
All politics aside, Spalding and Castle are finishing up their second cookbook, entitled "This Immeasurable Place: Food and Farming from the Edge of Wilderness." The book includes guest essays from various writers in addition to discussing where its location influences food philosophy.
Spalding said she hoped the award from the magazine will help encourage Utahns living in more populated areas to visit the small towns in southern Utah like Boulder to enjoy the surrounding area.
Reader's choice regional winners
HSL (418 E. 200 South) won best restaurant in Salt Lake City. It's owned by the same individuals who own Handle (136 Heber Ave.), which won for best restaurant in Park City.
Communal (102 N. University Ave.) took home the best restaurant in Provo, while Painted Pony (2 W St George Blvd.) was named the best restaurant in St. George and southwest Utah, and Tona Sushi (210 25th St.) was named best restaurant in the Ogden and northern Utah region.
Other categories included best cultural cuisines in the state, as well as best fast food, breakfast, lunch, dinner and even comfort food.
The list of all reader's choice award winners can be found here.
Restaurants named to the magazine's Top 15 via editorial review
Malouf said the magazine's top restaurants list varies year to year based on different aspects, which is why it is ever-changing.
"Restaurants change so much so quickly. They can have a great run with a great chef and then that chef leaves and maybe they stumble a little and it takes some time (to recover)," she said. "It's an informal and studied process."
Some restaurants — Hell's Backbone Grill being one — have been consistent enough throughout the years that they are placed into the award's Hall of Fame.
When it comes to Utah dining options, Malouf said Utahns typically value price over quality. However, the best restaurant winners are based on quality. That said, she said Utah's fine dining options are on the rise.
"It has improved a great deal," she said, noting the growth of independent restaurants. "... Independent restaurants are usually better restaurants. They're more imaginative. They're run by somebody who is passionate about food. Chain restaurants are run by people who are more passionate about making money."
The 2017 winners:
Alamexo (268 S. State St. in Salt Lake)
Copper Onion (111 E. 300 South in Salt Lake)
Current Fish & Oyster (279 E. 300 South in Salt Lake)
Frida Bistro (545 W. 700 South in Salt Lake)
Himalayan Kitchen (360 S. State St. in Salt Lake City and 11521 S. 4000 West in South Jordan)
HSL (418 E. 200 South in Salt Lake)
J & G Grill (2300 Deer Valley Drive in Park City)
Manoli's (402 E. 900 South in Salt Lake)
Provisions (3364 S. 2300 East in East Millcreek)
Pallet (237 S. 400 West in Salt Lake)
The Paris Bistro (1500 S. 1500 East in Salt Lake)
Stoneground (249 E. 400 South in Salt Lake)
Table X (1457 E. 3350 South in Millcreek)
Tin Angel (365 W. 400 South in Salt Lake)
Tupelo (508 Main St. in Park City)
0 Pending Comments
Sorry, we are not accepting new comments on this story, but if you have more to contribute please email
newstip@ksl.com
Showing of 25 comments
Sorry, we are not accepting new comments on this story, but if you have more to contribute please email
newstip@ksl.com