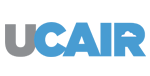 This story is sponsored by UCAIR. Show UCAIR about Utah air.
Winter is here to stay and unfortunately, that also means Utahns across much of the state will also be dealing with inversions. Parents may wonder if it's safe for their children to play outside during school recess during an inversion. Fortunately, the Utah Departments of Health (UDOH) and Environmental Quality (DEQ) recently issued guidelines to help principals, school administrators, and parents know when to move recess indoors on poor air quality days.
Inversion Pollution and Its Impact on Health
During the winter, particulate matter or PM 2.5, is the main pollutant of concern as inversions trap cold air and pollution in the valleys. This pollution builds until a storm front blows through.
PM2.5 is made up of soot, dust, and vehicle emissions. It's small enough to get past the body's natural defense systems and when inhaled, can get deep into the lungs and lead to a number of health issues, including aggravated asthma. For sensitive groups, including children or those with respiratory or heart conditions, PM 2.5 can have a greater health impact.
The likelihood of being affected by PM 2.5 increases as more time is spent outdoors during periods with high PM 2.5 levels, and as more strenuous activities are performed.
"Bad air can trigger respiratory problems like coughing, wheezing, shortness of breath, or even chest tightness for people with asthma," said Brittany Guerra with the UDOH Asthma Program. "Children are especially affected by poor air quality and it's important they stay indoors when pollution levels are high."
When to Stay Indoors during an Inversion
The Utah Recess Guidance is a set of air quality guidelines for schools to use in determining whether to move recess indoors based on the current PM 2.5 levels.
The Recess Guidance recommends that on days when the PM 2.5 is:
Below 35.4 μg/m3 (Green and Yellow levels) - All students stay outdoors for recess.
Between 35.5 μg/m3 and 55.4 μg/m3 (Orange level) - Students with respiratory symptoms and "sensitive" students stay indoors for recess. Sensitive students may include those with asthma, cystic fibrosis, chronic lung disease, congenital heart disease, compromised immune systems, or other respiratory problems.
Above 55.5 μg/m3 (Red and Purple levels) - All students stay indoors for recess.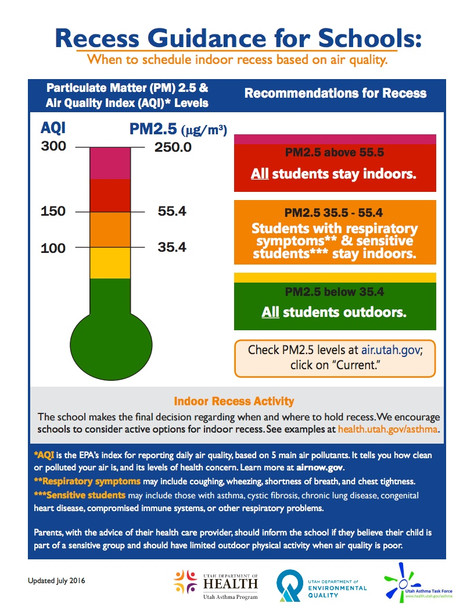 First created in 2004, the Recess Guidance has undergone three major revisions as new research and air quality studies have been completed. In 2016, a group of health scientists, physicians, parents, school personnel, and air quality advocacy groups updated the Recess Guidance to be more protective and better align with the AQI recommendations.
The EPA AQI recommendations are based on a 24-hour exposure to poor air quality and are written for adults, while the Utah Recess Guidance is intended for children and for 20-30 minutes of exposure during recess time. The Recess Guidance also seeks to balance the need for physical activity in healthy childhood development while minimizing exposure to poor air quality.
What Parents Can Do
Below are five things parents can do to keep their children safe during the Utah winter inversion season.
1. Be aware of current air quality levels. There are many ways to check the PM 2.5 levels. The Utah Department of Environmental Quality provides hourly PM 2.5 levels and a three-day air quality forecast on their website, http://air.utah.gov. The free UtahAir app is another convenient way to check air quality levels. School personnel may also sign up for daily email alerts with specific guidance on which students should be kept indoors during the winter inversion season.
2. Learn more about the Recess Guidance. Parents who live in areas where inversions are common should learn what the Recess Guidance recommendations are and what they mean for their child. Parents can track at what PM 2.5 levels their child has adverse reactions with, along with other environmental conditions and exposures, and plan outdoor activities accordingly. Symptoms that air pollution is impacting a person's health may include:
eye, nose, and throat irritation
coughing
sneezing
discomfort when breathing
fatigue
shortness of breath, and
excess mucous production.
3. Talk with a healthcare provider about whether their child is "sensitive" to poor air quality. Sensitive children may include those with significant or poorly controlled asthma, cystic fibrosis, chronic lung disease, congenital heart disease, compromised immune systems, and other respiratory or heart problems. These children are affected more by poor air quality and should be kept indoors for recess at lower PM 2.5 levels than children without existing health problems.
4. Talk to the principal of your child's school. Maintaining open communication with school personnel is important to ensure students are kept indoors for recess when PM 2.5 levels are high. If a child is "sensitive" to poor air quality, parents should talk to the principal, secretary, or school nurse to alert them and ask that they are kept indoors if they experience symptoms or if PM 2.5 levels are in the "orange" zone.
5. Reduce vehicle emissions during winter inversion months. Taking action before an inversion can help lower the PM 2.5 levels. Carpool, combine errand runs into one trip, use public transit, and not idling in vehicles longer than 10-30 seconds are all things Utahns can do to help reduce pollutants in the air.
For More Information
To learn more about the Recess Guidance and how air pollution impacts health, visit the Utah Department of Health Asthma Program at http://health.utah.gov/asthma.
0 Pending Comments
Sorry, we are not accepting new comments on this story, but if you have more to contribute please email
newstip@ksl.com
Showing of 29 comments
Sorry, we are not accepting new comments on this story, but if you have more to contribute please email
newstip@ksl.com