SPANISH FORK — A snowplow clearing snow in Spanish Fork Canyon was pushed off the road by a passing semitrailer and rolled down a steep embankment Thursday, investigators say.
The dramatic crash was caught on video and prompted Utah Department of Transportation officials Friday to warn drivers to stay behind snowplows.
Terry Jacobson, a 23-year veteran of UDOT's snow removal services, was westbound on U.S. 6 when a semitrailer attempted to pass his snowplow on the right. Investigators say the semitrailer caught the wing of the plow and forced it off the road, pushing it across oncoming traffic and through the guardrail before it went rolling down a 300-foot embankment.
The safety features of the plow kept Jacobson alive, but the passenger side of his vehicle was destroyed, said UDOT Executive Director Carlos Braceras. Utah Highway Patrol troopers were able to quickly respond, and a number of motorists stopped to help extricate Jacobson from the crash, he said. The driver of the semitrailer stopped immediately and cooperated with the UHP.
"The safest place to be is behind these trucks at all times," Braceras said Friday. "A good rule of thumb is about a football field of distance."
Had the semitrailer not attempted to pass, this collision would have been avoided, he said.
Braceras stressed the intensive schedule and dedicated work of the snow-removal crews, who often work seven days a week, day and night. He emphasized the importance of safety and the impact that such an accident often has throughout the transportation department.
"Members of Terry's crew would have been here, but they are out repairing the guardrail as we speak," he said.
Much of the details of the accident were caught on camera by a passing motorist.
Neil Lundell, UDOT's Region 3 supervisor, said the video reminded him of similar crashes he experienced when he drove a snowplow.
"All of our drivers know this, it's not a matter of if you're going to get in an accident, it's a matter of when," Lundell said.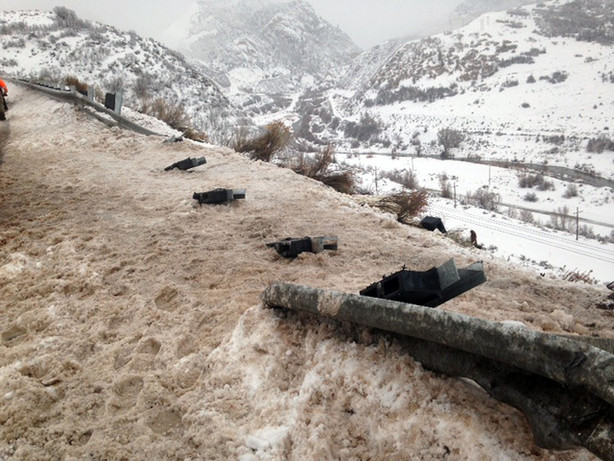 Despite the violence of the crash, Lundell noted the luck of the driver, and how the scenario could have played out much worse.
"If the people that were going up the canyon had been four seconds ahead, our truck probably would have taken them out and taken them down with him," he said.
Jacobson is still recovering from the incident. Lundell noted that he is heavily bruised and sore, and may have a concussion, but he is expected to recover.
This is the fourth collision involving a UDOT snowplow since the year started, but Braceras said this was the most severe.
Editor's note: A previous version of this story incorrectly identified the driver as Terry Jenkins. It has been updated with the correct name.
Email: rmorgan@deseretnews.com
Photos
0 Pending Comments
Sorry, we are not accepting new comments on this story, but if you have more to contribute please email
newstip@ksl.com
Showing of 111 comments
Sorry, we are not accepting new comments on this story, but if you have more to contribute please email
newstip@ksl.com