PROVO — Some would call the UNLV women's volleyball team the underdog as it prepared to face No. 22 Utah in the opening round of the NCAA Tournament at BYU Friday night.
The Rebels, though? They'll take it.
Bree Hammel had 18 kills, seven digs and seven blocks to lead unseeded UNLV to a 27-25, 25-21, 19-25, 25-20 upset of the Utes in the Smith Fieldhouse.
Adora Anae led Utah with 21 kills, 13 digs and two blocks, and Carly Trueman supplied 15 kills for the Utes, who lost the final six points of the match.
"We love to be underdogs," said UNLV coach Cindy Frederick, whose team finished third in the Mountain West Conference. "It's funny. Anyone who has followed my career will say that I make a living being an underdog, but I don't think we felt like underdogs. We felt like we could play with them."
Tawnee Luafalemana had 10 kills and five blocks, and Bailey Choy dished out 31 assists for the Utes (20-12). Jessie Open Shaw had 21 assists and two kills for Utah, which was making its third NCAA Tournament appearance in four seasons but first since 2014.
"I thought that (UNLV) played extremely well," Utah coach Beth Launiere said. "They played a great match, a low-error match and they made plays. We made a lot of plays as well, but there were a lot of little things that definitely caught us."
Alexis Patterson had 49 assists for the Rebels (24-7), but they hurt the Utes with six kills as she stunned the 22nd-ranked team in the country with an aggressive setter dump.
"That was a big one," Launiere said. "We only faced two front-row setters in the Pac-12. We knew that was going to be an issue, and she could be offensive around the net to hit or set. She's very talented."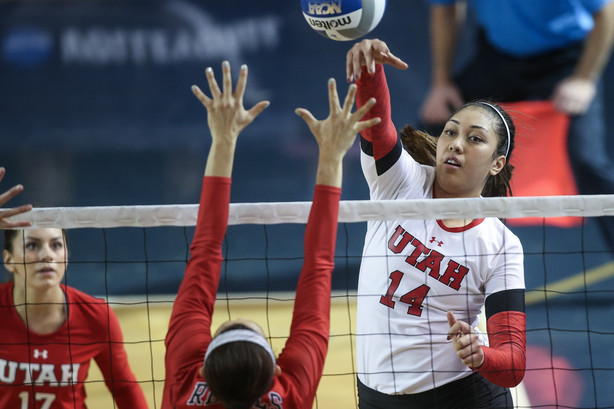 Hammel had her way with Utah in the second set. The redshirt senior put down back-to-back blocks on the Utes, and even forced an acrobatic back-row kill that skimmed over the net and dropped into Utah's front row for a point.
"Props to UNLV. They really scouted us well and defended us well," Anae said. "We battled back, but they were the better team. We just need to improve and get better from this."
Anae pulled the Utes within two by capping a run of three straight, 22-20, but a service error killed Utah's momentum, and UNLV took the second set, 25-21 for a 2-0 lead at the break.
UNLV outblocked Utah 9-1 in the first two sets, and held the Utes to just 23.5 percent hitting with 14 attack errors.
Anae woke up in the third set, posting consecutive blocks to give the Utes an early 10-7 lead. The junior had six kills and two blocks as Utah rolled to a 25-19 win in the third set to force No. 4, including a kill that forced the in-state team's first set point after a long rally on 23-19.
Still, the Rebels didn't panic.
"We take one point at a time, no matter what, and focus on what we needed to do," Hammel said. "We didn't worry about the score, whether we had to catch up or took a lead."
Utah led by as much as 15-13 on a double-block from Luafalemana and former Layton High standout Eliza Katoa, who finished with five kills and two blocks. But Sadie Stutzman gave the Rebels a 20-19 lead on a kill that floated into the back row in the fourth set.
Related Story
The Utes' seventh service error springboarded a late UNLV rally, and Patterson gave the Rebels a 23-20 advantage as the visitors from Las Vegas closed out the match with six straight points.
"They did a lot of things that posed problems for us defensively, and we struggled to get stops," Launiere said. "Our offense hit for our average, but they outhit us. They've got a bunch of seniors over there, and they weren't going to be denied."
Photos
Related Stories
0 Pending Comments
Sorry, we are not accepting new comments on this story, but if you have more to contribute please email
newstip@ksl.com
Showing of 1 comments
Sorry, we are not accepting new comments on this story, but if you have more to contribute please email
newstip@ksl.com