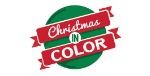 This story is sponsored by Christmas In Color. Utah's biggest and best drive-through holiday light show is back, and tickets are now on sale!
Winter is fast-approaching, along with the snow, ice and chilly air, but if you're already feeling down about the cold winter ahead of you, lift your spirits with this list of the top 10 best places to view Christmas lights throughout the state.
1. Christmas in Color
Whether you live near Kearns or Provo, there's always a holiday light adventure nearby. Christmas in Color puts a new spin on holiday lights and the way you view them, leaving plenty of energy for other fun holiday activities. Take to your vehicle to enjoy holiday lights in comfort and warmth as you experience a shocking and beautiful show of lights and music.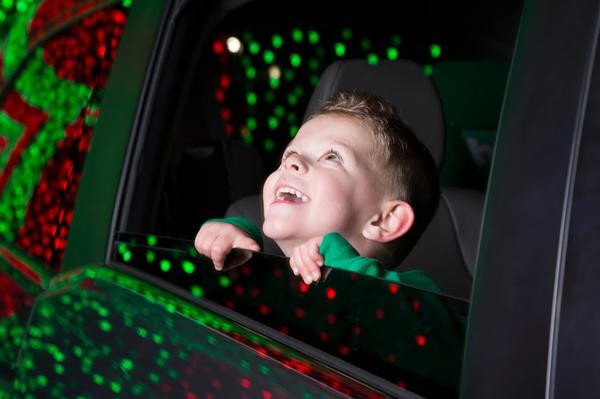 2. City Creek
Referred to as Santa's Lantern, City Creek sponsors food and entertainment along with high-end shopping and the perfect holiday photo-ops for your family. Santa visits from time to time, and professional photos are available to purchase. Come enjoy a night of relaxed holiday fun.
3. Hogle Zoo
Utah's Hogle Zoo is always a fun place to visit and see the animals, although admittedly the focus isn't on the animals as much during Zoo Lights, from Nov. 30-Dec. 31 each year. The tradition began nine years ago, but is still going strong. Stop by between 5:30 p.m. and 8 p.m. to view the lights and maybe even some nocturnal furry friends.
4. Christmas Street in Taylorsville
Located at 5295 South 3310 West in Taylorsville is a cul-de-sac of pure Christmas magic. This 30-house light display has been in full swing for over 60 years, with residents working together to put up thousands of lights each year. You'll certainly be impressed by the holiday light prowess of this small community.
5. Temple Square
Although the Square boasts countless musical performances year-round, it also has one of the largest light displays in the state. The tradition of lighting the Square started in 1965 and has grown to be a family favorite holiday tradition. Two acres of lights are viewable, along with a nativity presentation Nov. 25-Jan. 3.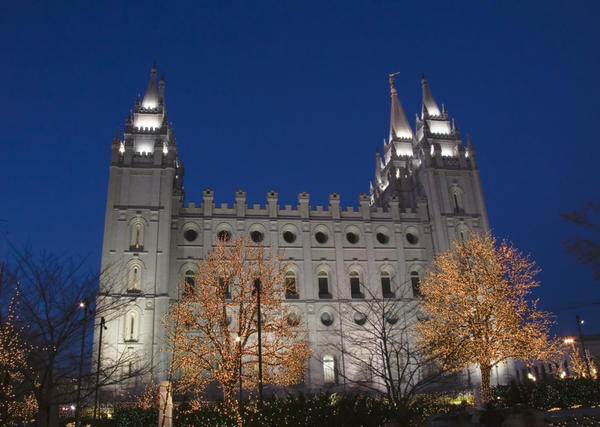 6. This Is the Place Heritage Park
Also known as Candlelight Christmas, Heritage Park hosts a family-friendly main event each Christmas season to draw in visitors. Running Monday-Saturday evenings, holiday revelers can come enjoy activities for children and performances by The Heritage Village Carolers. The event continues until Dec. 23 each year.
7. The Shops at the Riverwoods
This collection of stores and restaurants is no overcrowded mall. Instead, the outdoor setting of the Riverwoods allows for plenty of holiday cheer amongst strands and strands of colored lights. Amid entertainment and performances, you can enjoy the lights and good food all season long.
8. Frosty's Wonderland
Located on 805 East and 18th Avenue in Salt Lake City, this house gives many professional light displays a run for their money. Decorated with more than 300 lit-up lights, signs and blow-up displays, the house is a sight for all to see from 6 p.m.-11 p.m. each night during the holiday season.
9. Spanish Fork Festival of Lights
If you're looking for something different in your holiday light viewing experience, visit Spanish Fork's Festival of Lights. Not only are all the displays well constructed and beautifully designed, but the whole family can enjoy countless activities as well.
10. Ogden Christmas Village
What began as a small affair in 1962 has now grown to accommodate hundreds of holiday visitors each year. If you want a fun event to bring the whole family to, visit the Christmas Village of Ogden, open through Jan. 1. Quaint cottages and shopping abound along with holiday performances.
0 Pending Comments
Sorry, we are not accepting new comments on this story, but if you have more to contribute please email
newstip@ksl.com
Showing of 20 comments
Sorry, we are not accepting new comments on this story, but if you have more to contribute please email
newstip@ksl.com