DRAPER — Hundreds of teenagers gathered to comfort one another at Draper Park Sunday to mourn the deaths of two Corner Canyon High School students.
The teens were killed in a one-car rollover late Saturday when they were thrown from the vehicle that was carrying five 16 year olds.
Ethan Fraga and Lexie Fenton were remembered as popular students known for their happy personalities and kind attitudes Sunday as their friends and classmates met. Despite the rainy weather, a steady stream of people flowed in and out of the park throughout the evening, their cars filling surrounding neighborhoods when lots overflowed.
Some teens carried flowers or small lights. Many wrote messages on balloons before releasing them into the night air.
While a large group gathered around a portable sound system to share memories of the teens, others huddled in twos and threes around the fringes, quietly consoling one another or sitting in silence.
Marty Bodell, a 14-year-old freshman at Corner Canyon, got to know Ethan through their LDS Church ward. When Marty struggled to make friends, especially during a youth outing over the summer, the older boy he had always admired was the first to reach out to him.
"He was the happiest kid, he never wanted anyone to be sad," Marty recalled, weeping. "He was kind of a role model to me, always showing me what to be doing and who to hang out with, and also how to stand up for myself."
Marty's father woke him early Sunday to tell him Ethan had been killed in the crash. Together they went to the Fraga home, where Marty said the family sat in shocked silence after being up all night.
Looking at the crowd, Marty said it was comforting to see how many people had come to memorialize the two students.
"Just to know that other people are here and other people know what I'm feeling, it helps a lot," Marty said.
The boy was enveloped moments later in an embrace from several other teens nearby.
Annie Perriton, Lexie's next-door neighbor, said the two attended school and church together. Annie, a 16-year-old sophomore at Corner Canyon, met with a group of friends Sunday and worried what school would be like the next day.
"She was one of the sweetest girls I ever met. She always included me and she sent me nice texts," Annie said. "She was always out serving people."
Annie said Lexie's upbeat attitude was contagious.
"I moved here in the fifth grade and she was the first person who got to know me and talked to me," she said. "She's a really good person, I was lucky to meet her."
Annie joined in a group that tied ribbons for Lexie's family around their house and throughout the neighborhood.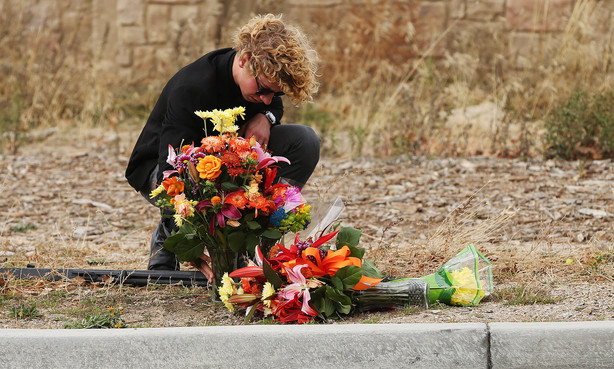 The vehicle Ethan and Lexie were riding in Saturday was traveling north on Highland Drive about 11:40 p.m. when the driver lost control of the car for an unknown reason near 12900 South, said Draper Police Sgt. Chad Carpenter.
The vehicle rolled, catching fire after it came to rest. No other vehicles were involved.
Draper police called it a "tragic accident" but said they would not provide any other details about the crash Sunday, including information about who was driving.
Lexie and Ethan, both 16, were ejected from the car and pronounced dead at the scene.
The other three — Hayden Gale, Romey Kelly and Lauren Fenton — were transported to Intermountain Medical Center in Murray with some injuries. Police said all three were expected to be released from the hospital Sunday.
"Our hearts go out to the families of all involved and the Draper community," Draper police wrote in a prepared statement.
All five students were involved in Corner Canyon High's mountain biking team, said Canyons School District spokesman Jeff Haney.
Colin McGill, a member of the team, said the team is "devastated."
"My team is family, we're just devastated," Colin said. "It's really rough, but we're going to get through this."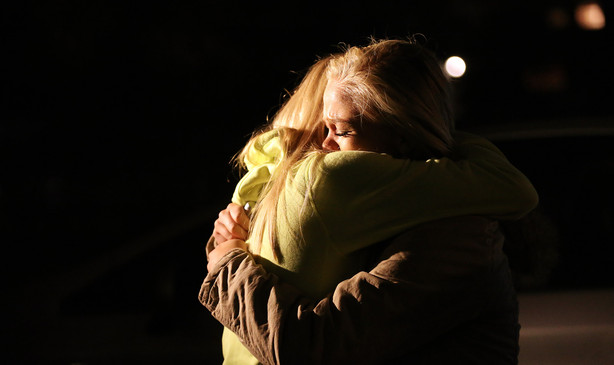 Ethan "exemplified love," Colin said, while Lexie's sweetness made her a special member of the team.
Colin also knew Ethan from church and credited him for helping him make friends. On a balloon, Colin wrote to Ethan: "You will never know the impact you had on me."
The mountain biking club team, established five years ago, celebrated winning a state championship last week, Colin said.
The school district sent notifications to parents through phone calls, texts and emails that counselors would be available to talk with grieving students Sunday afternoon.
"Tomorrow, we'll have our counseling staff plus extra counselors … at the school and ready to help students if they need it," district spokesman Jeff Haney said Sunday, adding that counselors would also be available at Alta High School.
"As you can imagine, there's a lot of crossover between schools. There may be friends of the students involved in the accident who go to Alta High because the boundaries are next to each other," he said.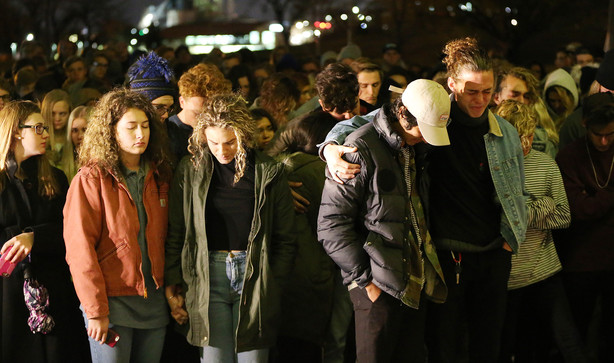 A letter posted on Facebook and addressed to the "Alta community" encouraged students to attend the vigil and wear navy blue "to show support for our neighborhood and adjacent school community."
Blue and silver are the colors of Corner Canyon High. Students at Brighton and Jordan high schools were also encouraged to do the same, while Juan Diego Catholic High Principal Galey Colosimo asked students to wear navy shirts with their uniforms.
"We will also be providing breakfast and a care package to several of the student support staff tomorrow at CCHS. We will collectively keep the families in our thoughts and prayers," the letter said, and closed with: "We are Alta. We are Canyons. We are family."
Alta High Principal Brian McGill is a former assistant principal at Corner Canyon High, Haney said. "When he heard the news today, he reached out to offer his support and help to the Corner Canyon administration."
Grief counselors will also be available Monday at the high school's feeder schools, Draper Park Middle School, Oak Hollow Elementary, Draper Elementary and Willow Springs Elementary, he said.
---
Photos
0 Pending Comments
Sorry, we are not accepting new comments on this story, but if you have more to contribute please email
newstip@ksl.com
Showing of 31 comments
Sorry, we are not accepting new comments on this story, but if you have more to contribute please email
newstip@ksl.com