HERRIMAN — Dawn Ramsey said she breathed a deep sigh of relief after waiting hours on edge for election night results.
As a mother of three children enrolled in overcrowded Herriman High, Copper Mountain Middle and Jordan Ridge Elementary — and as director of the district's Parent-Teacher Association — Ramsey said she was "thrilled and greatly relieved" that voters approved Jordan School District's proposed $245 million bond to build six new schools.
Ramsey was especially relieved, she said, knowing it's been 13 years since voters last approved a bond for the district.
"This had to pass. It had to," she said. "I'm incredibly grateful. Now I know my children will have what they need."
West Jordan Middle School Principal Dixie Garrison said she, too, was "completely on edge" on election night. At stake: whether her school — delapitaded and overrun with needed repairs — would be rebuilt.
The next morning, Garrison said students were cheering in the classrooms when they were told the bond had passed.
"We're ecstatic," she said. "It's going to be a big boost for the community and our students."
In Alpine School District, mother Charlotte Ducos was equally ecstatic when voters approved a $386 million bond for nine new schools, four rebuilds and 10 renovation projects.
Ducos said her 17-year-old son, Nick, has endured overcrowded hallways, packed parking and an overflowing cafeteria at Westlake High in Saratoga Springs.
Now, she's hopeful her middle-schooler, Alex, will have a different experience when Alpine's new high school in Eagle Mountain is completed.
"This is a win for everyone in the district," Ducos said, adding that she was even more thrilled that nearly 70 percent of voters supported the bond. "I think that means people are ready and willing to make an investment in education and recognize the needs we have."
Now that funding has been secured, construction projects in both school districts will begin as early as next spring, and new schools will begin opening in 2019.
Related:
In the meantime, because both districts are experiencing overcrowding and hundreds of new students are enrolling each year, district officials say they'll have to add more portable classrooms until construction is completed.
Over the next five years, Jordan School District is projected to grow by more than 9,000 students. Alpine School District projects an increase of about 6,000 students.
"Everybody's going to be cramped for a couple of years. It will be a little tight," said Scott Thomas, Jordan School District's administrator of auxiliary services. "But now that the bond has passed, we're going to expedite those projects as soon as possible."
Alpine spokesman David Stephenson said the district's enrollment may exceed projections because the district saw 2,000 more students this year — 500 more than expected.
"We are one of the fastest-growing areas in the nation," Stephenson said. "We're happy this bond is going to take care of our immediate needs, but if the growth continues at the rate it is now, we're definitely going to need to look at ways in the future to deal with that growth."
Susan Pulsipher, president of the Jordan School Board of Education, said the she and other board members will be considering adding more portable classrooms to accommodate immediate needs as they wait for new schools to open.
But the bond's passage was a huge step in addressing the district's rapid growth, Pulsipher said.
"Had it not passed, that was something we hardly dared to think about," she said. "It would have been a very difficult situation, so we all feel thrilled, relieved and, most of all, grateful."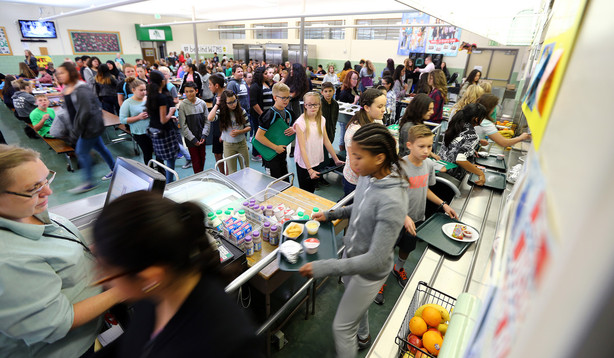 Here's a list of now-approved projects and their timelines:
Jordan School District
A new high school in Herriman, expected to break ground in spring 2017 and open in 2020.
A new middle school in South Jordan, expected to break ground in spring 2017 and open in 2019.
A rebuild of West Jordan Middle, slated to begin spring 2017 in the field behind the current building. Once it's complete in 2019, students will move to the new school and the old building will be torn down.
New elementary schools in Bluffdale and Herriman, expected to break ground in spring 2017 and open in 2019.
A new middle school in Herriman or Bluffdale, expected to break ground in 2019 and open in 2021.
Alpine School District
2017 — Construction begins on one new high school and one new elementary school in Eagle Mountain, and one new elementary school in Lehi. Timpanogos High's roof is also slated to be replaced.
2018 — Construction begins on one new elementary school and one new middle school in Saratoga Springs, and Lehi High will be rebuilt. Mountain View High will also be renovated.
2019 — Cascade Central and Greenwood elementary schools will be rebuilt; roofs at Lone Peak High and Oak Canyon Junior High will be replaced; and one new elementary school will be built in a high-growth area. Security camera and card access updates will also be added at Bonneville, Aspen and Highland elementary schools.
2020 — One new middle school in Lehi and two new elementary schools in high-growth areas will break ground. Legacy Elementary's roof will be replaced.
Photos
Related Stories
0 Pending Comments
Sorry, we are not accepting new comments on this story, but if you have more to contribute please email
newstip@ksl.com
Showing of 23 comments
Sorry, we are not accepting new comments on this story, but if you have more to contribute please email
newstip@ksl.com