SANDY — BYU forward Ashley Hatch was just excited to be there, on the pitch at Rio Tinto Stadium, warming up wearing a U.S. women's national team jersey.
Getting to play? Even better.
Hatch earned her first senior international cap in the 75th minute, replacing Tobin Heath after the veteran had a goal and an assist to help build a 3-0 lead, as the United States took a 4-0 win over Switzerland in an international friendly Wednesday night at Rio Tinto Stadium.
"It was a great feeling. It's the kind of feeling that everyone dreams of," Hatch said after the match, which was attended by her BYU soccer teammates. "It's a great honor, and I've had lots of fun. I hope it continues."
Hatch was one of 11 players called into camp with one or fewer appearances in the national team. But the BYU senior performed well enough in the previous days of training to merit time in the win, U.S. coach Jill Ellis said.
"I think they deserved some playing time, based on how they trained," Ellis said. "That's the messaging: how well you do in training gets you some playing time, and I thought they deserved that."
Hatch felt the nerves of her first cap as she warmed up on the sideline. But with the United States leading 3-0, she quickly focused on the game — and not the dancing teammates like forward Nadia Gomes on the Jumbotron above her.
"The speed of play is a lot quicker, a lot faster, a lot more physical," Hatch said. "I had to come out, play my best, and try to catch on the best I could.
"I thought I played well," she added. "There were a lot of nerves, so I just tried to control those and just keep the ball."
The United States combined for 69 percent of possession in the first 45 minutes, but yielded just two shots on goal en route to a halftime draw that featured three first-time players.
But former Pepperdine star Lynn Williams, who recently won Golden Boot honors in the National Women's Soccer League, scored the opening goal just moments after coming off the bench in the second half.
The western New York starlet smashed a right-footed shot from the center of the box that singed the nets in the top-left corner to give USA a 1-0 lead just 49 seconds into the second half.
"There are women on this team I've looked up to since I was little," Williams said. "To be able to call them teammates is a dream."
Williams replaced Lindsey Horan off the bench, making her first appearance in Utah since Pepperdine's 1-0 loss at BYU on Oct. 17, 2013. She became the 20th national team player in program history to score in her first international cap.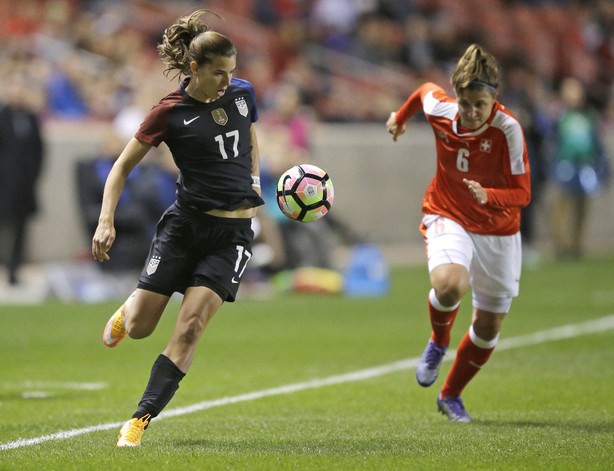 "(The goal was) even more of a dream. I'm so blessed right now," Williams said. "I couldn't ask anything more. It's been crazy, and fun, and I'm at a loss for words."
Heath doubled the advantage in the 60th minute, and Christen Press scored in the 68th minute to set up a 3-0 advantage that brought in Hatch and the four remaining subs to the U.S. side.
Samantha Mewis, Hatch's training camp roommate, added a goal in the 76th minute by banging in a cross from Press with her head on her first touch of the match.
"The coaching staff and the veteran players have been super proactive about getting us up to speed and including us in this team," said starting midfielder Andi Sullivan, a Stanford product. "To be able to bring in a bunch of new players and still put on a performance like tonight says a lot about the leadership of this team."
Related Story
LOCAL FLAVOR — Hatch was the only local player who made U.S. coach Jill Ellis' 18-player roster in her first national team camp. The senior from Gilbert, Arizona, leads the NCAA with 15 goals, and was one of three college players in training camp.
Former Alta High star Kealia Ohai, who plays for the Houston Dash in NWSL, did not make the game day roster. The United States will face Switzerland again Oct. 23 in Minneapolis.
ATTENDANCE — There were 14,336 fans who attended the near-lower bowl sellout at Rio Tinto Stadium, the ninth-best attendance for a friendly in 2016. The United States improved to 20-0-2 in 2016 with the win.
Photos
Related Stories
0 Pending Comments
Sorry, we are not accepting new comments on this story, but if you have more to contribute please email
newstip@ksl.com
Showing of 3 comments
Sorry, we are not accepting new comments on this story, but if you have more to contribute please email
newstip@ksl.com