BELLINGHAM, Wash. — On Aug. 19, 5-year-old Lucy Duersch of Bellingham, Washington, received a package from the BYU Bookstore in Provo.
Surrounded by her parents, Paul and Vicky Duersch, and other family members, she opened the box revealing what she had wished for just days earlier: A "lucky" green BYU hat to help her during her cancer treatments.
Lucy, who was born on St. Patrick's Day to two BYU alumni, has had a love for the color green and the BYU Cougars most of her life. On this day, at this moment, smiles would be abundant, and for a second, the Duersch family would be able to have a memory with their little girl that they would cherish forever — memories they will not be able to make for very much longer.
Just two weeks earlier, Paul and Vicky Duersch received the devastating news that Lucy had terminal cancer called diffuse intrinsic pontine glioma with the prognosis of mere months to live. DIPG is a rare child cancer that affects the pons area of the brainstem that controls vital functions such as breathing and heart rate.
Upon receiving the diagnosis, the couple was told there have been no survivors of this type of cancer, with most children losing their battle within 9 months of diagnosis.
Not only were Paul and Vicky Duersch faced with the reality that they would soon lose their daughter, but medical bills were piling up. The question then became, "Do we continue treatments if it will only buy us time?"
The question then became, "What is the price of time?" More importantly, "Can you put a price on time?"
Ryan Anderson, Lucy's uncle and family spokesperson, posed these very questions when he began a GoFundMe campaign* to help his niece and her family.
"What would you do if your child was given a diagnosis of terminal cancer, with a prognosis of only a handful of months to live?" he wrote. "What would you be willing to sacrifice if you could buy more time, even if it was just for a few days or a few months? What is the value of a few more memories with your daughter?"
To the Duersch's, the answer was simple: priceless.
With treatments, children with this devastating cancer may be able to live past the initial prognosis. And whether she lives another month or another year or two, they are hoping to buy time — time as a family; time with their daughter here on earth; memories that they can hold onto after Lucy has passed.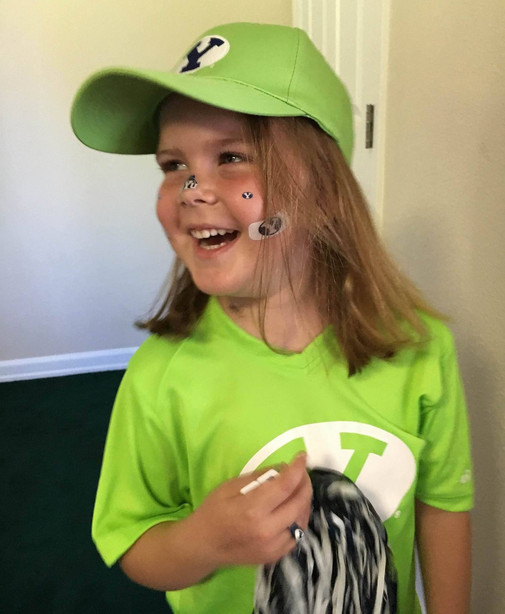 Seeing Lucy try on her custom-made, lucky green BYU hat was one of those memories that her family will cherish forever, according to Anderson.
"A little girl in peril made a wish, a family in need called out for help, and a lot of really wonderful people made it happen," he wrote. "This will be a very special memory for Lucy, for her family and for all who have shown love and concern for her. This seemingly small act has meant the world to a child and has been a balm of healing for her parents at a time when their hearts have broken so many times it feels like there are no more pieces left to break."
That small act was made possible only by the staff at the BYU Bookstore, particularly, employee Lester Case, who became aware of Lucy when his daughter sent him the link to the GoFundMe page.
"As I shared this post with my co-workers, we all shed tears and said prayers for Lucy and her family," Case said. "Being able to help this family reminds each one of us that the problems we face each day are so minuscule compared to what the family is facing. We have a special place in our heart for Lucy and will continue to pray for her and her family."
It isn't just those at the bookstore who have taken notice. Since the fundraising efforts began Aug. 8, $34,000 of the $100,000 goal has been donated to help Lucy and her family.
The family wishes to thank all those who have helped in the efforts thus far, both through donations, prayers and well wishes.
If you would like to help Lucy and her family, go to the GoFundMe page, Love for Lucy: Lucy's Cancer Fund.


*KSL.com does not assure that the monies deposited to the account will be applied for the benefit of the persons named as beneficiaries. If you are considering a deposit to the account, you should consult your own advisors and otherwise proceed at your own risk.
---
Photos
0 Pending Comments
Sorry, we are not accepting new comments on this story, but if you have more to contribute please email
newstip@ksl.com
Showing of 14 comments
Sorry, we are not accepting new comments on this story, but if you have more to contribute please email
newstip@ksl.com