KAYSVILLE — After hours of debate that lasted until just before midnight Thursday, the Kaysville City Council ordered Councilman Dave Adams to repay the nearly $6,000 in city funds he used to repair his personal firetruck.
The decision, recommended by the Utah State Auditor's Office earlier this month, had Adams bristling.
"How much do you beat the living crap out of a good Samaritan?" Adams asked.
His firetruck, "Big Red," has been used for the past 10 years to soak onlookers in Kaysville's Fourth of July parade. Adams argued he had little time and no finances of his own to repair the truck's water pump seal before this year's parade.
Rather than disappoint Kaysville residents expecting the traditional "water fight," he said Vance Garfield, the city's parks and recreation director, gave him the credit card to fix the truck.
"I'm happy Vance and I brought (the parade) together," Adams said. "I'd do it all over the same way. We were under extreme time constraints. It was either slow down and regulate it or miss the date. We did what was right in our hearts and got it done."
But after the parade, fellow council members worried that taxpayer dollars were used to repair Adams' personal property — prompting a three-week review from the state auditor's office.
The auditor concluded the expenditures were "questionable" and should be paid back to the city. The report also recommended Kaysville place tighter controls on its city credit cards, finding that a lack of clear city oversight led to unapproved charges.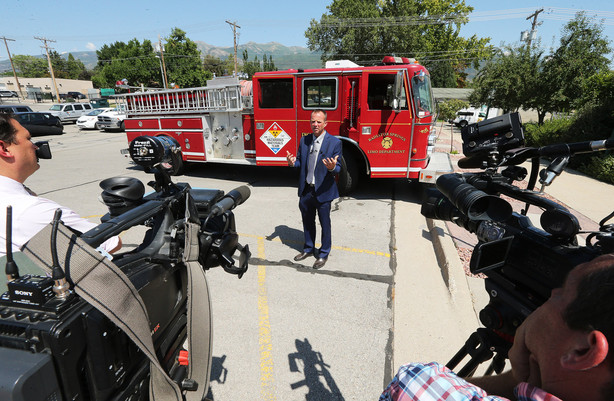 After pouring through the audit Thursday, the City Council decided to follow those recommendations — with Adams vehemently objecting.
"Can you go to a courtroom tomorrow and show I violated a city policy?" Adams asked the council, arguing that he had approved the charges with Garfield. "The truth doesn't matter on this jury."
But the auditor concluded there was "informal authorization" to spend upward of $2,500 on repairs to the vehicle, while actual repairs and other expenditures actually doubled that amount.
Garfield told the council he "made a mistake" when he didn't clarify with Adams exactly how much money was going to be spent.
Councilman Jake Garn said it's clear Adams had good intentions to continue the tradition, but "what it comes down to," he said, "is an elected official spending public money on personal items without approval of the council."
"I personally don't like the idea of Dave paying it back either," Garn said. "I know where his heart was. … But while we can be compassionate and understanding, you can't ignore the rules."
Adams, his voice rising in frustration, asked Garn: "What rule was ignored?"
"Please don't spin this to the public," Adams said. "Let's stop hating each other. Lay down your weapons of war. Don't spin this as though we've made policies we haven't."
Councilman Chris Snell acknowledged the auditor's report spells out a need for the city to implement more specific policies to prevent questionable situations, but he added the report also deemed Adams' expenditures inappropriate and recommended they be paid back.
Adams, again on the defense, said the auditor's report was a "recommendation, not an order."
But Garn said more Kaysville residents have complained to him about the "Big Red" ordeal than any other issue.
"Most people, common sense, understand you should not use taxpayer money, even if it's being used in a city parade, to fix personal property," he said. "We need to move forward and act on these recommendations."
The decision came after dozens of Kaysville residents spoke to the council to either defend or decry Adams' use of the credit card.
The City Council voted 3-1 to require Adams to pay back the city. Adams cast the lone dissenting vote. He declined to comment after the meeting.
Earlier this month, Adams said he'd sell the firetruck to raise the funds to repay the city if he was stuck with the bill.


Photos
Related Stories
0 Pending Comments
Sorry, we are not accepting new comments on this story, but if you have more to contribute please email
newstip@ksl.com
Showing of 116 comments
Sorry, we are not accepting new comments on this story, but if you have more to contribute please email
newstip@ksl.com