PROVO — When Ty Detmer takes to the field in his first game Sept. 2 against Arizona, it will bring back a host of memories.
Detmer has a lot of them around his alma mater.
Before Taysom Hill or Tanner Mangum were flinging balls around the practice field, the former Cougar quarterback etched his name into the annals of BYU history with a star career that included three seasons of 4,000 or more passing yards in three consecutive seasons and the Heisman Trophy in 1990 as a junior.
Detmer, the new offensive coordinator at BYU, took KSL Sports on a trip down memory lane, reliving his favorite memories from a campus that gave him so much 28 years ago.
What better place to start than his defining moment: Legacy Hall, where Detmer's Heisman is proudly on display amid the greatest accomplishments in Cougar athletic history?
"We were in Hawaii, getting ready to play a game," Detmer recalled of the day he won the trophy for the nation's best college player. "They had a lot of TV monitors set up. The special thing about it was that usually guys are in New York, and they only have a coach and a couple of family members there. We were able to have the whole team and coaches."
His teammates in 1990 were so excited that they threw the new Heisman winner in the hotel pool on the night before facing Hawaii in a Western Athletic Conference contest.
"We had a good celebration," Detmer said. "They tossed me in the pool, and then we had to play that night, which wasn't so fun."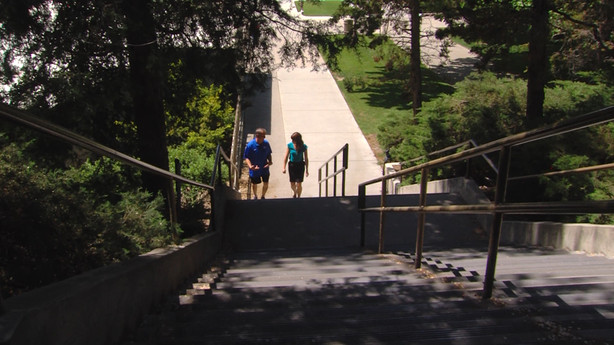 Of course, Detmer knows the cachet that his trophy brings to his alma mater, especially on the recruiting trail.
"I hope it does," Detmer said. "Kids come in and they see the possibilities. Then they see me, and they realize if he can do it, he isn't that imposing."
Across the street, former BYU legend LaVell Edwards had an office that overlooked the west end of campus long before the rise of the new Student Athlete Building or Indoor Practice Facility. Edwards' office sat inside the football offices, past the desk of former football secretary Shirley Johnson and into a corner of the hallway most recently occupied by women's basketball coach Jeff Judkins.
"He has been a big influence," Detmer said of Edwards. "One of the things when I took the job at St. Andrews in Austin, a little private high school, was the team was 0-10. I called him and asked how he turned BYU around. They weren't great when he took the job, and he said we just focused on the things we did have — not the things we didn't have."
Leaving the office space is the Smith Fieldhouse, BYU's indoor track and volleyball facility that previously served as an indoor practice space for the football team. The floor was so small, though, that the offense and defense couldn't practice on the same day should a snowstorm forced them indoors.
"It was a carpeted area, and in bad weather, we would try to get some work in," Detmer said. "But you don't want to be that guy that is like, 'well, back in my day, we had to walk uphill twice, there and back.'"
---
We had our share of pranks. I put a pig's head in Michael Bryan's bed after a luau. I put the rest of the pig head under his pillow one night, too. I think he appreciated it, but he never really did anything like that.
–BYU offensive coordinator Ty Detmer
---
One hill that hasn't changed is the long flight just outside the Richards Building. The RB stairs hold a special memory for all students on campus, and Detmer was no exception.
"We dreaded going up these every day and usually you had to make this trek at least once," Detmer said while huffing up the staircase. "If you went up to campus having to go up the stairs, you usually stayed up there the rest of the day.
"There's a tunnel (at the top), and you always had to decide to just go up the next 25 steps or catch my breath walking through the tunnel into the next set."
Even that tunnel holds memories for the one-time signal-caller, though.
"Some of my teammates got a hold of my freshman year photo in high school and they made some 'Have you seen me?' posters," Detmer said with a laugh. "They put pictures all along the tunnel because a lot of people have to take this tunnel to get to class. And on the description was my bowl haircut, protruding Adam's apple, and Texas drawl.
"We had our share of pranks. I put a pig's head in Michael Bryan's bed after a luau. I put the rest of the pig head under his pillow one night, too. I think he appreciated it, but he never really did anything like that."
A lot has changed at BYU since Detmer left for 14 seasons in the NFL. But one thing stays constant: married students across campus. About 26 percent of the campus population was married, according to a report in 2014, which is roughly the same number as when Detmer graduated.
"We have kid's playgrounds, which should tell you a little about BYU," he said. "All of that is new, but it is a beautiful campus."
Detmer met his wife Kim at BYU, and his nephew Koy Detmer Jr. is a backup quarterback at BYU, maintaining the family connection. But for the most part, he maintains a low profile as he makes his way to the stadium.
"None of these kids were born when I was playing," Detmer said with a chuckle. "Back then, fans would line the sides and get you ready to go and then we would all gather and take the field together."
The most unforgettable moment on campus, though, was the Cougars' upset of then-No. 1 ranked Miami in 1991.
"28-21. Defense played great," said Detmer, who recounted being the only player in the locker room while his teammates celebrated with fans on the field. "People don't let you forget it."
The stadium field was the first place Detmer got emotional, even after visiting the Canon Center where he met his wife. As a proud alumnus of BYU (he earned a degree in recreation management in 1991), the ex-quarterback hopes he can leave each class that follows him with a similar experience.
"Obviously, in college athletics, you are expected to win games," he said. "But to win games, you got to execute. You have to do the little things right. You've got to teach fundamentals, and you have to teach the little things.
"I want our guys to be able to learn those things, learn football and understand it. If they can make it to the next level, that's great. But if they don't, you want them to be able to come back and remember."
Detmer continued with tears in his eyes.
"I just get emotional because it was a great experience, and now being back is neat," he said. "It's fun, but you also feel that because you want guys to be able to have that experience you had."
Contributing: Sean Walker
Photos
Related Stories
0 Pending Comments
Sorry, we are not accepting new comments on this story, but if you have more to contribute please email
newstip@ksl.com
Showing of 23 comments
Sorry, we are not accepting new comments on this story, but if you have more to contribute please email
newstip@ksl.com