CEDAR CITY — No matter how much Cassie Cannon and her three children love the outdoors, they've never been on a hike quite like the one they went on Friday afternoon in Iron County.
It wasn't the hike itself, but what they found at the end that made it so memorable.
"It's been pretty difficult to put into words, actually," Cannon said.
The hike marked first time she and her family visited the site where her husband, Tom Tompkins, and his co-pilot, Ron Chambless, were killed in an air tanker crash while fighting a massive wildfire on June 3, 2012.
"They made one drop earlier that day and came back for that second drop, and that's when it happened," said Kris Bruington, who was the leader of the Lone Peak Hotshots wildfire team that day.
Bruington and his team were fighting the fire on the ground when BLM air tanker 11 went down. And they're the team that raised the money to build memorials to honor the pilots who died.
The families of Tompkins and Chambless started their journey Friday at the air tanker base in Cedar City, where a ceremony marking the four-year anniversary of the crash was held.
"It's a bittersweet day," Cannon said. "We'll say it's happy. But there is a little bit of sweet going back and having to think through what's happened and what's happened since."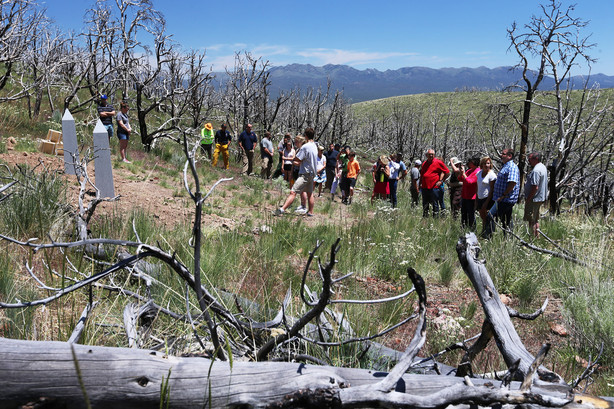 The crash site is about a two-hour drive into the mountains west of Cedar City, in the Hamlin Valley, where a cross and a sign about the two men now stand. And as the families walked 75 yards up from that, they found the memorials placed by the Hotshots team.
"Seeing the families here and seeing them looking at the memorials, it's awesome. It's definitely a good feeling," Bruington said.
Paula Chambless, Ron's mother, traveled from Texas to attend the ceremony. She couldn't believe, four years later, her boy was still being remembered.
"It really means so much to our families what they've gone through and what they've done for us," Chambless said.
Friday could have been a tough day for the families, but knowing their loved ones are still part of a brotherhood made it a little easier.
"It's sad," Chambless said. "He did what he loved to do, and I'm just glad he's being remembered for it."
Photos
Related Stories
0 Pending Comments
Sorry, we are not accepting new comments on this story, but if you have more to contribute please email
newstip@ksl.com
Showing of 2 comments
Sorry, we are not accepting new comments on this story, but if you have more to contribute please email
newstip@ksl.com