SALT LAKE CITY — It only took around a minute for a massive landslide to rush Zion Canyon about 4,800 years ago, drastically impacting the shape of the national park as we know it now, according to a new study from the University of Utah.
Debris from the "rock avalanche" blocked the Virgin River, which in turn created a lake and flat floor for the area, researchers found. The U. study, published in the Geological Society of America's journal "GSA Today" on Thursday, reportedly offers the first definitive date for the landslide.
"This catastrophic landslide of massive proportions had two effects," the study's senior author Jeff Moore said in a statement. "One was constructive, creating paradise through cataclysm. More than 3.6 million people last year enjoyed the flat and tranquil valley floor of Zion Canyon, which owes its existence to this landslide. The other aspect is the extreme hazard that a similar event would pose if it happened today."
The landslide originated on Sentinel's peak, which still stands at an elevation of 7,157 feet on Zion Canyon's west side. It reached speeds as high as 180 to 200 mph and averaged 112 mph, according to the U. study. Researchers estimate it only took 20 seconds for deposits to rush across the canyon and 30 more seconds to spread before coming to a halt.
"The ancient Zion landslide would cover New York City's Central Park with 275 feet of debris," said Moore, who is also an assistant professor of geology and geophysics at the U. "And you would need 90 times the volume of concrete in Hoover Dam to recreate the mountainside that failed."
While researchers determined it was most likely that the landslide occurred 4,800 years ago, their range of uncertainty allows that it "could have happened as early as 5,200 years ago or as recently as 4,400 years ago." They analyzed the beryllium-10 content of 12 boulders to date the movement.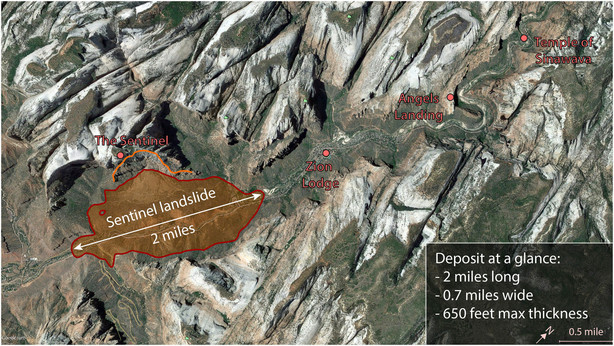 The lake created by the landslide remained in the canyon for about 700 years after taking only between five and 10 years to fill up.
"The long, narrow lake covered 2.4 square miles and extended from the north end of the rock avalanche deposit, which is less than a mile south of present-day Zion Lodge, northward almost to The Narrows," a news release from the U. reads. "With the initial lake surface at 4,658 feet elevation, the site of the lodge was under 380 feet of water."
The creation of Zion Canyon's flat floor can be credited to the lake filling up with sediment by about 4,100 years ago, according to the study.
Moore said these types of rock avalanches like the one that occurred thousands of years ago are rare, so they do not expect one to happen in Zion Canyon again in the near future.
Contributing: Ladd Egan
Photos
Related Stories
0 Pending Comments
Sorry, we are not accepting new comments on this story, but if you have more to contribute please email
newstip@ksl.com
Showing of 25 comments
Sorry, we are not accepting new comments on this story, but if you have more to contribute please email
newstip@ksl.com