SALT LAKE CITY — When is the last time you bought or sold something online using the classifieds? For the seller, you know the drill; post the items online, potential buyers email or text and you figure out a place to meet up with them. If you're lucky, you close the deal. If you're unlucky, the buyer is a criminal.
The watch
That's what happened to Fatima. A few weeks ago, she posted an ad for a brand new Apple watch on a classifieds app called letgo. Soon after, she had an interested buyer with the screen name of "Greyson" and the real name of Samuel Bates.
With her husband and kids by her side, Fatima met up with Bates just outside her Murray apartment. Right away, she says she had a few concerns but Bates was adamant about buying the watch.
"He told me, 'Oh, this is the watch,'" said Fatima. "He held it and looked at it and said this is exactly what his wife wanted."
Fatima thought it was a sure sale, but as her husband walked away to bring around the family car, Bates asked her to see it one more time. Fatima held onto the watch as she showed it to Bates, but he grabbed it, pushed her into the bushes, and took off running.
"Like a pro, like he was running for his life," said Fatima. "I just want this guy to get caught and nobody else can be hurt."
Surveillance video shows Bates immediately took the watch to a pawn shop and cashed in. The exchange happened so quickly, there wasn't time for the serial number on the watch to show up in the system as stolen.
The sting
Fatima called the police and filed a police report. She also called the KSL Investigators, who soon discovered that Bates has a long criminal history in Idaho of taking stuff that doesn't belong to him.
It also didn't take long for "Greyson" to post an ad of his own, selling a Ford F250 for $4,000, on the same letgo app.
KSL Investigators sent texts to "Greyson" and he sent them back, saying things like:
"I want to see cash first."
"You have to buy it today."
"12 people interested already."
"I don't want my time wasted."
"This is definitely a steal. No joke."
With a deal finally in place, KSL Investigators equipped with hidden cameras, met up with Bates at a parking lot in American Fork.
"I'm Mike Headrick. Good to meet you."
"Good to meet you, too," Bates said, wasting no time getting straight to the sales pitch.
"It comes with an extra battery," Bates said. "It's got the warranty on it, rebuilt transmission and everything. Everything on this truck is basically amazing."
That was just the warmup. Bates' story behind selling the truck soon became a very personal one.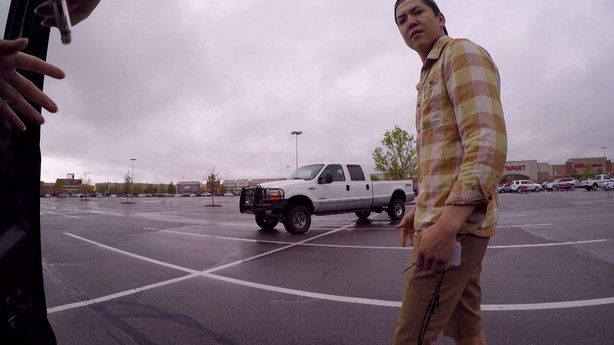 "I've had this for about five years of my life," explained Bates. "My mom has cancer. She's going through stage 4 cancer. She's basically going to die without a couple thousand extra dollars."
But KSL Investigators still wanted to know about the watch. The questioning is all caught on multiple video cameras.
"Hey, let me ask you a question real quick," Headrick said. "So, two weeks ago did you do an exchange with a woman who had an Apple watch?"
"No," answered Bates.
"Did you steal that watch from her?" asked Headrick.
"No," Bates said.
"You didn't steal a watch? Are you sure?" asked Headrick.
"Yeah, mate," Bates said.
"You didn't grab it from her and push her?" asked Headrick.
"Mate, I know I'm for sure not lying," Bates said.
"Because we have police surveillance, we have an ID, the serial number, and we have the woman... " Headrick said, who never finished his sentence because Bates, once again, took off running, straight across a busy street.
The truck
Abandoned in the middle of the parking lot was the truck, hood up, doors open and the keys dangling from the ignition. It's no way to leave a truck you claim you paid cash for. A truck your mom's cancer is forcing you to sell. A truck you say you've owned for the past five years.
Turns out, the truck belonged to Michael Nebeker. He reported it stolen to Cottonwood Heights police just days earlier. When KSL Investigators showed him a photo of Bates, Nebeker confirmed he was the one who stole his truck.
"I was devastated," Nebeker said. "I really didn't know what to do."
Bates had responded to a classified ad Nebeker had placed for the white Ford F250. He took it for a test drive and never came back.
"He didn't seem suspicious at all," Nebeker said. "That's why I was like, okay, he'll be around the block. After 30 minutes I was like, okay, he's definitely not coming back."
The truck left behind in the American Fork parking lot had the original Utah plates swapped out with Idaho plates belonging to a vehicle registered to one Samuel Bates.
The chase
Now back to the chase, which does not belong to the KSL Investigators, but rather highly skilled officers from American Fork and Lehi police departments.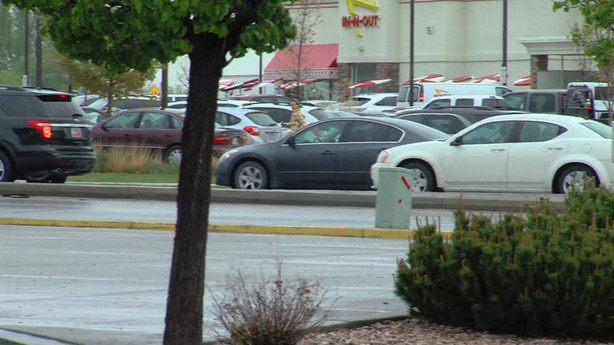 They were called out after Bates took off running and immediately got their teams into place. An American Fork officer spotted him in a nearby neighborhood and ordered him to stop, but once again, Bates ran.
Body camera shows police searching yards and sheds. With guns pulled and following the nose of their K-9, they tracked Bates into a backyard.
"Once that scent, you know you got fear going and things, that dog can smell it," said American Fork Lt. Sam Liddiard.
One distinct scent, the scent of fear, ultimately put an end to this two-week caper.
Body camera shows the intense moments when police found Bates hiding in a shed.
"Attention in this shed we have police K-9! Come out now. You're going to get bit. Show me your hands! Do it now! Watch yourself, watch yourself. Stop right there! Get that out of your pocket! Keep it out! Lay on your face! Now! Put your hands behind your head. Behind your head and interlock your fingers!"
One single app, two online sellers, and now a man behind bars facing charges of robbery and evading police, among others.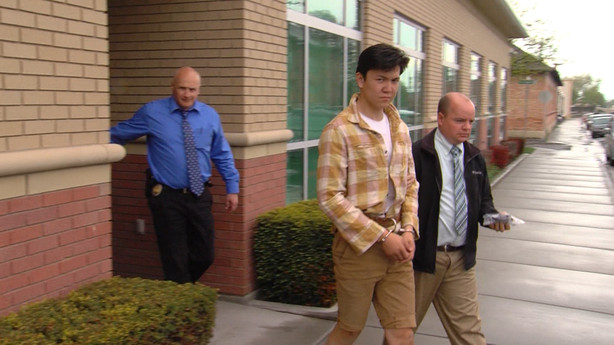 KSL Investigators spoke with Bates' family and were told Samuel is not married, he is not from Australia (as his accent would suggest), and his mother is not dying of cancer.
Fatima is relieved Bates was caught, so her children can have peace of mind, and so he isn't able to take advantage of anyone else.
"Everybody gets a second chance," Fatima said. "But maybe his second chance is getting caught."
Buying/selling online
Don't go alone. Make sure somebody is with you and stays with you.
Meet in a very public place, or even at a police station. Several cities in Utah have "safe exchange zones" set up with surveillance cameras.
Consider using local companies that act as a middle-man between buyer and seller.
Always keep track of the serial number if the item you're selling has one. It increases your chance of getting it back if it's stolen.
Photos
0 Pending Comments
Sorry, we are not accepting new comments on this story, but if you have more to contribute please email
newstip@ksl.com
Showing of 135 comments
Sorry, we are not accepting new comments on this story, but if you have more to contribute please email
newstip@ksl.com