SALT LAKE CITY — When Todd and Erin Collard received the call from their son's school that he was having a grand mal seizure they knew paramedics had only minutes to reach him before he suffered permanent brain damage.
"Realizing 3 1/2 minutes was enough to kill my son and no one would stop was really hard," Erin Collard recalled.
The Collards raced to the school and happened to pull up next to the ambulance still several blocks away from the school.
"As a parent following the ambulance to get to your kid was heartbreaking," said Todd Collard.
Costs of delay
Fortunately, the Collard's son survived his seizure, but firefighters told KSL News they are haunted by the calls where the clock does run out.
"Let's say it takes us 30 seconds longer and that patient passes away because we couldn't perform the interventions that we need. We have to live with that," explained Unified Fire Authority Chief Michael Jensen. "A lot of calls you live with for the rest of your life."
The National Institutes of Health says a 5-minute response time could almost double the survival rate of a heart attack, but firefighters estimate once they are dispatched they've already lost 2 minutes since the initial 911 call was made.
"Getting to calls is one of our biggest frustrations," Jensen said. "We have to get there and literally seconds matter."
It's not just for medical emergencies; fires today are burning faster and hotter. "You don't have the same heavy construction types that used to take place in the 1950s and 1960s," Jensen explained.
Floor plans are also a lot more open. "Back in the day, you would always have doors at every room that would be able to compartmentalize, keep the fire, the smoke, the heat inside a room," Jensen said. "Nowadays, you don't have that."
As a rule of thumb, a fire will double in size every minute. And if firefighters are responding to a house fire there's a good chance lives are also on the line.
"House fires account for about 25 percent of the structure fires across the United States, but 84 percent of fatalities happen inside of those residential structures," Jensen said.
The rate of reported fires is dropping, but civilian fire deaths are on the rise, according to a 2016 report from the National Fire Protection Association. In 2014 the civilian fire death toll was 15 percent higher than in 2012.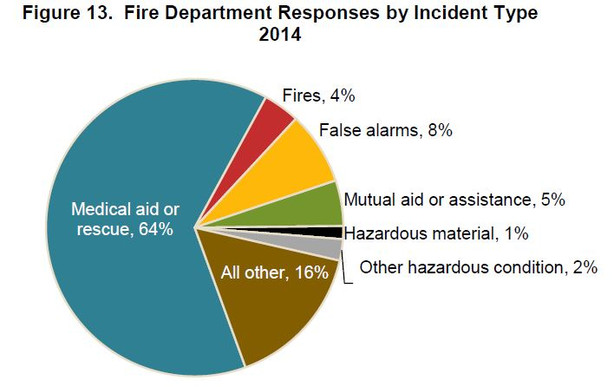 'Drivers not paying attention'
That's why firefighters are concerned about all the bad driving they are seeing.
"I've seen an increase, a very increased level of drivers not paying attention while they are driving," said Jared Wayman, engineer and driver for Unified Fire Authority.
Flashing lights, sirens and horns are often no match for a driver distracted by a cellphone.
"I would say it is probably five out of every 10 drivers, at least, and that almost every call we go on we run into that problem," Wayman said.
---
I would say it is probably five out of every 10 drivers ... (are distracted), and that almost every call we go on we run into that problem.
–Jared Wayman, Unified Fire Authority
---
Cellphones aren't the only reason drivers are failing to notice emergency vehicles in time. Newer cars block out a lot of road noise. Add ear buds, the radio, a chatty passenger or all three, and drivers become oblivious to the sirens.
"It's a perfect storm," Wayman said. "So you have all that going on inside of a vehicle, they don't know what's going on outside of the vehicle."
What you can do
Drivers should pull over to the right and stop for all emergency vehicles. If the driver is in a left-turn lane or can't pull to the right, they should stay put.
"Just stop. We will go around you, we are able to navigate through," Wayman said.
Don't try to beat traffic signals or emergency vehicles.
A lot of fire trucks are equipped with an Opticom system that enables them to navigate congested intersections more effectively, but Jensen said they try to be judicious when they use it, especially during rush hour.
"If we change the light on Bangerter it can throw off traffic for up to an hour," he said.
New emergency sirens can also shake the ground, so drivers can feel the signal if they haven't already heard or seen the emergency vehicles.
The easiest and safest solution is for drivers to simply pay attention and watch out for emergency vehicles.
"Every time an emergency vehicle comes upon you, whether fire, ambulance, whatever the case, you have to imagine they are going to go rescue someone you love," Todd Collard said. "Pull to the right and stop."
Photos
0 Pending Comments
Sorry, we are not accepting new comments on this story, but if you have more to contribute please email
newstip@ksl.com
Showing of 65 comments
Sorry, we are not accepting new comments on this story, but if you have more to contribute please email
newstip@ksl.com