SALT LAKE CITY — A bill that would give a $20 marriage license discount to couples who go to marriage counseling could save the state a lot of money, Utah Rep. Mia Love gave her annual address and the legislature has $10 million less to spend this year.
Here's what's happening during the 2016 legislative session:
A legislative proposal would make it possible for the Days of '47 Rodeo to someday move its performances to the Utah State Fairpark, rather than trucking its livestock each day to the heart of downtown Salt Lake City.
SB173, sponsored by Sen. Kevin Van Tassell, R-Vernal, provides greater flexibility for the Utah State Fairpark board to enter into leases for events at its 50-acre facility, although a lease for 10 years or more would still have to meet the approval the State Building Board and the Legislature's Executive Appropriations Committee.
Utah lawmakers have been grappling for years to find ways to help the Utah State Fairpark turn a profit and generate enough money to keep pace with needed maintenance.
Although the fair itself turns a profit, it's not enough for annual upkeep, Van Tassell said.
"The state fair itself makes money, but there are not many businesses that can operate 10 to 12 days a year and support itself," Van Tassell said during a Monday presentation to the Senate Natural Resources Agriculture and Environmental Quality Committee.
A state lawmaker proposes to give a $20 discount on marriage licenses to couples who complete at least three hours of counseling.
According to HB332, couples could receive the counseling from a religious leader, a professional or an online course.
Of course, the cost of marriage licenses would have to be increased by $20, according to bill sponsor Rep. Edward Redd, R-Logan.
"If the county is going to continue covering their expenses of managing the marriage license process, they're going to have to increase their fees by $20 to make this happen," Redd said.
Alan Hawkins, a BYU professor and chairman of the Utah Marriage Commission, said the goal of the bill is to ultimately reduce the state's costs in other areas, such as juvenile prosecution and social services.
"The 10,000 divorces that occur in Utah each year cost the taxpayers money, a lot of it. One economist estimates that the annual cost of family fragmentation here in Utah is $276 million a year," Hawkins said.
The bill would save an estimated $2 million a year, he said.
Rep. Mia Love, R-Utah, told state lawmakers Monday that the Utah Constitution is guiding her policymaking efforts in Congress.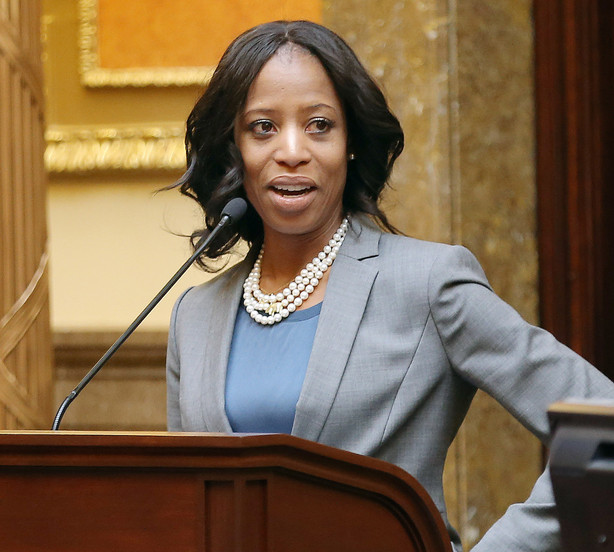 During her annual address to the Utah Legislature, the 4th District representative touted legislation she has introduced that would limit bills in Congress to "one subject at a time," just as Utah lawmakers already must do.
"It's time to bring Utah to Washington and bring the common, simple way of just putting legislation on the table so the American people can make a choice or decision where they stand on these bills," she told the Utah Senate.
In the Utah House, Love thanked lawmakers for a "good, common-sense" approach to legislation while acknowledging it will be a tough sell in Congress to end the practice of cramming a number of unrelated issues into a single bill.
"It takes a lot of courage to do what you do. It takes a lot of courage to be able to stand on your own and make something happen. I admire you. I use you as an example," she said. "You have been an example to me."
The Utah Legislature has $10 million less to spend than anticipated, according to the latest revenue estimates released Monday.
"It's not necessarily great, but it could have been worse," House Budget Chairman Dean Sanpei, R-Provo, told members of the House in announcing the consensus revenue numbers that will be used to finalize the state budget.
Last week's Legislative roundup:
The shortfall is in sales taxes and other revenues that go into the state's general fund, now expected to be $53 million less than projected. Income taxes, which go to the education fund, however, are now supposed to come in $43 million higher.
Sanpei said lawmakers will still have a total of $550 million more available than last year. That's $150 million in surplus funds that can be used for one-time expenses and $400 million in ongoing revenue growth.
Rep. Steve Handy, R-Layton, said the process of applying for a tax credit at the end of the year if a vehicle owner converts their car to burn natural gas or some other cleaner-burning fuel is "clunky," so he wants to fix that.
Handy is sponsoring HB87, or the Clean Fuel Conversion amendments, which allows motorists to apply for a grant for up to 50 percent of the costs.
The benefit of a grant, rather than a tax credit, is that there is a more immediate financial incentive to get the work done, Handy explained in testimony Monday to the Senate Natural Resources Agriculture and Environmental Quality standing committee.
With premiums ballooning and benefits shrinking, more families are turning to a previously little-known alternative to traditional insurance: Christian-based health care ministries.
Bound by their faith, members pool monthly contributions to pay for other members' medical costs. They often must sign declarations of faith that they attend church regularly and abstain from tobacco, alcohol or other "unbiblical" behaviors.
And because health care sharing ministries received an exemption under President Barack Obama's health care law, members are exempt from the tax penalty for not having traditional insurance.
"It's very logical," said Mike Burns, who joined a cost sharing ministry called Liberty HealthShare about a year ago. He relied on other members to pay for his son's surgery when he later broke his hand.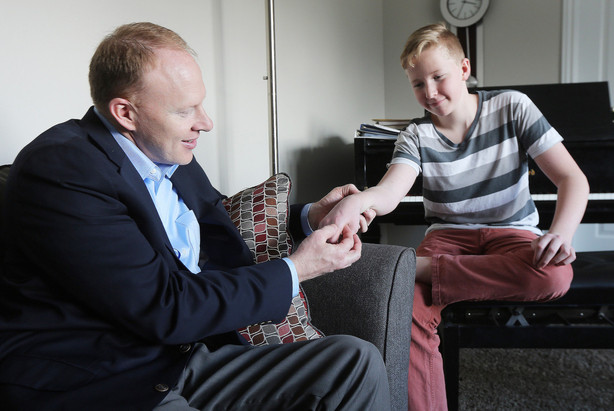 "You get 30,000 people together and you all pitch in to help each other out," he said. "It seems that's the concept of an insurance company, right?"
Yes and no, says the Utah Department of Insurance.
In talks with consumers, insurance commissioner Todd Kiser said it's not clear to him that people understand that a ministry membership is not the same thing as having health insurance.
"There's no promise that they will take care of your bills," Kiser said.
He's spoken out against HB113, sponsored by Rep. Mike Kennedy, R-Alpine, which would clarify that health sharing ministries are exempt from regulation by the state insurance department.
The bill cleared the House last week and is expected to be debated in the Senate on Tuesday.
Kiser said the bill leaves health care sharing members without protection. If a ministry were to deny a claim, break a contract or lie in their marketing materials, the insurance department has no authority to enforce that, Kiser said.
Contributing: Amy Joi O'Donoghue, Emily Larson, Lisa Riley Roche, Marjorie Cortez, Morgan Jacobsen, Daphne Chen
Photos
Related Stories
0 Pending Comments
Sorry, we are not accepting new comments on this story, but if you have more to contribute please email
newstip@ksl.com
Showing of 25 comments
Sorry, we are not accepting new comments on this story, but if you have more to contribute please email
newstip@ksl.com