WEST JORDAN — You might say Susie Barnard was tailor-made for this line of work.
"My mother quilts, my sister actually went to fashion design school," she said. "I feel like they're real 'sewers.' I don't even know if that's a word."
But the test of a true professional — a real "sewer" — is whether or not you're good enough to spin skill into money. That's exactly what Barnard does, sewing felt robots at her dining room table.
"A lot of people that want what I have don't know it exists until they see it," she said.
Barnard's work is a one-woman assembly line, with no automated assistance — each robot is crafted by hand. It's tedious work, taking about four to five hours to make a single robot.
Her robots were born when she started working on a fabric "quiet book" for her son.
"I was making a robot page, and I decided I wanted a 3D robot," Barnard said.
Production on the quiet book was halted to construct what was destined to become the mother of a robotic army.
"Everybody was telling me how cute it was," Barnard said.
She bolted together a few more and put them on a storefront at etsy.com, called "Ginnypenny Messy Little Robots."
"I have an app on my phone, and it goes 'cha-ching' every time I get a sale," Barnard said. "I was driving my daughter somewhere, and my phone went 'cha-ching, cha-ching,' and I was like, 'I just got two sales!'"
Mechanized men, machined into money.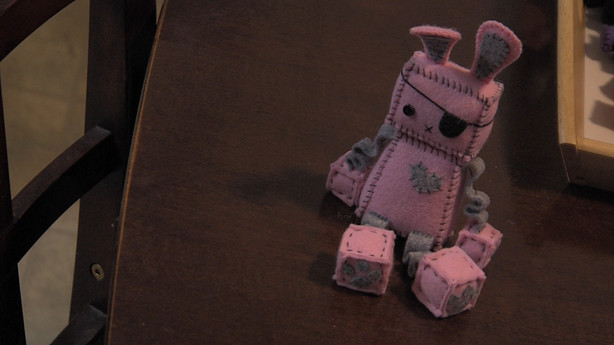 "We were able to take vacations and put money in savings — things we weren't able to do before," Barnard said.
She believes her success doesn't just come from having a good product, but through marketing, including using the right keywords so they come up in online searches, as well as using Twitter and Instagram. Barnard also makes sure her robots look their best.
"Taking good, clear pictures, so people can see it," she said.
Barnard kept commuting to her full-time job, until one day, her life changed.
"Just like a month ago was when I actually — well, I didn't quit — don't put that on the news!" Barnard said with a laugh. "They'll be like, 'You quit?'"
No, she didn't quit; Barnard still works one and a half days a week, but her new full-time career is run from her dining room table.
"It's kind of a strange thing to explain," she said. "I sell robots. Yeah, that's what I do.'"
Barnard's new business venture's been so successful, she rode her robots all the way to Los Angeles for the "Geekie Awards."
"It's kind of a cross between the Academy Awards and Comic-Con," she said.
Barnard's robots were nominated for Best Toy or Craft. When she arrived in the theater, she was seated way in the back, causing her to think that meant she wouldn't be winning.
"When they got to my category, my heart started beating, but I was kind of resigned still," Barnard said. "I didn't think I was going to win."
Barnard was wrong. Regardless of where her seat was, she was the big winner — but the announcement of her company's name led to some confusion.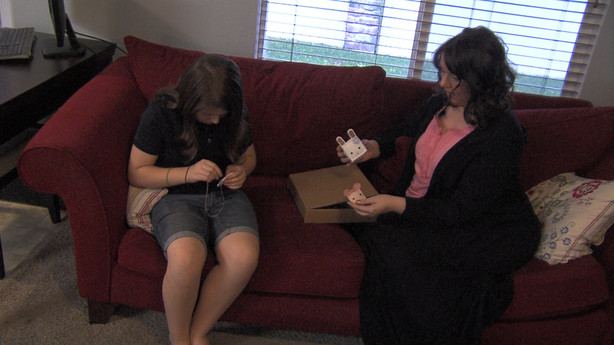 "I was like, surely, that's not right," Barnard said.
The presenter called out the name more than once, and Barnard sat motionless in her seat.
"I was waiting for them to say 'Oops,'" she said. "My husband was sitting next to me, and he pushes me really gently and says, 'Go, Susie!'"
Barnard brought home her award, and returned to life as normal. And while her son doesn't exactly find his mom's work exciting, her daughter Ginny, as in "GinnyPenny," is tied to her mother with thread.
"She is a vendor at the Beehive Bazaar this year down in Provo," said Barnard, while helping Ginny sew together some small felt bunnies.
Ginny is carrying on the tradition — because robots may not have emotions, but they can certainly carry a message.
"I think that creating is something that some people are just afraid to do," Barnard said. "They're afraid to put it out there and let other people see it. Have no fear with it. Just go for it. Just do it."
Photos
Related Links
0 Pending Comments
Sorry, we are not accepting new comments on this story, but if you have more to contribute please email
newstip@ksl.com
Showing of 23 comments
Sorry, we are not accepting new comments on this story, but if you have more to contribute please email
newstip@ksl.com