PROVO — Few people get a second chance to make a first impression in life, and it's even more rare in college football.
So when BYU backup quarterback Beau Hoge got a second chance to make an impact on a game Saturday in what turned into a 70-6 blowout win over FCS foe Wagner, the true freshman from Fort Thomas, Kentucky, made the most of it.
Hoge completed 8-of-11 passes for 117 yards, notched his first touchdown pass as a Cougar and also ran for a career-high 47 yards on 12 carries, including two scores on the ground.
"That felt good," Hoge said. "Obviously, with the score you don't want to be running it up. But I want to work on all that, too, so today felt good."
It's easy to see why Hoge was so anxious to see the field. The winless Seahawks (0-7) did little to stop or slow down Tanner Mangum and the first-team offense, and by the middle of the second quarter, Hoge was inserted into the lineup following Mangum's 237-yard, three-touchdown effort on 12-of-13 passing.
In Hoge's first outing in an official game, the Cougar signal-caller didn't fare nearly as well. With Mangum sidelined by a hamstring injury against East Carolina, Hoge came in and completed with 1-of-5 passes for 9 yards with an interception. He also ran the ball three times for minus-3 yards.
Hoge finished with a quarterback rating of minus-4.88 against the Pirates before Mangum returned to a loud ovation and led the Cougars to the win.
So most could see the glint in his eye as offensive coordinator Robert Anae called for Hoge in the second quarter.
"A time like today is for younger guys or guys who don't get many reps to be in positions to focus on your technique and work the small and simple things," said wide receiver Trey Dye, who also doesn't see many week-to-week game minutes. "It was a good opportunity, and they fought hard until the end. It was awesome to see as many reps as I did today."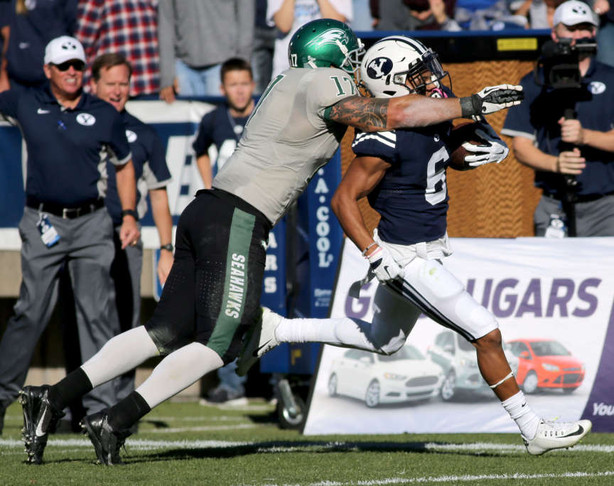 The Cougars piled up 741 yards total offense, the fourth-most in school history and most since putting up 750 in a 70-31 win over Utah in 1989.
Hoge tried to be diplomatic about the game when he came in, running the designed run plays for backups like Nate Carter, Francis Bernard and Toloa'i Ho-Ching as a tailback.
But he also admitted a part of his heart sank as David Kessler took a swing route 47 yards for a touchdown; he thought it was a lateral pass.
By the game's end, the statisticians confirmed it was a forward pass and quarterbacks coach Jason Beck said Hoge had just thrown his first touchdown pass as a Cougar.
"That was nice," Hoge said with a grin. "Honestly, when I first threw it, I thought I lateraled it, so I thought it would go down as a run. But after the game, I found out they counted it as a pass.
"I didn't get too excited about it at the moment because of that. But I was pretty happy after the game when Coach Beck said they counted it as a pass."
Consider some of the other career firsts in BYU's win over Wagner.
— Kessler's 47-yard reception was his first receiving touchdown, just moments after earning his first reception as a Cougar.
— Highly regarded freshman Josh Weeks also made his first catch — a 13-yarder in the second half.
— Colby Hansen made his first rush — an 8-yard carry.
— Third-string and scout-team quarterback Koy Detmer Jr. made his first completion with a 5-yard pass to Weeks. Detmer finished with 3-of-3 passing for 57 yards.
— Michael Shelton's first punt return of the season went for 19 yards.
— Chris Badger and Grant Jones recorded their first pass breakups at BYU, and Fred Warner and Va'a Niumatalolo each recorded their first sacks.
— In addition to Hansen, Weeks and Detmer, running back Peter Welsh and linemen JJ Nwigwe and Jacob Jimenez also debuted on offense, in addition to tight ends Theodore King and Remington Peck (former Bingham standout and BYU defensive lineman) and wide receiver Akile Davis.
The Cougars begin preparations for San Jose State Thursday Nov. 5, the first game after this week's bye. Wagner gave the BYU coaches plenty of tape to review on the younger players, scout-team standouts and potential depth leading down the stretch.
"This whole week, I think our biggest challenge was coming out and treating it like any other team," linebacker Manoa Pikula said. "I feel like we responded well to that, and I feel like we played really good, especially in the first half."
Photos
Related Stories
0 Pending Comments
Sorry, we are not accepting new comments on this story, but if you have more to contribute please email
newstip@ksl.com
Showing of 2 comments
Sorry, we are not accepting new comments on this story, but if you have more to contribute please email
newstip@ksl.com