ZION NATIONAL PARK — A large rockfall recently closed state Route 9 in Zion National Park, prompting us to take a look back at the worst rockfalls and landslides in the park's history.
The most recent rockfall occurred Wednesday, Sept. 23 and closed state Route 9 near the Pine Creek Bridge on a switchback near the Mount Carmel Tunnel, according to Zion National Park officials. The largest boulder in the fall measured around 19 feet high, 20 feet long and 15 feet wide and weighed 200 tons.
While September's rockfall didn't cause any fatalities or significant damage to buildings, that hasn't always been the case with rockfalls in the park. Zion National Park has a long history of large landslides and falling rocks due to the tall cliffs and exceptional rate of erosion, park officials said.
"To get a feel for the frequency of small rockfalls, it has been my observation that there is at least one new rock in park roads or the roadside ditches almost every day," Zion National Park spokeswoman Aly Baltrus said. "The road crew may be able to quantify this better. When in Zion Canyon or the backcountry hearing the clack, boom or clatter of a small rockfall is an almost daily occurrence. When it is raining, the frequency reaches a few per hour."
Baltrus said although there have been some fatalities in the park's history due to falling rocks, the number is relatively low due to the fact that visitors spend a relatively brief period of time in high rockfall hazard areas, like the immediate base of cliffs.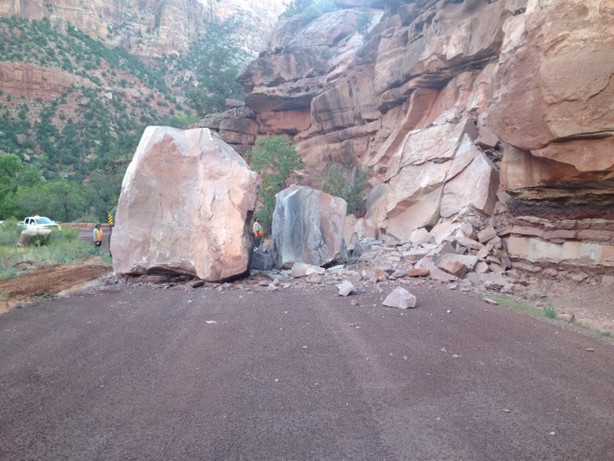 "Given all the possible places a rock could land, the portion of all of those actually occupied by a person is very small," Baltrus said. "The same cannot be said for roads and buildings, which are in place every day for the life of the structure, so it is not surprising that we experience rockfalls large enough to damage a road or block traffic a few times a year."
"Even though I understand the limited exposure, it surprises me that we have not had more people injured or killed by rockfalls," Baltrus said. "Even a medium-sized rock that could be easily lifted can reach lethal force after falling a few tens of feet."
Here is a look back at the worst rockfalls that caused severe injuries, fatalities or a significant amount of damage:
1880 rockfall at Grotto Camp
Oliver D. Gifford, a long-time resident and LDS bishop in Springdale, related the first recorded rockfall in Zion National Park. He was farming the land south of the river and west of the Great White Throne at the site of the Grotto Camp when the Great Red Arch fell, according to "A History of Southern Utah and its National Parks." The rockfall pulverized and covered up a spring and several large pine trees.
1920s fatality
The exact year for this rock fall wasn't recorded, but it occurred sometime in the mid to late 1920s, according to park employee Jack Burns. A road worker was doing construction on the Zion Scenic Drive and was taking a lunch break under a large boulder. The boulder rolled on top of him, crushing him to death, Burns said.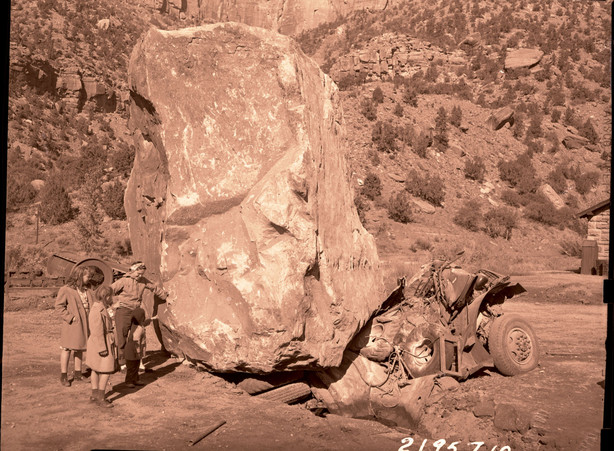 1979 fatality
In 1979, Thomas Brereton was on Mount Kinesava when the loose rocks that he was standing on gave way, according to park employee Ray O'Neill. He was swept over the cliff by the rockfall and fell to his death.
1990s injury
The exact year for this rock fall wasn't recorded, but it occurred in the early 1990s in The Narrows, Burns said. Burns received reports of a man throwing rocks up towards the cliffs, and shortly after, received a report of a man being injured by a falling rock. When he responded to the scene, he found an injured tour guide who was leading a French tour group through the canyon.
"When we got to him, he was laying in the fetal position and wouldn't let us touch him," Burns said. "Turned out, it was the tour leader who was throwing the rocks. Supposedly, the rock that came down and hit him was unrelated to what he was doing."
1990 landslide and dam break
A rockfall in 1990 blocked the middle fork of Taylor Creek and created a 60-foot- tall dam made from rock and debris, according to park records. On March 17, 1993, the makeshift dam broke, sending a 10-foot wall of water down the canyon and onto I-15, park assistant superintendent Larry Weiss said in a report.
An 8-foot-by-30-foot culvert beneath I-15 was not large enough to accommodate the wall of water that came down the channel and so water flowed onto the road. It was about 1.5 feet deep and covered about 100 yards of the road, Weiss said.
Because the freeway is elevated, only 2 feet of water passed over the roadway, but the force was strong enough to knock over a semitrailer and washed another semitrailer and two cars off the road, Weiss said. The water dissipated within about 20 minutes.
Four people received minor injuries in the flood. The semitrailer that tipped over remained under 8 feet of water until it was removed by a wrecker on March 18. A minor spill occurred when one of the truck's fuel tanks ruptured and a hazmat team was called in to handle it, Weiss said.
1999 fatality
A woman was rappelling with a group near the Zion lodge RV park, Burns said. She was standing on a ledge waiting to rappel down when a rock fell from above and hit her on the head. The force knocked her off the ledge and she fell to her death.
Baltrus said people should always be wary of rockfalls while visiting Zion National Park.
People should avoid areas that have recently had rockfalls because it is likely that several more rocks will fall in the subsequent hours and days. Visitors should continue to use park trails and roads because they have not proven to be unacceptably dangerous.
Construction crews who are placing new structures in hazard areas should also be careful and should be especially particular about where they place buildings that will be occupied, Baltrus said.
Photos
Related Stories
0 Pending Comments
Sorry, we are not accepting new comments on this story, but if you have more to contribute please email
newstip@ksl.com
Showing of 2 comments
Sorry, we are not accepting new comments on this story, but if you have more to contribute please email
newstip@ksl.com