SALT LAKE CITY — The 2015 Parliament of the World's Religions officially got underway Thursday night to the beat of a pulsing tribal drum circle leading in a colorful, procession representing people of 50 different faith traditions from 80 countries.
Tribes of Utah took center stage at the welcoming ceremony in the Salt Palace Convention Center, which also included rousing welcomes from elected officials and faith leaders from the host city for the sixth Parliament.
Given the history of the Beehive State, the state of Utah and Parliament are a good fit, said Utah Gov. Gary Herbert.
"Almost 170 years ago, early Mormon pioneers and others came into this valley looking for some peace and the ability to worship as they saw fit," Herbert said.
With faith, commitment to God, hard work and the spirit of cooperation, "you can see the results of that effort today," he said.
Elder L. Whitney Clayton, senior president of The Church of Jesus Christ of Latter-day Saints' Presidency of the Seventy, said Utah's early pioneers journeyed on foot, by cart or horseback over a harsh mountain range, a sharp contrast to the modes of transportation Parliament participants took to travel to Salt Lake City.
"They faced insurmountable odds, but as Gov. Herbert has already acknowledged, look what is accomplished. We're delighted to welcome you to this beautiful city we call home," Elder Clayton said.
Over the years, Salt Lake City has benefitted from the influence of other faith traditions, he said.
"The combination enriches society. It enriches our communities. We welcome you here with that very same spirit. We're glad to see you," Elder Clayton said.
Imam Abdul Malik Mujahid, chairman of the Parliament's board of trustees, said the sixth Parliament is far different from even the last gathering in Melbourne, Australia.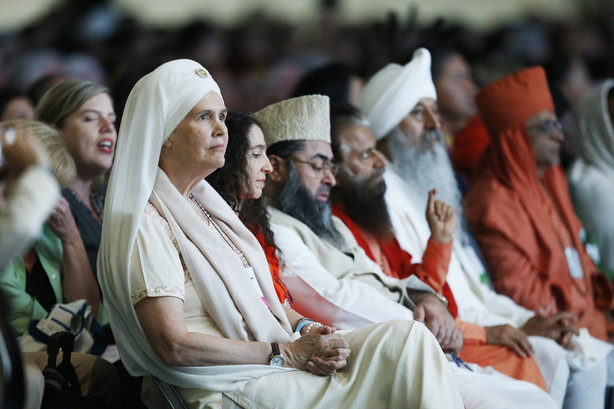 "This is the first Parliament being tweeted," he said.
When the first Parliament was conducted in Chicago in 1893, there were 19 female speakers.
"In this Parliament, the majority of speakers are women speakers," Imam Mujahid said to thunderous applause from the audience.
Some 8,000 people have registered for the event, which runs through Monday. It is considered the largest interfaith gathering in the world. The Dalai Lama was scheduled to be the keynote speaker but canceled after doctors advised him to take a month off to rest. Organizers said few attendees changed their plans to come to Salt Lake, however.
In his welcoming message, Imam Mujahid spoke on the role of the interfaith movement in improving world relations, responding to natural disasters and advocating for justice and sustainability.
"Dear sisters and brothers, this is our time. Are you with me? Let's bring our hearts and minds together closer," he said.


Photos
Related Stories
0 Pending Comments
Sorry, we are not accepting new comments on this story, but if you have more to contribute please email
newstip@ksl.com
Showing of 4 comments
Sorry, we are not accepting new comments on this story, but if you have more to contribute please email
newstip@ksl.com