HEBER CITY — Dustin Shillcox is doing what doctors said he would never do again.
"Just to get that feeling again to stand, it's emotional at first," said Shillcox, who lives in Heber City. "Now I want to stand every chance I get."
A surgeon in Kentucky implanted an epidural stimulator that is usually used for pain. It's a box on Shillcox's abdomen with a wire leading to an epidural stimulator that releases electrical charges to the nerves on his spinal cord. He is 1 of 6 people who are part of a clinical conducted by researchers at the University of Louisville.
"It's about mid-back for everybody, and we implant it in the same location regardless of where the injury occurred," said Claudia Angeli, Ph.D., with the University of Louisville.
Angeli said they don't know exactly how or why it works, but it's helping the nerves in Shillcox's spinal cord remember what they could do before his injury.
"We know from animal studies that the spinal cord, at that level, has the networks for locomotion and standing," she said. "All the neurons and interneurons are organized at that level."
Shillcox can turn the electrical stimulator on or off remotely.
"Basically, it's like a little Wi-Fi remote that goes through your stomach. It's awesome," Shillcox said. "I turn it on, and I hold it next to my stomach, and I can change the configurations that I want to use."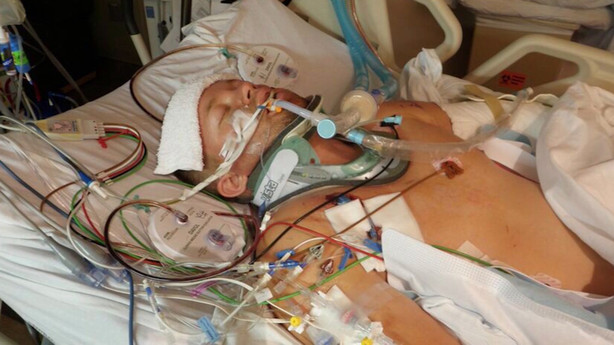 He stood up from his wheelchair in his favorite gym using his walker for balance. He still can't feel anything from the waist down. He stands using his vision to make sure his feet are in place and that he's properly upright. The feat took two years of practicing every day.
"I usually have to be hanging on to something," he said. "That's what I'm working on; making it so I can let go of the walker more."
It takes a few minutes for his muscles to wake up and for him to get his balance, but once that happens, he's standing on his own, he said.
Shillcox is pumping iron, training to ride his sit bike in the New York City Marathon.
He is a long way from where he was before his accident five years ago.
"I had a blowout with a tire, and it sucked me into the median, and I got caught in that cable fencing," he said. "It caused the vehicle to roll over and not having my seat belt on, I was ejected out the window."
He woke a month and a half later paralyzed from the chest down.
"As reality sunk in and this was going to be my life, it's a hard thing to go through," he said.
---
As reality sunk in and this was going to be my life, it's a hard thing to go through.
–Dustin Shillcox
---
Shillcox wants to spread the word to help everyone with spinal cord injuries. Angeli said the success of this clinical trial is a breakthrough for people everywhere.
"That's great news because even for those complete injuries that physicians have said that these individuals will not be able to stand or walk again, there is that hope," she said.
In addition to increasing his quality of life, Shillcox said standing increases his blood flow, circulation and improves his bone density.
He suffered a burn on his thigh from the exhaust from a leaf blower last June. Usually, paraplegics have a very slow recovery from burns or cuts, but Shillcox said his burn has healed normally.
"We've also had gains back in our bowel, our bladder and our sexual function," he said.
He is one step closer to walking again.
"It took a long time to get fully independent like this," he said. "I believe I will walk again one day. It's just a matter of the effort and perseverance I keep putting into this. I have to be able to stand before I can walk."
Shillcox is a motivational speaker, and he is raising money for spinal cord research at www.dustinshillcox.com.


Photos
Related Stories
0 Pending Comments
Sorry, we are not accepting new comments on this story, but if you have more to contribute please email
newstip@ksl.com
Showing of 5 comments
Sorry, we are not accepting new comments on this story, but if you have more to contribute please email
newstip@ksl.com