OREM — Ashley Paulson of Orem woke up bright and early Aug. 16 just like she had thousands of times before to head out for a morning run.
This run, however, would be much different.
Instead of her usual a training run that was often done with friends and met with some of her favorite treats, this 9-mile run would end with a much better prize — and even better company.
She, along with four other friends, ran to Utah Valley Regional Medical Center so she could give birth to her baby boy, whom she was scheduled to deliver via C-section that morning.
"As my due date approached I wanted something epic for my special day," Paulson said. "I still felt so good so I thought why drive to the hospital, when you can (still) run?"
This mom of (now) four is not new to endurance sports. Beginning as a young girl watching her dad run marathons, Paulson knew she was destined to do the same. She ran her first marathon at age 19, and said from then on she was hooked.
Paulson has competed in 34 marathons, even clocking a sub 3-hour time at the 2013 St. George Marathon. Recently she has competed in Ironman triathlons, and it was after completing Ironman Cozumel in the 2013 December that she found out she was expecting her fourth child.
With the support of her doctor and friends and family, Paulson was not only able to remain physically active during her pregnancy, but was able to safely and successfully complete in one Ironman, two half Ironman competitions, five marathons, nine half-marathons, one sprint triathlon and one 5K.
"My first concern was the safety of the little bean growing inside me," Paulson said. "I made sure to wear my heart-rate monitor to stay within the safety zone. My doctor was very supportive of my activities as long as I listened to my body. Endurance is all my body knew so why change it up, now?"
As Paulson completed her final 9 miles before delivering her baby boy, she was met by her husband Matt.
"My husband surprised me at the hospital with a little finish line," Paulson said. "My long endurance training of pregnancy deserved a finish line. The 19 medals I earned over the last nine months were fun but when Matt and I entered the hospital hand in hand I knew was was finally going to get real trophy."
The couple welcomed 7 pound, 1 ounce, Maximus, and reported that mother and baby are "as healthy as can be."
---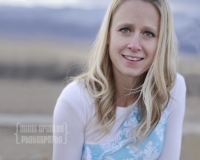 About the Author: Arianne Brown
Arianne is a mother of 6, and lover of all things, even the common house fly. Her down time is spent running the mountain trails of the Wasatch Mountains and beyond. Contact her at ariannebrown1@gmail.com or search her Facebook page, "A Mother's Write."
Photos
0 Pending Comments
Sorry, we are not accepting new comments on this story, but if you have more to contribute please email
newstip@ksl.com
Showing of 58 comments
Sorry, we are not accepting new comments on this story, but if you have more to contribute please email
newstip@ksl.com