MINNEAPOLIS — When pit bulls make the news, it's usually because there's been an attack. But this week, a pit bull is being heralded as a hero after the newly-rescued dog saved his owner's 4-year-old son from a life-threatening situation.
TaterTot the pit bull was set to be euthanized by the Minneapolis Animal Care and Control because of lack of room in the shelter. Just hours before he was set to die, he was adopted by single mom Christi Smith, who originally planned on temporarily fostering the dog. But Smith says he immediately became part of the family.
Smith's son, Peyton Anderson, was in bed when the 10-month-old pit bull started whining and barking in the middle of the night. TatorTot apparently sensed something was wrong with the boy. Smith quickly went to check on her son.
"He just seemed kind of weird," Smith, speaking of Peyton, told KMSP-TV. "He wasn't really coherent — deliriously tired."
TatorTot had only been with the Smith family for a few days but he could already tell that something wasn't quite right with Peyton. Smith says TatorTot started licking and jumping on Peyton but he wouldn't wake up.
"He kept on whining and barking and running between the two of us," Smith said. "I checked on (Peyton), and he was barely breathing.
---
My heart stopped, I completely panicked. Peyton's breathing was shallow and there were long pauses between each breath.
–Christi Smith
---
Smith said she panicked when she saw Peyton struggling to breathe.
"My heart stopped," Smith said. "Peyton's breathing was shallow and there were long pauses between each breath."
Smith rushed Peyton to the hospital where doctors quickly discovered the 4-year-old's blood sugar levels were dangerously low.
"If his blood sugar was that low, he may have been producing ketones," said Isis Sanchez from Blue Pearl Veterinary Clinic. "That may have been what the dog picked up on."
According to the American Diabetes Association website, ketone is a "chemical produced when there is a shortage of insulin in the blood and the body breaks down body fat for energy."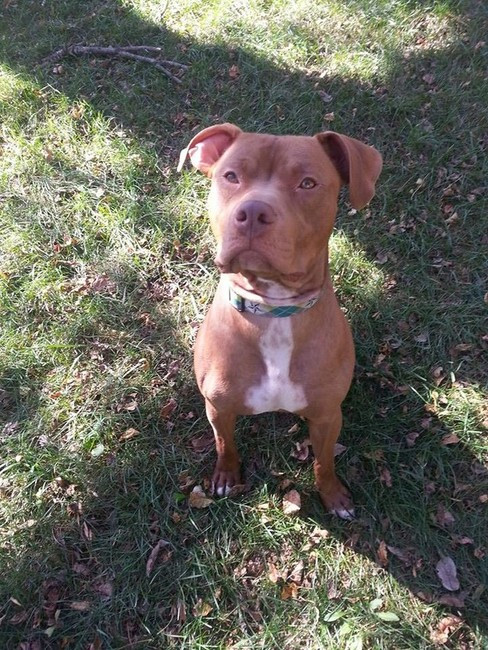 Sanchez told Fox 9 News that the dog's sharp sense of smell probably alerted him that something was off in Peyton's body.
"What, for us, is barely a whiff of something gives them a huge picture of what's going on," Sanchez said.
Doctors aren't sure why Peyton's blood sugar levels were so low since he tested negative for Type 1 Diabetes. Smith is just grateful she miraculously adopted the dog right before she needed him.
"I could have been one of those moms sitting there telling people how I lost my son," Smith said.
She gives all the credit for saving her son's life to TaterTot.
"I wouldn't have known Peyton was in danger, had it not been for Tatortot," Smith told Yahoo. "He absolutely saved my son's life."
Pit bulls aren't associated as nice, caring dogs. In fact, the opposite reputation is often attributed to them. But there are many reported cases of pit bulls saving lives.
In May of this year, a mother and child attacked by a man posing as a UPS man were saved by their pit bull. A woman answered her door while holding her infant when a man in a UPS uniform sprayed them with pepper spray. The family dog Louie immediately ran after the man when the woman shouted and chased him away from the house.
Another pit bull saved his owner's life when her Long Island, New York home caught on fire. The owner was drying her hair when she suddenly heard her dog barking downstairs. She was able to escape out of the house before the whole first floor caught on fire.
For more information on TatorTot the pit bull, you can visit his Facebook fan page.
Photos
Related Links
Related Stories
0 Pending Comments
Sorry, we are not accepting new comments on this story, but if you have more to contribute please email
newstip@ksl.com
Showing of 43 comments
Sorry, we are not accepting new comments on this story, but if you have more to contribute please email
newstip@ksl.com